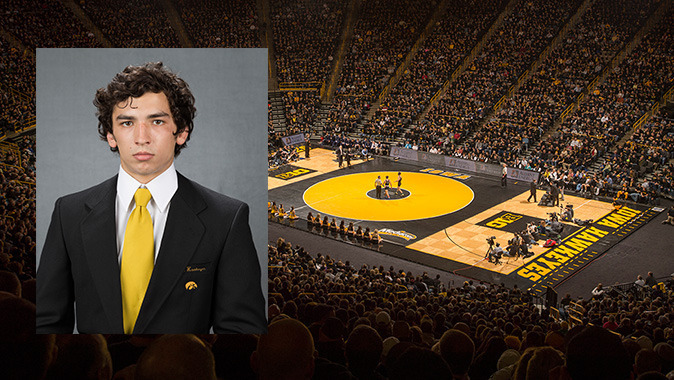 Nov. 7, 2015
Editor's Note: The following first appeared in the University of Iowa's Hawk Talk Daily, an e-newsletter that offers a daily look at the Iowa Hawkeyes, delivered free each morning to thousands of fans of the Hawkeyes worldwide. To receive daily news from the Iowa Hawkeyes, sign up HERE.
By JAMES ALLAN
hawkeyesports.com
IOWA CITY, Iowa — Vince Turk is a true freshman and he is in the conversation for the University of Iowa wrestling team in the 141-pound weight class.
Turk is in a three-man battle for the starting position in the Hawkeye lineup with junior Topher Carlton and redshirt freshman Logan Ryan. The trio will compete at the Grand View Open on Saturday in Pleasant Hill, Iowa.
"That competition will be a determining factor, but not the sole factor," UI head coach Tom Brands said Thursday during Iowa wrestling media day. "It will be something we look at for who's going to be on the mat in Kinnick Stadium."
Turk wants to be on the mat. The Hampshire, Illinois, native is a two-time state champion, winning titles at 138 pounds as a junior and 145 pounds as a senior at Montini Catholic High School. He was the state runner-up in 2010 and a Cadet Greco-Roman national champion at 120 pounds in 2012.
"Going into this first open, I am going to start off strong and am going in to win it," he said. "I want to dominate everything. Coach Brands has told us whoever the top 141 pounder is will wrestle."
Turk describes his wrestling style as explosive. Each time he takes the mat he wants to put on a show for the fans and give them something exciting to watch.
It's a style that fits well with Iowa wrestling's go-go-go philosophy.
"He is a quick, tough wrestler and likes the blast double (takedown)," said sophomore Brandon Sorensen, a returning All-American at 149 pounds. "That's one thing to look for. He's always in the room, working hard, and looking to score."
Junior Thomas Gilman, the 2015 Big Ten runner-up and a returning All-American at 125 pounds, says Turk's double-leg takedown could be a game-changer.
"He has good offense, but he needs to hit it more," said Gilman. "If he can hit that five times and as many times he can in a match, I don't know that anybody in the country can stop him."
That's a reason why Turk is in the discussion at 141 pounds. He has the offensive ability to put points on the board at a weight class that is up for grabs for the Hawkeyes. Will it be enough for Turk to break the program's redshirt trend and become the first true freshman to start under Brands?
"If he thinks he's ready, he's ready," said Gilman.
"It he's the guy, he'll do fine," said Sorensen. "My advice to him is to always be ready. Be ready to step on the mat and take out whoever is in front of you."
Turk wants to wrestle now.
"(Turk) is relevant and in the conversation," said Brands. "We'll see how it shakes out."
The Hawkeyes open the 2015-16 season Nov. 14, hosting No. 1 Oklahoma State at 11 a.m. (CT) in Kinnick Stadium. The Cowboys' Dean Heil is ranked second in the nation in the 141-pound weight class in the preseason NWCA/InterMat rankings.