Nov. 11, 2015
ON THE MAT
The fourth-ranked University of Iowa wrestling team hosts top-ranked Oklahoma State on Saturday inside Kinnick Stadium. "The Grapple on the Gridiron" begins at 11:03 a.m. (CT). The wrestling dual marks the first time in NCAA history two wrestling teams will compete outside in a Division I football stadium. The Hawkeyes have six wrestlers ranked in the top 20 in at least one national poll, including four ranked fifth or better, and six ranked in the top 10. The Cowboys have 10 wrestlers ranked in the top 20 in at least one national poll. They are led by top-ranked 165-pouner Alex Dieringer, a two-time NCAA champion and a preseason favorite for the Dan Hodge Trophy. The dual will be streamed online by BTN Plus (BTN2GO). It will air on BTN Sunday, Nov. 15 following the Iowa men's basketball game, which is scheduled to tipoff at 4 p.m. (CT). Visit the Iowa wrestling schedule page at hawkeyesports.com for a direct link.
"GRAPPLE" TICKETS
More than 34,000 tickets have been sold for the "Grapple on the Gridiron." Fans who have yet to purchase tickets to the "Grapple on the Gridiron" are encouraged to do so online at hawkeyesports.com and select the "print at home" option. Tickets are $10 for general admission seating. With a forecast of sunshine and 50-degree weather, the University is expecting a strong walk-up crowd for this never-before-seen event. Purchasing tickets in advance is highly recommended.
THE ATTENDANCE GAME
The "Grapple on the Gridiron" is expected to break the NCAA dual attendance record of 15,996, previously held by Penn State (vs. Pitt, 2013). Iowa and Oklahoma State have been involved in three of the top 25 attended duals in NCAA history. On Jan. 7, 2012, 15,400 fans watched Oklahoma State defeat Iowa, 17-16, based on tiebreak criteria. At the time, it was the third largest attended dual in NCAA history, and today it ranks fifth all-time. The Hawkeyes have led the country in attendance nine consecutive seasons. In 2014-15, Iowa averaged 8,358 fans in six duals and led the country in total attendance with 55,390 fans attending seven home dates (including Iowa City Duals). The Hawkeyes averaged at least 8,000 fans for the seventh consecutive season. Iowa was involved in the three highest attended duals last season, including at Penn State (15,967), at Minnesota (13,620) and at home against Iowa State (11,882).
THE SERIES
Saturday is the 50th all-time meeting between the schools that have combined to win 57 NCAA Championships (Oklahoma State 34, Iowa 23). Oklahoma State leads the all-time series 27-20-2, but the Hawkeye own a slight 11-10-0 edge in Iowa City. The Cowboys won the first meeting in the series, 24-8, in 1954. The Hawkeyes have won the last two by a combined score of 54-13. This is the first time in 49 meetings the two programs open the season against one another.
LET'S TAKE THIS OUTSIDE
The probable lineups include four potential rematches from last year's meeting. Thomas Gilman won by major decision over Eddie Klimara, 15-5; Cory Clark defeated Gary Wayne Harding, 10-5; Patrick Rhoads lost by major decision to Alex Dieringer, 20-8; and Nolan Boyd topped Sammy Brooks, 9-6.
HAWKEYES AT HOME
The Hawkeyes are hosting a home dual outside of Carver-Hawkeye Arena for the first time since Nov. 21, 2008, when approximately 900 fans packed the UI Field House to watch Iowa host Coe, Iowa Central, and Mankato State at the Iowa City Duals. The Hawkeyes are 224-22 all-time at Carver-Hawkeye Arena since moving from the UI Field House in 1983. The Hawkeyes have recorded 20 undefeated season in Carver-Hawkeye Arena, the most recent in 2012-13 (9-0). Carver-Hawkeye Arena has hosted three Big Ten Championships (1983, 1994, 2005) and four NCAA Championships (1986, 1991, 1995, 2001). The Hawkeyes have won five tournament titles on their home mat, including the 1983 and 1994 Big Ten Championships, and the 1986, 1991 and 1995 NCAA Championships. Carver-Hawkeye Arena is hosting the Big Ten Championships for the fourth time March 5-6.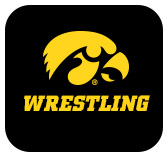 HAWKEYE WRESTLING HISTORY
Iowa's overall dual meet record is 958-225-31 (.799) in 104 seasons. The Hawkeyes have won 23 national titles and 35 Big Ten titles. Iowa's 53 NCAA Champions have won a total of 81 NCAA individual titles, crowning six three-time and 16 two-time champions. The Hawkeyes' 109 Big Ten champions have combined for 195 conference titles. There have been seven four-time, 18 three-time, and 29 two-time Iowa winners. Iowa's 152 All-Americans have earned All-America status 313 times, including 18 four-time, 34 three-time and 40 two-time honorees.
DOMINANT SINCE NO. 1
Gary Kurdelmeier led Iowa to its first NCAA Championship in 1975, and in the 41 years since, the Hawkeyes have accumulated 23 team titles, more than any other school — Oklahoma State (7), Penn State (4), Minnesota (3), Iowa State (2), Ohio State (1) and Arizona State (1).
JOHNSON CO. I-CLUB TO HOST PEP RALLY
Join the Johnson County I-Club and help support the Iowa Hawkeyes prior to the "Grapple on the Gridiron." On Friday, November 13, kick off a weekend of football and wrestling with Herky and the Spirit Squads, members of the Hawkeye Marching Band and more. Gary Dolphin, Voice of the Hawkeyes, will serve as emcee for the event and special guests include Dan Gable and members of the Iowa wrestling coaching staff. The Pep Rally is free and open to all fans and will be held at the Weatherdance Fountain Stage in the City of Iowa City's pedestrian mall beginning at 5 p.m.
QUICK GLANCE AT 2014-15
The Hawkeyes finished the 2014-15 season with a Big Ten regular season title, a Big Ten Tournament championship, six All-Americans, and nine academic All-Big Ten honors. The Hawkeyes owned an overall record of 17-1, won at least a share of the Big Ten regular season title for the seventh time in the last eight seasons, and took home an NCAA team trophy for the eighth straight season, the longest active streak in the country.
ALL-AMERICAN STREAK
Iowa returns four All-Americans this year — Thomas Gilman (125), Cory Clark (133), Brandon Sorensen (149), and Nathan Burak (197). The Hawkeyes had a tournament-high six All-Americans in 2015. Mike Evans (6th/174) and Bobby Telford (5th/285) won All-America honors for the third time, Nathan Burak (7th/197) and Cory Clark (2nd/133) became two-time All-Americans, and Thomas Gilman (4th/125) and Brandon Sorensen (4th/149) are first-time All-Americans. The Hawkeyes crowned at least one All-American for the 44th consecutive season, a stretch dating back to 1972. Iowa has totaled 267 All-America honors during that stretch.
CLARK EXTENDS RUN TO 26
Sophomore Cory Clark advanced to the finals at 133 pounds in 2015 to extend Iowa's streak of NCAA finalists to 26 consecutive years. Iowa has had at least one wrestler in the national finals every year since 1990, and in 40 of the last 41 seasons dating back to 1975.
TICKET INFORMATION
Season and single dual tickets are now available for purchase on hawkeyesports.com. Season tickets for seven home dates are available for $80. UI students and kids five-years old and younger are admitted free to all wrestling events. Single dual tickets are $12 for the Iowa City Duals (Nov. 20), and duals against South Dakota State (Dec. 4), Rutgers (Dec. 10), Purdue (Jan. 22), and Indiana (Feb. 5). Adult tickets are $15 for the Minnesota dual (Jan. 29). Youth tickets (18 and younger) are $10 for the Minnesota dual, and $8 for all other duals. Iowa will host the National Duals on one of two dates yet to be determined (Feb. 21 or Feb. 22). Tickets to the Grapple on the Gridiron are $10 general admission.
IOWA ON THE AIR
Beginning Nov. 14, Iowa wrestling events will be broadcast by KXIC and streamed online at Hawkeye All-Access throughout the 2015-16 season. Steven Grace and Mark Ironside will call the action for Hawkeye Sports Properties, a property of Learfield Sports.
ALL (WRESTLING) EYES ON IOWA CITY
The "Grapple on the Gridiron" marks the beginning of an eventful 2015-16 season. The University of Iowa also hosts the 2016 Big Ten Championships on March 5-6 at Carver-Hawkeye Arena. Tickets go on sale Jan. 18. The University of Iowa and Iowa City/Coralville CVB host the 2016 U.S. Olympic Trials at Carver-Hawkeye Arena on April 9-10. More than 100 wrestlers from three divisions — men's and women's freestyle, and Greco-Roman — compete in Iowa City for the opportunity to advance to the 2016 Rio Olympics as a member of Team USA. All-Session ticket are $75 for adults, and $50 for youth 18 and younger. Fans can purchase tickets at Carver-Hawkeye Arena, over the phone at 1-800-IA-HAWKS, or online at iowacitytorio.com.