Nov. 17, 2015
By JAMES ALLAN
hawkeyesports.com
IOWA CITY, Iowa — University of Iowa head coach Kirk Ferentz's news conference was nearly complete when he was asked his first question about Saturday's opponent.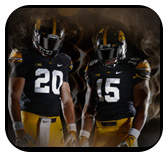 The Boilermakers are 2-8 overall and 1-5 in the Big Ten Conference as they enter Kinnick Stadium for an 11:01 a.m. (CT) kickoff. The Hawkeyes are 10-0, ranked sixth nationally, and look to finish their home schedule with a 7-0 record.
"That has not escaped my attention, and when I get with our team, we're talking about Purdue." Ferentz said in the All-America Room of the Stew and LeNore Hansen Football Performance Center.
"I know the conversation (today) hasn't been about Purdue, but our conversations (internally) have been strictly on Purdue. We have a lot of respect for them and their coaching staff."
Ferentz sees a Purdue team that competes on film, the results just haven't followed. The Boilermakers played well in two road matchups against ranked opponents, falling 24-21 at No. 2 Michigan State on Oct. 3 and 21-14 at No. 24 Northwestern last weekend.
The Boilermakers picked up their lone Big Ten win Oct. 31 against Nebraska, piling up 457 yards of total offense in a 55-45 victory.
"These guys are playing hard, all you have to do is look back (on this season)," said Ferentz. "I'll go one step further on that. Nebraska had their way with them easily the last two years, but not so much this year. That's how it is, week-to-week, you never know."
The statistical game bodes well for Iowa. The Hawkeyes average 421.4 yards per game, including 211.7 rushing yards per contest. Purdue's defense allows 445.4 yards, including 209.6 on the ground.
Ferentz says the team is excited about the opportunity in front of it. A win would give the team seven Big Ten wins, complete a seven-win and undefeated season in Kinnick Stadium for the second time in school history, and give the Hawkeyes a share of the Big Ten West Division title.
Those are the tangible things. A win would also send Iowa's 21-player senior class off in grand fashion.
"We have 21 outstanding young people in this class," said Ferentz. "Like every senior class, there are a lot of different, individual stories. You have guys like Austin Blythe, Tevaun Smith, and Drew Ott who have played four years, and guys like Melvin Spears, Eric Simmons, and Andrew Stone, who haven't started a ballgame, but the comparison is all those guys are doing a great job. They work hard every day, do things right and to me, serve as great role models."
Even with the higher stakes Saturday, Ferentz is focused on keeping things in the seven-day perspective.
"We're trying to keep it as simple as that, not think much bigger than that or beyond," he said. "That's when tightness sets in. It's about us trying to beat the team in front of us and playing our best football. If we're good enough, we're good enough, if we're not, we're not, but that's all we can try to do.
"There will be emotion with Senior Day, there's no question, but those emotions only last so long. Then it gets into what the substance of the whole thing is all about."
The substance is Purdue and winning the next game on the schedule, even if nobody wants to talk about it.
Tickets remain for Saturday's game through the UI Athletics Ticket Office by visiting hawkeyesports.com or calling (800) IA-HAWKS. The game will be televised on ESPN2 with Beth Mowins, Anthony Becht, and Paul Carcaterra on the call.