Dec. 2, 2015
Notes in PDF Format

ON THE MAT
The second-ranked University of Iowa wrestling team hosts South Dakota State on Friday at 7 p.m. (CT) on Mediacom Mat at Carver-Hawkeye Arena. Admission is $12 for adults and $8 for youth (high school age and younger). UI students and children age five and below are admitted free.
THE SERIES
Iowa leads South Dakota State, 4-0, in the all-time series. The teams have not met since 2000, when Iowa shutout the Jackrabbits, 47-0. Iowa won the first meeting in the series, 29-6, in 1996, and earned wins in 1997 (38-6) and 1999 (45-4). South Dakota State is making its first appearance at Carver-Hawkeye Arena. The previous four meetings have been at a neutral site.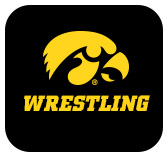 THE JACKRABBITS
South Dakota State has a wrestler ranked at four weight classes (133, 157, 165, 197). SDSU is 1-4 overall, with all four losses to ranked teams, including a 20-15 loss to No. 4 Oklahoma State its last time out on Nov. 27. SDSU also has losses to No. 19 Minnesota (20-13), Virginia (23-9), and No. 6 Virginia Tech (20-16). The Jackrabbits led the Hokies 16-11 before dropping the final three bouts. Iowa and SDSU have two common opponents on the schedule. The Hawkeyes defeated Oklahoma State, 18-16, on Nov. 14, and shutout Grand Canyon, 44-0, on Nov. 20. The Jackrabbits defeated Grand Canyon, 22-9, on Nov. 7 at the Minnesota Quad in Minneapolis.
TOP HEAVY
The Hawkeyes have five wrestlers ranked in the top five of the Dec. 1 Intermat rankings, more than any other school. All-Americans Thomas Gilman (125), Cory Clark (133), and Brandon Sorensen (149) are all ranked No. 2. Alex Meyer checks in at No. 3 at 174, and All-American Nathan Burak is ranked fourth at 197. Four schools have four wrestlers ranked fifth or better. They include Ohio State, Oklahoma State, Penn State, and Virginia Tech.
EARLY RISERS
The Hawkeyes were 6-0 in the month of November, its most wins in the opening month of the season since going 7-0 in 2009-10. Iowa opened the season with a win against Oklahoma State, swept Maryland in advance of the Iowa City Duals, and topped Iowa State, 33-6, in the Iowa Corn Cy-Hawk Series. This season is the first in program history Iowa wrestled Oklahoma State, Iowa State, and its Big Ten opener prior to the calendar turning to December.
A LITTLE EXTRA
Juniors Thomas Gilman and Sammy Brooks have delivered bonus points in each of their six matches. Gilman, ranked No. 2 at 125, has one technical fall, two major decisions, and three pins. His 31 dual points scored rank second on the team to Brooks, who has scored 34 points out of a possible 36 in six matches. Brooks, ranked No. 11 at 184, has yet to wrestle a match for seven minutes. He has three pins, two technical falls, and one win by forfeit.
STOLL HITS FAMILIAR STREAK
Redshirt freshman Sam Stoll takes a four-match win streak into Friday's dual. Stoll dropped his season opener to fifth-ranked Austin Mardsen (OKST), 6-1, but has since pinned four straight opponents. His four falls lead on the team. Stoll finished his high school career with a national record 63 consecutive pins. He pinned every opponent he faced his senior season. As a true freshman in 2014-15, Stoll was 18-5 with 11 pins competing unattached.
SORENSEN HITS TOP SPOT
Sophomore Brandon Sorensen is ranked No. 1 at 149 pounds in the Nov. 30 WIN Magazine and Amateur Wrestling News rankings. Sorensen took over the top spot when Northwestern's Jason Tsirtsis dropped his season opener last week. Tsirtsis fell to No. 4 in the rankings behind Zain Retherford (PSU) and Lavion Mayes (MIZZ). Both Retherford and Mayes competed at 141 pounds prior to this season. Sorensen is 6-0 with three major decisions, one technical fall, and one pin. He has two wins over wrestlers currently in WIN's top 10. He defeated No. 9 Anthony Collica (OKST), 6-1, and No. 10 Gabe Moreno (ISU), 11-3.
ALL-AMERICAN DOMINANCE
Iowa's four returning All-American — Thomas Gilman (125), Cory Clark (133), Brandon Sorensen (149), and Nathan Burak (197) — area a combined 24-0 with 20 wins by bonus points. Iowa's other returning NCAA qualifier, Sammy Brooks (184), is 6-0 with six wins by bonus points. The group is 5-0 against top 20 wrestlers, with one technical fall and two major decisions.
HAWKEYES AT HOME
The Hawkeyes are 228-22 all-time at Carver-Hawkeye Arena since moving from the UI Field House in 1983. The Hawkeyes have recorded 20 undefeated season in Carver-Hawkeye Arena, the most recent in 2012-13 (9-0). Carver-Hawkeye Arena has hosted three Big Ten Championships (1983, 1994, 2005) and four NCAA Championships (1986, 1991, 1995, 2001). The Hawkeyes have won five tournament titles on their home mat, including the 1983 and 1994 Big Ten Championships, and the 1986, 1991 and 1995 NCAA Championships. Carver-Hawkeye Arena is hosting the Big Ten Championships for the fourth time March 5-6.
HAWKEYE WRESTLING HISTORY
Iowa's overall dual meet record is 963-225-31 (.799) in 104 seasons. The Hawkeyes have won 23 national titles and 35 Big Ten titles. Iowa's 53 NCAA Champions have won a total of 81 NCAA individual titles, crowning six three-time and 16 two-time champions. The Hawkeyes' 109 Big Ten champions have combined for 195 conference titles. There have been seven four-time, 18 three-time, and 29 two-time Iowa winners. Iowa's 152 All-Americans have earned All-America status 313 times, including 18 four-time, 34 three-time and 40 two-time honorees.
DOMINANT SINCE NO. 1
Gary Kurdelmeier led Iowa to its first NCAA Championship in 1975, and in the 41 years since, the Hawkeyes have accumulated 23 team titles, more than any other school — Oklahoma State (7), Penn State (4), Minnesota (3), Iowa State (2), Ohio State (1) and Arizona State (1).
ALL-AMERICAN STREAK
Iowa returns four All-Americans this year — Thomas Gilman (125), Cory Clark (133), Brandon Sorensen (149), and Nathan Burak (197). The Hawkeyes had a tournament-high six All-Americans in 2015. Mike Evans (6th/174) and Bobby Telford (5th/285) won All-America honors for the third time, Nathan Burak (7th/197) and Cory Clark (2nd/133) became two-time All-Americans, and Thomas Gilman (4th/125) and Brandon Sorensen (4th/149) are first-time All-Americans. The Hawkeyes crowned at least one All-American for the 44th consecutive season, a stretch dating back to 1972. Iowa has totaled 267 All-America honors during that stretch.
IOWA ON THE AIR
Iowa wrestling events are broadcast by KXIC and streamed online at Hawkeye All-Access throughout the 2015-16 season. Steven Grace and Mark Ironside will call the action for Hawkeye Sports Properties, a property of Learfield Sports.
TICKET INFORMATION
Season and single dual tickets are now available for purchase on hawkeyesports.com. Season tickets for seven home dates are available for $80. UI students and children five-years old and younger are admitted free to all wrestling events. Single dual tickets are $12 for duals against South Dakota State (Dec. 4), Rutgers (Dec. 10), Purdue (Jan. 22), and Indiana (Feb. 5). Adult tickets are $15 for the Minnesota dual (Jan. 29). Youth tickets (18 and younger) are $10 for the Minnesota dual, and $8 for all other duals. Iowa will host the National Duals on one of two dates yet to be determined (Feb. 21 or Feb. 22).