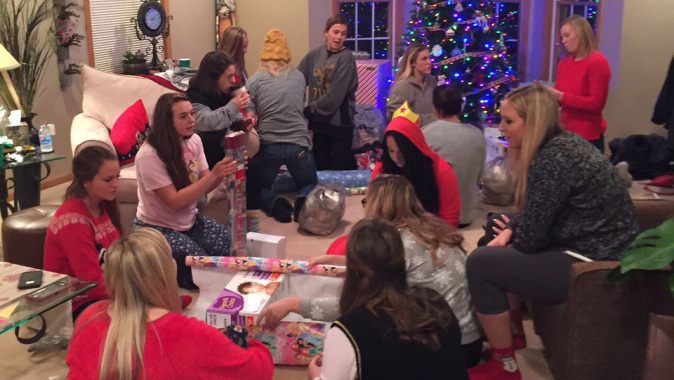 Dec. 12, 2015
Editor's Note: The following first appeared in the University of Iowa's Hawk Talk Daily, an e-newsletter that offers a daily look at the Iowa Hawkeyes, delivered free each morning to thousands of fans of the Hawkeyes worldwide. To receive daily news from the Iowa Hawkeyes, sign up HERE.
By BRANDEE BRITT
IOWA CITY, Iowa —While serving the community is nothing new to the University of Iowa softball team, the Hawkeyes amp up their efforts throughout the holiday season.
For the third straight year, the team adopted a local family through Children and Families of Iowa — a Des Moines-based family services organization committed to "restoring hope, building futures, and changing lives."
"We talk about giving all the time, but it's especially important this time of year," said UI head coach Marla Looper. "In the past we've done a Secret Santa gift exchange, but that just seemed like a waste of money. Now we use that same money to help out a family in need."
The Hawkeyes received a list of the ages, clothing sizes, and interests of each family member. They then split into groups and began shopping.
"It's more and more fun to do every year," said junior Kara Misel. "It's so fun to go out and get gifts for a family you don't know. It's a good experience to buy something that isn't for you or anyone you know, and doing it as a team makes it even better."
Last weekend, the team gathered at Looper's house for their annual holiday party where they wrapped the gifts they purchased for the family.
"Instead of unwrapping gifts we receive, our party is all about wrapping gifts for others," said Looper. "We don't know these families, and they don't know who we are, but that's what is so great about it. It's just someone trying to help somebody else out."
While the team enjoys going the extra mile during the holidays, each softball student-athlete is committed to serving one of seven organizations throughout the year. The organizations include, the Iowa City Hope Lodge, UI REACH, Big Brothers Big Sisters, VA Medical Center, Iowa City Animal Care and Adoption Center, Grant Wood Area Education Agency (autism awareness), and Ronald McDonald House.
"We want them to find an organization that they are passionate about," said Looper. "That passion is what they are going to take with them when they graduate. If they aren't using their platform as student-athletes in a positive way, then they aren't taking full advantage of the opportunities they have.
"I'm proud to say this team has bought into that. They enjoy what they are doing."
Misel, a native of Solon, Iowa, agrees, and she enjoys giving back to the community she grew up in.
"It's fantastic to be a part of a program that is committed to working in the community," said Misel. "I love that our team realizes the importance of giving back the Iowa City community, and that realization has spread throughout the entire athletics department."
The UI community will have a chance to learn more about all seven organizations at the team's annual Awareness Day when the Hawkeyes host Penn State at Bob Pearl Field on April 23.