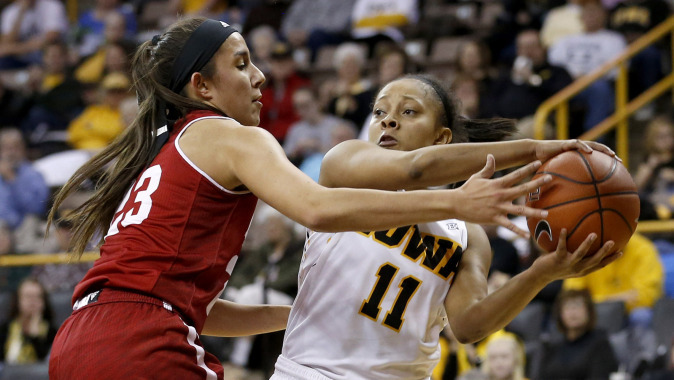 Dec. 21, 2015
Game Notes – vs Drake

THE SETTING
The No. 24-ranked University of Iowa women's basketball team hosts its final in-state opponent Drake on Tuesday, Dec. 22. The Hawkeyes (9-2) and Drake (7-3) kick off the Iowa basketball doubleheader at 5 p.m. (CT) inside Carver-Hawkeye Arena.
PROMOTIONS
? Tuesday's game is a Blackout, and all fans in attendance are encouraged to wear their black Hawkeye gear. The first 1,000 fans at the Hawkeye Rewards event will get a free black t-shirt.
? Tuesday is an Iowa basketball doubleheader, with the men's basketball team tipping off against Tennessee Tech at 7:30 p.m.
GAME COVERAGE
? Tuesday's contest will be shown live online through BTN Plus available at btn2go.com.
? Audio of the game is also available on select Hawkeye Radio Network stations and online through Hawkeye All-Access. Brent Balbinot and Stacy Schlapkohl will call the action.
? Balbinot is in his 12th year as Iowa's play-by-play voice.
? Schlapkohl, who played in 104 games with 49 starts from 2004-08, helped Iowa to three NCAA Tournaments. She scored in double figures in 22 games.
? Links to video, audio, and Gametracker (live stats) are available on the women's basketball schedule page at hawkeyesports.com.
A LOOK AT THE BULLDOGS
? Drake, picked to finish runner-up in the Missouri Valley Conference, bring a 7-3 record in to the matchup.
? The Bulldogs got off to a 6-0 start before dropping three of their last four contests. The first loss came in overtime at South Dakota, 92-87, and another loss followed at home against Green Bay, 86-61. After rebounding with a win against William Penn, 100-61, Drake fell on the road in its most recent contest at Northern Illinois, 87-73.
? As a team, Drake averages 80.5 points per game. Four average in double figures, including Lizzy Wendell (19.5), Maddy Dean (13.6), Sara Rhine (11.3), Caitlin Ingle (10.0).
? A Hawkeye basketball alum, fourth-year head coach Jennie (Lillis) Baranczyk, is at the helm of the Drake program.
? The Bulldog roster is comprised of three freshmen, three sophomores, three juniors, and one senior.
SERIES HISTORY
? Drake leads Iowa in the all-time series, 24-23.
? Iowa has won 13 consecutive games in the series.
? In the Lisa Bluder era, which began in 2001-02, the Hawkeyes have a 13-1 record in games played against the Bulldogs.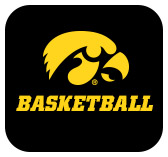 BENCH CONNECTIONS
? UI head coach Lisa Bluder spent 10 seasons as Drake's head coach before bringing her talents to Iowa. She compiled a record of 187-106, good for a .659 winning percentage.
? Associate head coach Jan Jensen played collegiately at Drake, graduating in 1991 with a public relations degree. As a senior, she led the nation in scoring with 29.6 points per game and was Gateway Conference Most Valuable Player. Jensen was also Bluder's first assistant and recruiting coordinator at Drake.
? Assistant coach Jenni Fitzgerald also played collegiately at Drake, graduating in 1990 with a business administration/management degree. She was the starting point guard for the Bulldogs, and was named team captain and All-Gateway first team as a senior. Fitzgerald also coached at Drake with Bluder, working with the guards, directing summer camps and handling administrative duties for the program.
? Drake head coach Jennie (Lillis) Baranczyk was a standout player for Bluder at Iowa from 2000-04. She was a three-time captain, three-time All-Big Ten selection, and an All-American. She is one of two Hawkeyes to score 1,700 points and pull down 800 rebounds in her career.
? Junior Ally Disterhoft's mother, Missy, was a basketball teammate of Jensen and Fitzgerald at Drake. She also played softball for the Bulldogs.
? Senior Claire Till's mother, Shelley, played college basketball at Drake with Jensen and Fitzgerald.
HOME SWEET HOME
? Iowa has won 23 consecutive games on Mediacom Court in Carver-Hawkeye Arena.
? The streak began when the Hawkeyes posted a perfect 18-0 mark at home in 2014-15 and has continued into the 2015-16 season.
? The 23-game win streak is the third-longest home win streak in program history.
? Iowa's longest home win streak lasted 46 games, including the final 13 home games of the 1986-87 season, all 14 home games in the 1987-88 season, all 14 home games in the 1988-89 season, and the first five home games of the 1989-90 season.
? The second longest home win streak lasted 25 games. It began when the Hawkeyes went 17-0 at home in 1992-93 and stretched eight home games into the 1993-94 season.
? Ten home contests remain on the 2015-16 schedule, including nine against Big Ten opponents.
? Iowa was one of 13 teams nationally to finish undefeated on its home court with an 18-0 mark last season, a program record for wins at home in a single season.
LONG RANGE SUCCESS
? Junior Alexa Kastanek is shooting 43.8 percent from 3-point land through 11 games this season. She is fourth in the Big Ten and 49th nationally in the category.
? The 5-10 guard has knocked down 28 out of 64 3-point shots. Her 28 makes are the fourth-highest total in the Big Ten Conference, and the 49th-highest total nationally.
? The Lincoln, Nebraska, native is two 3-pointers from doubling her previous career total of 30 makes (20 in 2013-14, 10 in 2014-15).
? Kastanek has made three or more 3-pointers in six of 11 games this year. She sunk a career-high six against Wright State on Nov. 26 and was a perfect 4-for-4 at UNI on Nov. 22.
LEADERS FROM THE CHARITY STRIPE
? The Hawkeyes are tied for second in the Big Ten Conference with a .772 free throw percentage. Iowa has netted 152-of-197 attempts from the charity stripe through 11 games.
? Eight of 11 Iowa players who have made trips to the free throw line this season own a free throw percentage of .750 or higher.
? Christina Buttenham leads the way, hitting both of her foul shot attempts this season (1.000), followed by Kali Peschel (.824), Alexa Kastanek (.818), Ally Disterhoft (.813), Tania Davis (.786), Chase Coley (.778), Megan Gustafson (.750), and Claire Till (.750).
B1G STATS SUMMARY
? Iowa ranks third in the Big Ten Conference with a 9-2 record. Maryland (11-1) is in first, followed by Northwestern (10-1).
? Freshman Megan Gustafson is sixth in the conference in field goal percentage (.593) and tied for eighth in blocked shots per game (1.5).
? Senior Kali Peschel is tied for 17th in rebounds per game (6.2).
? Sophomore Chase Coley is 10th in blocked shots per game (1.3), 14th in field goal percentage (.537), and 15th in defensive rebounds per game (4.5).
? Junior Ally Disterhoft is 13th in the conference in free throw percentage (81.3%) and in points per game (17.0).
? Junior Alexa Kastanek is seventh in the conference in 3-point field goal percentage (43.8%), ninth in 3-point field goals made per game (2.5), and 29th in points per game (12.4)
? Senior Claire Till leads the conference with a 4.0 assist to turnover ratio.
UP NEXT
Iowa begins Big Ten Conference play on the road at Nebraska on Dec. 31. Tipoff is set for 1 p.m. (CT). The game will be shown on BTN Plus available at btn2go.com.