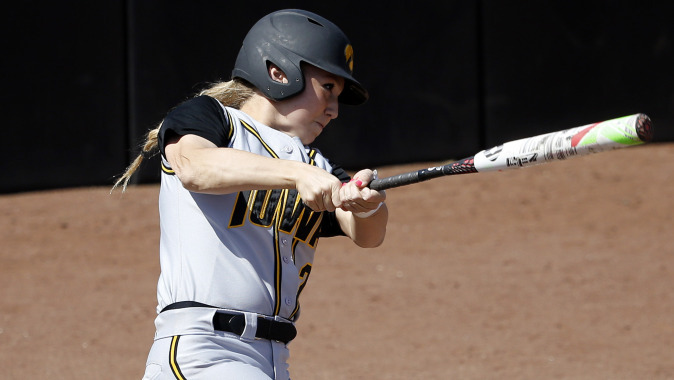 Jan. 6, 2015
Editor's Note: The following first appeared in the University of Iowa's Hawk Talk Daily, an e-newsletter that offers a daily look at the Iowa Hawkeyes, delivered free each morning to thousands of fans of the Hawkeyes worldwide. To receive daily news from the Iowa Hawkeyes, sign up HERE.
By BRANDEE BRITT
IOWA CITY, Iowa — Since his arrival in early August, University of Iowa softball hitting coach Jake Schumann has stressed the importance of a quality at-bat.
"I've used a quality at-bat approach for quite some time now, and it has worked everywhere I've been," said Schumann. "That is probably the newest thing these hitters have to adjust to. It is a mental approach that is more about preparation than it is about teaching mechanics."
Schumann, a native of St. Paul, Minnesota, joined the Hawkeyes' coaching staff after spending one season as associate head coach at Mississippi. He also served as head coach at Florida International (2011-14), Texas A&M-Corpus Christi (2007-11), Texas A&M-Kingsville (2003-07), and Carl Albert State College (2001-03).
Schumann says there are six ways to define a quality at-bat: walk, hit, reaching on an error, moving a runner with less than one out, seeing seven or more pitches at the plate, and hitting the ball hard.
"This allows the hitter to approach an at-bat from a selfless point of view," Schumann said. "It gives you more of an opportunity to have success rather basing success purely on your batting average."
The Hawkeyes return eight players to their 2015 starting lineup. Redshirt junior Sammi Gyerman hit .326 with a team-high 42 runs last season. The San Pedro, California, native etched her name in the Iowa record books, recording the first cycle in program history and just the third in Big Ten Conference history against Illinois on April 3.
Redshirt senior Holly Hoffman and junior Kaitlyn Mullarkey each hit .261 in 2015. The duo sparked the Iowa offense with timely hits throughout the season. Hoffman had a game-winning, two-run double to help the Hawkeyes upset No. 12 Minnesota in the Big Ten Tournament quarterfinals, while Mullarkey provided the game-winning, two-run double in Iowa's win over Michigan on March 29.
Although four-time NFCA All-Midwest Region honoree Megan Blank will be missed in the heart of the order, Schumann's new method at the plate takes away the need for another superstar to arise.
"The beauty of the quality at-bat approach is that one person doesn't have to put the team on their shoulders," Schumann said. "If you can adopt the 'I'm going to help my team win' philosophy in every single batter, then one person doesn't have to be the RBI or home run machine."
After one semester of instituting Schumann's approach, the Hawkeyes are reaping the benefits of the new philosophy.
"Our walk-to-strikeout ratio improved in the fall," Schumann said. "We had 84 walks to 80 strikeouts. In the past we had three times as many strikeouts. It's just the fall, but I feel the approach has helped us immensely."
The Hawkeyes begin the 2016 season at the Texas A&M-Corpus Christi Tournament in Corpus Christi, Texas, from Feb. 12-14.