Jan. 7, 2016
Notes in PDF Format

ON THE MAT
The University of Iowa wrestling team resumes conference action this weekend with a pair of duals at Illinois and Northwestern. The second-ranked Hawkeyes meet No. 11 Illinois on Friday at Huff Hall at 7 p.m. (CT). Iowa then travels to Northwestern to face the Wildcats at 2 p.m. (CT) at Welsh-Ryan Arena. Sunday's dual is streamed live on BTN Plus.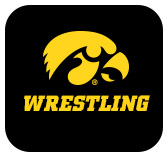 IOWA VS. ILLINOIS
The Hawkeyes own a 49-26-1 series advantage over the Illini and have won six straight in the series, including the last two in Champaign. Iowa is 21-17 all-time in Champaign. The Hawkeyes haven't lost at Illinois since Jan. 28, 2005 (25-7). The Hawkeyes lost 21 of the first 22 meetings in the series that began in 1920, but have since won 48-of-54 with one tie (12-12 in 1952). Iowa's largest win in the series was 52-0 in 1984. Illinois' largest win of the series was 34-8 in 1922. Iowa head coach Tom Brands is 6-0 all-time against the Illini. Illinois head coach Jim Heffernan and associate head coach Mark Perry are both graduates of the University of Iowa. Heffernan was a four-time All-American from 1983-87 and won the 1986 NCAA title. Perry earned four All-America honors from 2005-08 and won a pair of title wrestling for Brands in 2007 and 2008.
IOWA VS. NORTHWESTERN
Iowa leads the all-time series, 70-7-1. Iowa has won 10 straight against Northwestern and owns an all-time mark of 33-4-1 in Evanston. The Hawkeyes have won four straight road duals against the Wildcats. Northwestern's last win in the series was a 22-19 victory in Evanston on Jan. 29, 2005. The Hawkeyes are 9-0 against Northwestern under head coach Tom Brands.
SORENSEN EARNS CONFERENCE HONOR
Sophomore Brandon Sorensen was named co-Big Ten Wrestler of the Week on Jan. 5. He won the 149-pound bracket at the 2015 Midlands Championship on Dec. 30. The Cedar Falls, Iowa, native went 6-0 with a pair of wins over ranked opponents, defeating seventh-ranked Jake Sueflohn (Nebraska) in the semis and third-ranked Jason Tsirtsis (Northwestern) in the finals. He also had a pin and technical fall in the opening rounds. The weekly conference honor is the third of Sorensen's career. He was recognized two times in January 2015. The Big Ten award is the second for Iowa this season. Sammy Brooks earned the honor Nov. 17.
A LITTLE EXTRA
Junior Thomas Gilman delivered bonus points in each of his first 10 matches of the season. Gilman, ranked No. 2 at 125, has two technical falls, three major decisions, and five pins. His 42 dual points scored rank second on the team to junior Sammy Brooks, who has scored 43 dual points out of a possible 48 in six matches. Gilman has five falls this season, tying redshirt freshman Sam Stoll for the team lead. Gilman recorded his fifth fall in the quarterfinals of the Midlands championships, a tournament he won for the second time in his career (2013). Gilman's five pins tie his single-season career high, set in 2014-15.
FALLS BIG AND SMALL
Junior 125-pounder Thomas Gilman and redshirt freshman 285-pounder Sam Stoll share the team lead with five pins. Four of Gilman's five falls have occurred in the first period, with his quickest coming in 1:32. The five falls tie a career high set in 2014-15. Four of Stoll's first five career wins came via fall, three in the first period. His fifth fall came at the 6:42 mark in the consolation semifinals at the Midlands Championships and eventually set him up for a third place finish. Stoll finished his high school career with a national record 63 consecutive pins. He pinned every opponent he faced his senior season. As a true freshman in 2014-15, Stoll was 18-5 with 11 pins competing unattached.
CLARK SCORES HAT TRICK
Junior Cory Clark is 11-0 overall with three wins over ranked opponents. Clark defeated No. 7 Earl Hall of Iowa State, 9-2, on Nov. 29, earned a decision against No. 15 Brance Simms of SDSU on Dec. 4, and scored a major decision over Rutgers' No. 17 Anthony Giraldo on Dec. 10. Clark is scheduled to face seventh-ranked Zane Richards of Illinois on Friday. He is 2-1 all-time against the Illini junior. He won the first career meeting, 4-2, at the 2014 Midlands, but dropped a 6-5 decision at a home dual in 2015. It is Clark's only career loss (22-1) at Carver-Hawkeye Arena. He avenged that loss in the semifinals of the 2015 Big Ten Championships, topping Richards 8-2. Clark is 26-9 all-time and has won eight of his last nine matches against ranked opponents. He is ranked No. 1 at 133 pounds by WIN Magazine.
SORENSEN ON TOP WITH REMATCH LOOMING
Sophomore Brandon Sorensen is ranked No. 1 at 149 pounds by WIN Magazine and Amateur Wrestling News. Sorensen is ranked No. 2 by Intermat, one spot behind Penn State's Zain Retherford. Sorensen is 14-0 with four major decisions, three technical falls, and two pins. His 14 wins are a team high. He has four wins over ranked opponents, including No. 12 Anthony Collica (OKST), 6-1; No. 16 Gabe Moreno (ISU), 11-3; No. 7 Jake Sueflohn (NEB), 7-4; and No. 3 Jason Tsirtsis (NW), 3-1. Sorensen won his first Midlands title with a 3-1 sudden victory against Tsirtsis on Dec. 30. It was the fourth career meeting between the two wrestlers (2-2). Three of their four meetings have been decided in overtime, the other was a 2-1 Tsirtsis win in the finals of the 2015 Big Ten Championships.
BURAK RETURNS TOP 3
Senior Nathan Burak is ranked No. 3 by Intermat and Amateur Wrestling News. It is the second time in his career he cracked the top three. He spent one week ranked No. 3 in January 2015 before falling to Minnesota's sixth-ranked Scott Schiller. Burak is 12-0 for the second year in a row. He started 13-0 last season. He has seven wins by bonus points, including three major decisions, two technical falls, and two falls. The two technical falls are a single-season career high, and the two falls match his single-season career high.
ALL-AMERICAN DOMINANCE
Iowa's four returning All-Americans — Thomas Gilman (125), Cory Clark (133), Brandon Sorensen (149), and Nathan Burak (197) — are a combined 49-0 with 33 wins by bonus points. Gilman, Sorensen, and Burak each won their respective brackets at the 2015 Midlands. Clark was 3-0 before withdrawing prior to the semifinals. The group is 14-0 against top 20 wrestlers, with two technical falls and three major decisions.
DUAL POINTS RACE
Junior Sammy Brooks has scored 43 of a possible 48 points in eight duals. Brooks has four pins, one forfeit, and two technical falls in eight outings. His 43 dual points lead the team. Junior Thomas Gilman is second with 42, and redshirt freshman Sam Stoll is third with 39. All three wrestlers have four pins in eight dual matches.
DOMINANT SINCE NO. 1
Gary Kurdelmeier led Iowa to its first NCAA Championship in 1975, and in the 41 years since, the Hawkeyes have accumulated 23 team titles, more than any other school — Oklahoma State (7), Penn State (4), Minnesota (3), Iowa State (2), Ohio State (1) and Arizona State (1).
ALL-AMERICAN STREAK
Iowa returns four All-Americans this year — Thomas Gilman (125), Cory Clark (133), Brandon Sorensen (149), and Nathan Burak (197). The Hawkeyes had a tournament-high six All-Americans in 2015. Mike Evans (6th/174) and Bobby Telford (5th/285) won All-America honors for the third time, Nathan Burak (7th/197) and Cory Clark (2nd/133) became two-time All-Americans, and Thomas Gilman (4th/125) and Brandon Sorensen (4th/149) are first-time All-Americans. The Hawkeyes crowned at least one All-American for the 44th consecutive season, a stretch dating back to 1972. Iowa has totaled 267 All-America honors during that stretch.
CLARK EXTENDS RUN TO 26
Sophomore Cory Clark advanced to the finals at 133 pounds in 2015 to extend Iowa's streak of NCAA finalists to 26 consecutive years. Iowa has had at least one wrestler in the national finals every year since 1990, and in 40 of the last 41 seasons dating back to 1975.
HAWKEYE WRESTLING HISTORY
Iowa's overall dual meet record is 964-225-31 (.799) in 104 seasons. The Hawkeyes have won 23 national titles and 35 Big Ten titles. Iowa's 53 NCAA Champions have won a total of 81 NCAA individual titles, crowning six three-time and 16 two-time champions. The Hawkeyes' 109 Big Ten champions have combined for 195 conference titles. There have been seven four-time, 18 three-time, and 29 two-time Iowa winners. Iowa's 152 All-Americans have earned All-America status 313 times, including 18 four-time, 34 three-time and 40 two-time honorees.