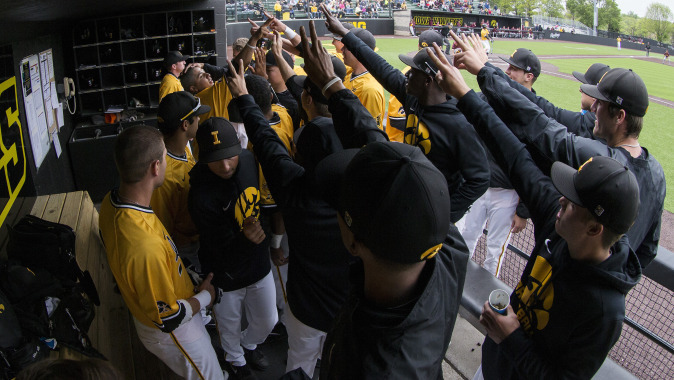 Jan. 8, 2016
IOWA CITY, Iowa — The University of Iowa baseball team is ranked 43rd in College Sports Madness' Top-44 countdown in its college baseball rankings for the 2016 season, it was released Friday. The Hawkeyes are picked to finish third in the Big Ten Conference.
Iowa returns four positional starters and 2/3 of its weekend rotation from a team that went 41-18, finished as the Big Ten regular season runner-up, and advanced to its first NCAA Regional since 1990. The Hawkeyes went 2-2 at the Springfield Regional — the program's first NCAA Tournament victory since 1972.
Third-team All-American Tyler Peyton headlines the returnees as Iowa's top hitter and Friday night starter. Second-team All-Big Ten starter Calvin Mathews also returns to the Hawkeye rotation, while third-team All-Big Ten shortstop Nick Roscetti is back to anchor the infield.
The Hawkeyes are also receiving votes by Collegiate Baseball in its preseason poll.
Iowa opens the season at No. 31 Dallas Baptist from Feb. 19-21 in Dallas. The Hawkeyes' home opener is slated for March 8 or March 9 against Northwestern (Iowa) College at Banks Field.
Click HERE to read the Iowa team preview by College Sports Madness.