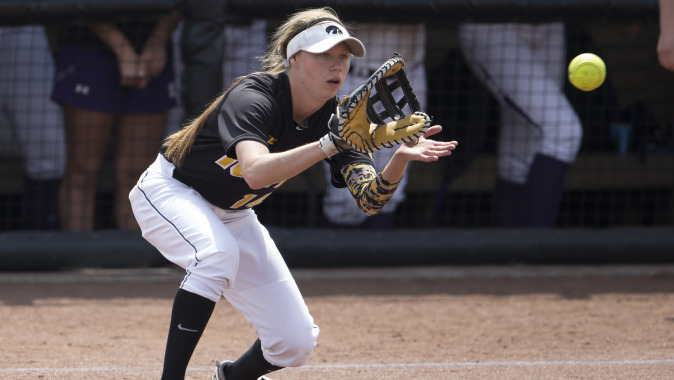 Feb.11, 2016
Editor's Note: The following first appeared in the University of Iowa's Hawk Talk Daily, an e-newsletter that offers a daily look at the Iowa Hawkeyes, delivered free each morning to thousands of fans of the Hawkeyes worldwide. To receive daily news from the Iowa Hawkeyes, sign up HERE.
By BRANDEE BRITT
IOWA CITY, Iowa —After nearly a month of practice, the University of Iowa softball team is ready to make it happen on the field this weekend.
"Our theme for the season is 'Make it Happen.'" said UI head coach Marla Looper. "It's time to stop talking about what we want to do and actually make it happen. Our team is doing a nice job of that so far."
Sixteen letterwinners and eight starters return for the Hawkeyes, who finished 19-40 overall and 8-15 in Big Ten play last season. Iowa ended the season winning three of its final four games, including a pair of upset victories in the 2015 Big Ten Tournament — the program's deepest run in the conference tournament since 2008.
With so many returnees, Iowa hopes to build off of its Big Ten Tournament momentum in 2016.
"The fight and intensity that we had in the Big Ten Tournament is something we need to have more consistently throughout our whole season," said junior first baseman Kaitlyn Mullarkey. "Obviously we have a new team and we need to move on from last season, but that fight is something we need to remember."
Redshirt junior Sammi Gyerman, who hit .326 and scored a team-high 42 runs for the Hawkeyes in 2015, agrees.
"The Big Ten Tournament was finally that last step we needed to have that confidence," Gyerman said. "It gave us the punch that we needed to see that we can compete with anybody."
Iowa's returning experience along with its five newcomers — junior transfer Elizabeth Wiegand, sophomore transfer Katy Taylor, and freshmen Erin Riding, Mallory Kilian, and Brooke Rozier — give the Hawkeyes much-needed depth.
"We have five new people this year that can all contribute," said Looper. "They all have the potential to do so. Our returners have been able to work with them well."
Three of Iowa's five newcomers — Wiegand, Riding and Kilian — join junior ace Shayla Starkenburg, senior Jillian Navarrete, and sophomore Ashley Yoways in the circle. Starkenburg started 38 games in 2015 and led the team in every pitching category.
"Right now we have a staff that I get to learn to manage and I'm excited about that," Looper said. "We haven't had that opportunity the last few years. That depth will play a key role in our success this year."
Iowa kicks off the 2016 season at the Texas A&M Corpus Christi Tournament on Friday. The Hawkeyes take on Louisville at 12:30 p.m. (CT) before facing tournament host Corpus Christi at 3 p.m.
"I'm ready to get on the field and see what we have to offer," Looper said. "We are two or three months ahead of where we were last year. This last week has been a pivotal point with the attitude, energy, and effort. I'm excited to get on the field and see how we react, respond, and adjust to our opponent."