Box Score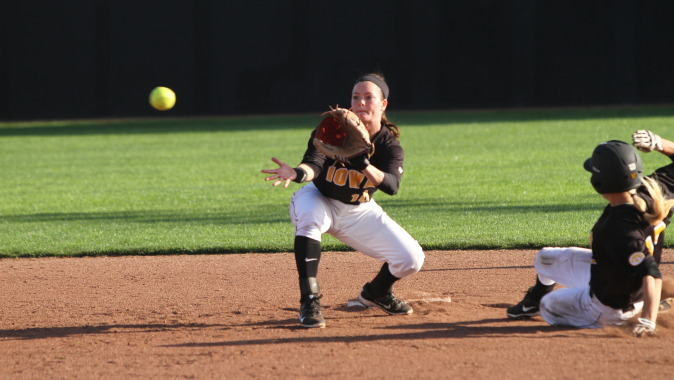 Feb. 14, 2015
IOWA05

CORPUS CHRISTI, Texas —The University of Iowa softball team dropped a 2-1 decision to Texas A&M-Corpus Christi on Sunday afternoon at Chapman Field. The Hawkeyes fall to 2-3 on the season with the loss, while the Islanders improve to 2-1.
"We've got to execute when asked to execute," said UI head coach Marla Looper. "To do that, we have to buy in. We didn't necessarily have that today. We let them hang around."
The Islanders struck first, plating a run on a double and an RBI groundout in the third.
The Hawkeyes scored their only run of the game in the top of the fifth. Senior Erin Erickson led off the inning with a single to the right side, and moved to second on a groundout to third. Sophomore Katy Taylor followed with a bunt single that moved Erickson to third. After a Taylor steal, Mullarkey executed the sacrifice squeeze to tie the game, 1-1.
Iowa silenced a TAMUCC scoring chance in the bottom of the fifth, but could not keep the Islanders off the board in the sixth. Corpus Christi used a pair of singles, a sacrifice bunt, and a walk to plate the eventual game-winning run.
Elizabeth Wiegand went the distance in the circle for the Hawkeyes. The junior allowed two runs on three hits and three walks. She struck out five.
Taylor paced the Hawkeyes at the plate, going 2-for-4 with two singles. Redshirt senior Holly Hoffman and seniors Erin Erickson and Whitney Repole also registered hits for the Hawkeyes.
"I thought Liz threw a very good ball game," said Looper. "We just didn't play the other side of the game well enough to get the win. We tried to stir things up and get people moving, but we didn't execute when we needed to."
The Hawkeyes return to action Feb. 19-21 at the Rosemont Tournament in Rosemont, Illinois.
"We will need to get a solid week of practice in before we head to Chicago to play in the dome," said Looper. "As frustrating as this is, the nice thing about this part of the year is that we get another chance to get back out on the field to correct the things that we have done. We have to get through that and bring a different game next weekend."
Texas A&M-Corpus Christi 2, Iowa 1
1
2
3
4
5
6
7
R
H
E
Iowa (2-3)
0
0
0
0
1
0
0
1
5
1
TAMUCC (2-1)
0
0
1
0
0
1
0
2
3
0
Game Decision
W: Carter (TAMUCC) 2-0
L: Wiegand (IOWA) 1-1