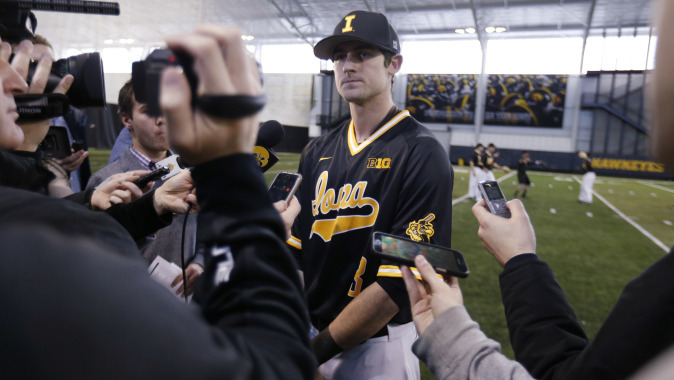 Feb. 17, 2016
By JACK ROSSI
hawkeyesports.com
IOWA CITY, Iowa — University of Iowa senior shortstop Nick Roscetti is ready to build off his breakout junior season.
The Sherman, Illinois, native replaced first-team All-Big Ten selection Jake Yacinich in 2015 and following a slow start, Roscetti took off during Big Ten play. He finished with a .391 average — fourth-best in league play — with 36 hits, 15 runs, and 18 RBIs.
Roscetti hit .303 for the season — the second-best returning average on the team.
"Last year my teammates set me up and got me in the right spot," Roscetti said. "I was grateful for getting people in front of me and getting the right pitches for (Tyler) Peyton. It gave me a chance to succeed."
The Hawkeyes certainly won't forget last season's 41-18 record and the program's first NCAA Regional appearance since 1990, but there is one thing that last year's group left behind.
"They set us up with a good foundation for the team this year," Roscetti said. "That's the past. We're trying to take it one game at a time and build off last season and hopefully continue with more success."
As a senior, Roscetti was voted one of four team captains for the 2016 season, but labels like that don't matter on a team loaded with 12 seniors on the roster.
"Everyone on the team can be a leader," Roscetti said. "Knowing that helps us as captains do our job."
The third-team All-Big Ten selection from a year ago isn't getting complacent either. Knowing the team needs players to step up, he's excited to see who this year's breakout star can be.
"You need to look for Mason McCoy," Roscetti said. "He's new here, but he received a lot of accolades over the summer. I think he is going to be a big part of our team. He's a reliable hitter and fielder. It will be a pleasure playing with him up the middle this season."
McCoy, a junior transfer from Illinois Central Community College, already has chemistry with Roscetti as the two played high school baseball together. Now with the season on the horizon, Roscetti knows what the team must do to continue its success in 2016.
"We're going to do what we know how to do and play the game hard," Roscetti said. "Hopefully by playing the game hard, success will come."
The Hawkeyes open the season Friday at Dallas Baptist. The opening game of the three-game series begins at 6:30 p.m. (CT) from Horner Ballpark in Dallas.