Box Score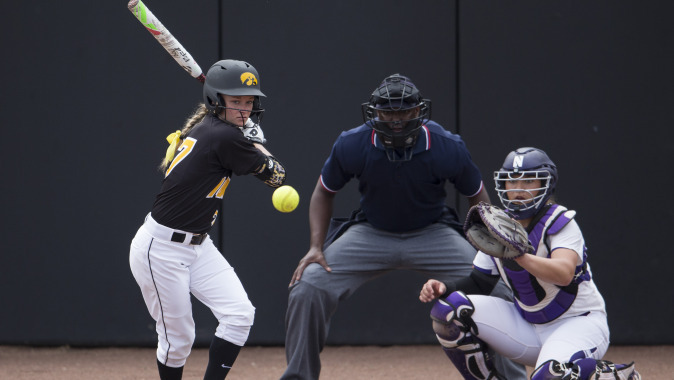 Feb. 19, 2016
IOWA07

ROSEMONT, Ill. — The University of Iowa softball team dropped a 3-2 decision to University of Illinois-Chicago on Friday night inside the Dome at Rosemont. The Hawkeyes fall to 3-4 on the season with the loss, while UIC improves to 3-3.
"It came down to the little things," said UI head coach Marla Looper. "We had chances to score. We left way too many runners on base (eight). We have to take care of the ball in the circle, at the plate, and defensively. We handed them two of their three runs. If we take one of those mistakes out, it's a whole different ball game."
After the Flames took an early 1-0 on a solo home run, the Hawkeyes fired back in the top of the fourth. Senior Holly Hoffman reached on a fielder's choice before junior Claire Fritsch moved her to second on a grounder to short. Freshman Mallory Kilian followed with a single through the left side — her second hit of the game. With runners on first and third and two outs, sophomore Cheyenne Pratt threw off the Flame defense with a bunt single that plated Hoffman to tie the game, 1-1.
With runners on first and second and two outs, Looper went to her bench. Sophomore Angela Schmiederer came through, blasting an RBI ground-rule double to center on the 10th pitch of her at bat to give the Hawkeyes a 2-1 lead.
The Flames tied it up in the bottom of the fourth with a pair of singles and an error, before taking a 3-2 lead on a solo home run to left in the bottom of the sixth.
Erin Riding (0-3) took the loss in the circle. The freshman allowed three runs (two earned) on four hits and three walks. Two of the four hits were home runs. Redshirt junior Shayla Starkenburg threw an inning in relief. The Ankeny, Iowa, native sent the Flames down in order on a strikeout, groundout, and flyout.
Freshman Mallory Kilian led the Hawkeyes at the plate. The Fort Dodge, Iowa, native was 2-for-2 with a pair of singles and a walk.
"We inserted Mallory in the designated player spot, because she gave us a good at bat in the first game," said Looper. "We felt like she was zeroed in, so we put her in. She didn't put any pressure on herself. She just played the game like she knows how. Everyone has to do that. She found a way to get on in every at bat and helped us."
Iowa returns to action tomorrow with an 11:30 a.m. (CT) contest against Lipscomb and a 2 p.m. game against Loyola-Chicago.
"We have to get back after it tomorrow," said Looper. "We have to play Hawkeye softball. We know we are going to have teams that are going to play us tough, but we have to find a way to overcome it. When we do the little things right, it makes the game simple."
UIC 3, Iowa 2
1
2
3
4
5
6
7
R
H
E
Iowa (3-4)
0
0
0
2
0
0
0
2
6
1
UIC (3-3)
0
1
0
1
0
1
X
3
4
0
Game Decision
W: Heflin (UIC) 2-2
L: Riding (IOWA) 0-3