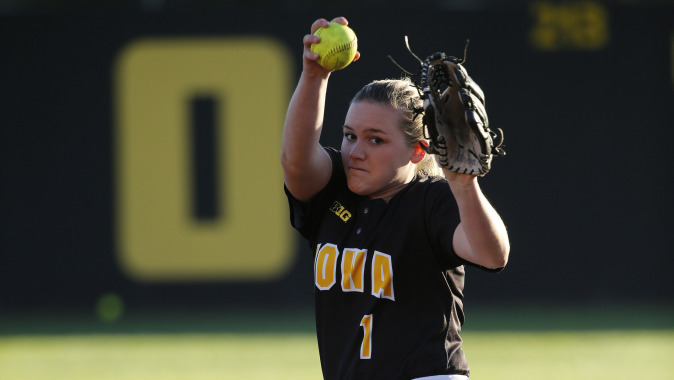 Feb.19, 2016
Editor's Note: The following first appeared in the University of Iowa's Hawk Talk Daily, an e-newsletter that offers a daily look at the Iowa Hawkeyes, delivered free each morning to thousands of fans of the Hawkeyes worldwide. To receive daily news from the Iowa Hawkeyes, sign up HERE.
By BRANDEE BRITT
IOWA CITY, Iowa — Junior Elizabeth Wiegand may be new to the University of Iowa softball team, but she is no stranger to the circle.
Wiegand transferred to Iowa following two seasons as the ace at Tennessee Martin. The Moscow Mills, Missouri, native appeared in 26 games with 21 starts last season. She led the Skyhawks in ERA (2.94), wins (12), appearances (26), starts (21), complete games (16), shutouts (3), innings pitched (135.2), and strikeouts (63) in 2015.
Her Division I experience in the circle proved to be beneficial in Iowa's season-opening tournament in Corpus Christi, Texas, from Feb. 12-14.
"I liked her attitude and demeanor," said UI head coach Marla Looper. "It shows her veteran status. She gets this high energy level when she's on the mound. It's an extra bounce in her step. When she's got that, she's going to have success a majority of the time."
That bounce in her step helped lead the Hawkeyes a 1-0 season-opening win over Louisville on Feb. 12. Wiegand allowed three hits, walked one, and struck out five in her Hawkeye debut.
While her success was evident, it was her willingness to thank her teammates for every good play and credit her battery mate for calling a great game behind the plate that impressed her coach.
"Liz has a different personality than other pitchers," said Looper. "She appreciates what others do for her. As a coach, I love seeing her thank her teammates and know that it's not just about her. It's about everyone working together. That's enjoyable to watch."
Redshirt senior catcher Holly Hoffman appreciates Wiegand's enthusiasm and accuracy in circle, too.
"She makes my job easy," said Hoffman. "She spots the ball where she needs to, and that makes the game so much more enjoyable. It becomes easy at that point."
While her attitude in the circle may differ from other pitchers, Wiegand attributes her enthusiasm to her love of the game.
"I get excited about anything good that happens," said Wiegand. "If someone makes a good play, that's fun to watch. If Holly does a great job calling a pitch, that's awesome, and I get excited about it. I'm right there pitching it with her. I have a lot of fun out there, and I like to show that."
In three appearances this season, Wiegand owns a 2.35 ERA, allowing four earned runs on nine hits over 15 1/3 innings. To maintain that success, Wiegand is listening closely to her coach's advice.
"Coach Looper always tells me to trust my pitches, trust my spots, and pound the zone," said Wiegand. "That's what I'm focused on doing the rest of the season."
Iowa returns to action today at the Total Control Sports Invitational in Rosemont, Illinois. The Hawkeyes take on IUPUI at 11:30 a.m. (CT) before facing tournament co-host UIC at 4:30 p.m.