Box Score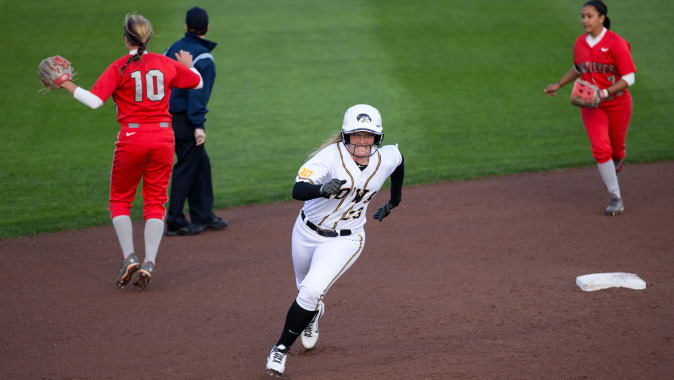 Feb. 21, 2016
IOWA10

ROSEMONT, Ill. — The University of Iowa softball team fell to Indiana State, 3-2, on Sunday afternoon in Total Control Sports Invitational action. The Hawkeyes fall to 3-7 on the season with the loss, while the Sycamores improve to 2-2.
"It came down to the little things," said UI head coach Marla Looper. "We didn't take care of the ball very well early on. We gave them those runs. I was trying to change variety with our pitchers. That was the plan coming into it, but we didn't transition from pitcher to pitcher very well."
After giving up an unearned run in the bottom of the second, the Hawkeyes got on the board in the top of the third. Junior Kara Misel got it started with a single to center and moved herself into scoring position with a stolen base. One batter later, junior Kaitlyn Mullarkey sent a two-run blast — her second home run of the season — over the right-field wall to give the Hawkeyes a 2-1 lead.
The Sycamores regained the lead in the bottom of the fourth. A single, sacrifice bunt, triple and a double gave Indiana State a 3-2 lead. Shayla Starkenburg entered the circle with runners on first and third and one out. The redshirt junior came through, striking out the next two batters to minimize the damage.
Iowa put runners on in the fifth, sixth, and seventh, but could not push a run across. The Hawkeyes left seven runners on base.
"We just didn't execute when we needed to along the way, and we had plenty of chances to do so," said Looper. "We have to eliminate leaving so many runners on base."
Three Hawkeyes saw action in the circle. Junior Elizabeth Wiegand got the start. She allowed two runs (one earned) on two hits and a pair of walks. Erin Riding (0-4) was credited with the loss, allowing one run on two hits. Starkenburg allowed two hits, walked one, and struck out five in two and two-thirds.
Misel led the Hawkeyes at the plate, reaching base all three times. The Solon, Iowa, native went 2-for-2 with a pair of singles — the first two hits of her career — and a walk. Mullarkey plated both of Iowa's runs with the eighth home run of her career.
"Kara did a nice job," Looper said. "We put her in the lineup yesterday and threw her back in there today. She's been waiting for that turn and instead of putting too much pressure on herself this time, she let the game come to her."
The Hawkeyes return to action Feb. 26-28 at the Coastal Carolina Tournament in Conway, South Carolina.
"We have to figure out with our minds, our hearts, and our guts how we are going to overcome these one-run games," said Looper. "Physically we have the capability and potential, but we have to put it all together. We can't expect things to happen if we don't do the work to make it happen. I believe that it will happen with this group. We just have to do it sooner rather than later."
Indiana State 3, Iowa 2
1
2
3
4
5
6
7
R
H
E
Iowa (3-7)
0
0
2
0
0
0
0
2
5
3
Indiana State (2-2)
0
1
0
2
0
0
X
3
6
0
Game Decision
W: Klopp (ISU) 2-2
L: Riding (IOWA) 0-4
S: Benefiel (ISU) (1)