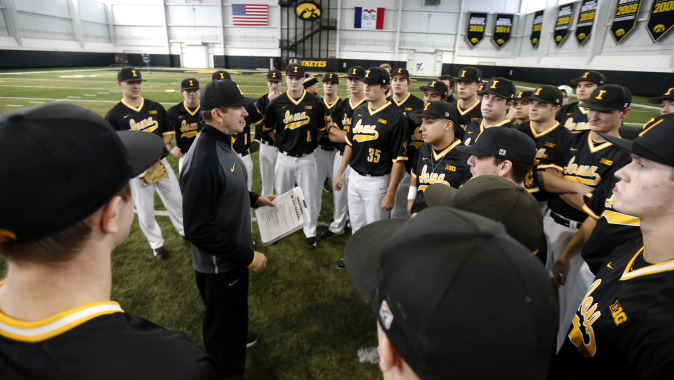 Feb. 25, 2016
Game 1 vs. Indiana State
Date | Time
Friday, Feb. 26 | 1 p.m. (CT) | North Charlotte Regional Park | Port Charlotte, Fla.
Pitching Matchup
IOWA: Sr., RHP Tyler Peyton (0-1, 0.00 ERA) vs.
ISU: Jr., RHP Austin Conway (0-0, 9.00)
Game 2 vs. Dartmouth
Date | Time
Saturday, Feb. 27 | 10 a.m. (CT) | South County Regional Park | Punta Gorda, Fla.
Pitching Matchup
IOWA: So., RHP C.J. Eldred (0-0, 2.25 ERA) vs.
DART: Sr., RHP Duncan Robinson (6-2, 2.62 ERA in 2015)
Game 3 vs. Chicago State
Date | Time
Sunday, Feb. 28 | 9:30 a.m. (CT) | North Charlotte Regional Park | Port Charlotte, Fla.
Pitching Matchup
IOWA: Sr., RHP Calvin Mathews (0-0, 2.25 ERA) vs.
CSU: TBA
THIS WEEK
The University of Iowa baseball team travels to the Sunshine State for the 2016 Snowbird Baseball Classic from Feb. 26-28 in Port Charlotte, Fla. The Hawkeyes face Indiana State on Friday at 1 p.m. (CT), Dartmouth at 10 a.m. Saturday, and Chicago State at 9:30 a.m. Sunday.
GAME LOCATIONS
Friday and Sunday's games will be played at North Charlotte Regional Park (1185 O'Donnell Blvd., Port Charlotte, FL, 33953), while Saturday's contest will be played at South County Regional Park (670 Cooper Street, Punta Gorda, FL 33983).
GAME COVERAGE
? Iowa's live audio stream of the three games will be available on Hawkeye All-Access. Zach Mackey will be on the call. Steve Duncan or Ray Gilmore will provide color commentary.
? Live statistics will be available at www.hawkeyesports.com and fans can follow the action via Twitter/UIBaseball.
NOTABLES
? Iowa hit two home runs during its opening weekend of the 2016 season at Dallas Baptist. The Hawkeyes hit 14 home runs all of the 2015 season. Junior Corbin Woods hit his first career home run, while senior Daniel Aaron Moriel connected on his second career jack.
? The Hawkeyes had a team 3.38 ERA during the opening weekend at Dallas Baptist. Iowa allowed 16 runs — nine earned — and gave up 20 hits over 24 innings.
? Iowa is altering its weekend rotation with C.J. Eldred getting the ball for his first career start Saturday against Dartmouth. The Hawkeyes used the same weekend rotation for the duration of the 2015 season.
INDIANA STATE NOTABLES
? The Sycamores went 3-1 during the opening weekend, posting two victories over Oral Roberts and going 1-1 against UALR.
? Indiana State hit .267 as a team during the four games, but three players sizzled. Kaden Moore had seven hits in 15 at-bats (.467) and drove in seven runs, Andy Young hit .455 (5-for-11) with three RBIs, and Hunter Owen batted .389 (7-of-18) with six runs.
? The Sycamores had a 3.55 team ERA, allowing 15 earned runs over 38 innings. ISU had 26 strikeouts, but issued 22 walks in four games.
? Indiana State, who returns four positional starters and seven pitchers, was picked to finish fifth in the Missouri Valley Conference in 2016. Andy Young was a preseason All-MVC selection.
DARTMOUTH NOTABLES
? Dartmouth's season opener will be Saturday against Iowa.
? Big Green starting pitcher Duncan Robinson will get the ball against the Hawkeyes. He is the consensus Ivy League Preseason Pitcher of the Year, a season after earning Ivy League Pitcher of the Year and first-team all-league honors. He went 6-2 with a 2.62 ERA.
? Dartmouth won the Red Rolfe Division in the Ivy League with a 16-4 record. Columbia won 2-of-3 games to claim the 2015 Ivy League Championship Series.
CHICAGO STATE NOTABLES
? The Cougars went 1-2 during their opening three-game series at Texas A&M-Corpus Christi. Chicago State won the opener, 7-1, before falling 8-6 and 6-2 in games two and three.
? Andy Gertonson is leading Chicago State with a .571 average, collecting eight hits in 14 at-bats with a double, home run, and four RBIs. Sanford Hunt is hitting .462 with six hits in 13 at-bats.
? The Cougars pitching staff has a 4.68 ERA, allowing 15 runs (13 earned) on 25 hits over 25 innings. CSU struck out 20 and issued 11 walks.
SERIES RECORD
? This weekend is Iowa's first matchup against Indiana State and Chicago State.
? The Hawkeyes are 3-0 all-time against Dartmouth winning a pair of 8-1 contests during the 1989 season and 4-3 in 2004.
HELLER FACES OLD SQUAD
UI head coach Rick Heller will face his old team — Indiana State — Friday in Port Charlotte. Heller led the Sycamores for four seasons, leading the program to an outright MVC title, an NCAA Regional berth, while being named the 2012 Dan Callahan MVC Coach of the Year.
? Indiana State's Brian Smiley was an assistant under Heller. He was slated to join the Iowa staff in 2014, but elected to stay in Terre Haute.
ELDRED — THE STARTER — DEBUTS SATURDAY
Sophomore C.J. Eldred will step into Iowa's starting rotation Saturday against Dartmouth. It will be his first collegiate start. Eldred pitched four innings in relief at No. 31 Dallas Baptist, retiring the first 13 batters he faced. He allowed two runs (one earned) on two hits and struck out three.
NEWCOMER NOTES
? Junior Mason McCoy roped a double into the right center field gap in his first at-bat as a Hawkeye. McCoy batted in the two hole in the first two games before moving to the leadoff spot in game three.
? Freshman Robert Neustrom started 2-of-3 games in right field, finishing the weekend with one hit in six at-bats.
? Freshman Zach Daniels threw 1 2/3 innings of shutout relief against the Patriots, finishing with one strikeout.
RETURNEES BY THE NUMBERS
? Iowa returns 51.5 percent of its RBIs (135 of 262), 46.4 percent of its runs (136 of 293), 45.1 percent of its hits (243 of 539) and 42.9 percent of its doubles (36 of 84). The Hawkeyes also have six (of 14) home runs returning to the lineup.
? On the pitching front, Iowa returns weekend starters Tyler Peyton (7-4, 3.03 ERA) and Calvin Mathews (5-3, 2.45 ERA) and 11-of-19 saves from 2015. The Hawkeyes have 61 percent of their wins (25 of 41), 69 percent of their innings pitched (371 of 537.1), and 66.2 percent of the strikeouts (247 of 373) back.
THE FORMULA – PITCHING & DEFENSE
? Iowa won with its pitching and defense in 2015 and it's the equation UI head coach Rick Heller is counting on again this season. The Hawkeye pitching staff shattered the school record with a 2.95 ERA over 59 games. The previous record was 3.63 in 1971.
? The team finished 10th in the nation in hits allowed per nine innings (7.69) and 16th in ERA last season.
? Iowa was 11th nationally (and second in the Big Ten) in fielding percentage with a .978 clip. Iowa committed 50 errors in 59 games and turned 51 double plays.
SENIOR Tyler Peyton…
? logged a quality start at Dallas Baptist, going 6 1/3 innings, scattering two hits, and striking out six. Both runs were unearned, as he took the loss.
? is 12-6 in his Iowa career with a 3.70 ERA in 31 starts. Peyton has 15 quality starts and has pitched into the seventh inning 14 times in his career.
? has logged 177 1/3 innings in two seasons, where he has 119 strikeouts to 57 walks.
? earned third-team All-America honors by D1Baseball.com and the USBWA as a junior.
? has the best change-up in the Big Ten Conference according to Baseball America.
SENIOR Calvin Mathews…
? is 10-11 with a 3.07 ERA in 40 appearances (36 starts). He has logged 190 1/3 innings, allowing 168 hits, striking out 133 strikeouts to 60 walks.
FOLLOW THE HAWKEYES
Iowa baseball fans can follow the Hawkeyes on Facebook/iowabaseball, Twitter: @UIBaseball, and Instagram/UIBaseball in addition to coverage on hawkeyesports.com.