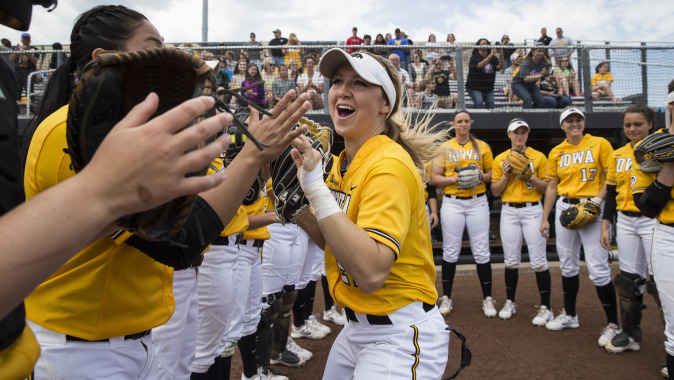 Feb.25, 2016
Weekly Release

THIS WEEK
The University of Iowa softball team travels to Conway, South Carolina, for the Coastal Carolina Invitational this weekend. The Hawkeyes open the weekend with a double header against Georgia Southern on Friday at 12 p.m. (CT) and 2 p.m. On Saturday, Iowa will face the host Chanticleers at 10 a.m. (CT), before rounding out a three-game series with the Eagles at 3 p.m. The Hawkeyes conclude weekend action with a 9 a.m. (CT) contest against Coastal Carolina on Sunday.
THE SETTING
The Coastal Carolina Invitational will be held at CCU Softball Stadium on the campus of Coastal Carolina University.
FOLLOW THE ACTION
Fans can follow all the action with GameTracker. Links can be found on the Iowa softball schedule page on hawkeyesports.com. For in-game updates, follow @IowaSoftball on Twitter and "like" the official page on Facebook, facebook.com/iowahawkeyessoftball.
IN THE RANKINGS – B1G
Four Big Ten teams appear in the ESPN.com/USA Softball Division I Softball Collegiate Top 25 poll released on Feb. 23. No. 2 Michigan and No. 22 Minnesota are ranked within the top 25, while Nebraska (13) and Ohio State (1) are receiving votes in the poll.
TAKING ON THE BEST
•Seven of Iowa's 2016 opponents are coming off a 2015 NCAA Tournament appearance.
•Iowa is scheduled to play 15 games against those opponents this season.
•The teams include: Louisville, Texas, Nebraska, Northwestern, Missouri, Indiana State, and Minnesota.
INCREASED SPEED
After stealing 18 bags in all of 2015, the Hawkeyes have stolen 15 bags in the first two tournaments of the season. The Hawkeyes swiped nine bags at the Texas A&M-Corpus Christi Tournament from Feb. 12-14, and stole six more at the Total Control Sports Invitational on Feb. 19-21. Sophomore Katy Taylor leads the team with five stole bases, while junior Claire Fritsch has three.
KILIAN AT THE DISH
Freshman Mallory Kilian led the Hawkeyes at the plate at the Total Control Sports Invitational from Feb. 19-21. Kilian hit a blistering .667 on the weekend. The Fort Dodge, Iowa, native collected four hits in six at bats. Kilian reached base in all three plate appearances against UIC on Feb. 19. She registered a pair of singles, a walk, and scored a run.
MULLARKEY GOES YARD
Junior Kaitlyn Mullarkey hit her first two home runs of the season at the Total Control Sports Invitational on Feb. 19-21. The Park Ridge, Illinois, native sent a solo shot over the center field wall in Iowa's 7-1 win over IUPUI on Feb. 19. Two days later, (Feb. 21) Mullarkey hit a two-run blast to right against Indiana State.
CAREER DAY FOR MISEL
Kara Misel made her first two career starts at third base against Loyola-Chicago (Feb. 20) and Indiana State (Feb. 21). The junior reached base all three times against Indiana State, registering a pair of singles and a walk. The Solon, Iowa, native also scored a run in the contest.
IN THE CIRCLE
•Iowa's team ERA of 2.11 is currently the second-lowest ERA in the Big Ten.
•Opposing batters are hitting .235 against Iowa pitchers — the fourth lowest average in the conference.
•The Hawkeyes allowed just 57 hits in 10 games this season — that mark ranks fifth in the Big Ten.
•Iowa has allowed 29 runs this season — the fourth fewest in the Big Ten.
AMONG THE BIG TEN
•Junior Kaitlyn Mullarkey leads the Big Ten in total plate appearances with 38.
•Sophomore Katy Taylor ranks fourth in the conference with five stolen bases.
•Mullarkey and redshirt senior Holly Hoffman are tied for first in the Big Ten with a perfect 1.000 fielding percentage.
•Mullarkey also ranks seventh in putouts (59).
AT THE PLATE
Five Hawkeyes hit .300 or better at the Total Control Sports Invitational in Rosemont, Illinois, from Feb. 19-21. Freshman Mallory Kilian paced the Hawkeyes with a .667 average, while juior Kara Misel hit .500. Redshirt junior Sammi Gyerman (.353), junior Kaitlyn Mullarkey (.333), and senior Erin Erickson (.333) all hit above .300 on the weekend.
TAYLOR SHOWS SPEED
Katy Taylor is a perfect 5-for-5 in stolen bases this season. The sophomore transfer has stole two bases in one game two times this season (Texas A&M-Corpus Christi on Feb. 14 and Lipscomb on Feb. 20). The Owasso, Oklahoma, native has registered nine hits on the season. Six of her nine hits are infield singles.
REACHED BASE STREAK
Junior Kaitlyn Mullarkey has reached base successfully in eight of Iowa's first 10 games. The Park Ridge, Illinois, native leads the team in home runs (2), walks (6), runs scored (7), extra base hits (4), and total bases (16).
SCOUTING GEORGIA SOUTHERN
•Georgia Southern is currently 5-5 on the season.
•Sophomore Rowan McGuire leads the Eagles at the plate with a .364 average.
•Opposing batters are hitting .216 against Georgia Southern pitchers. Kierra Camp leads the Eagles in appearances (7) and ERA (1.94).
•The Hawkeyes own a 5-0 advantage in the all-time series.
•Iowa and Georgia Southern last met in 2007. The Hawkeyes won 9-0 in six innings.
SCOUTING COASTAL CAROLINA
•Tournament host Coastal Carolina is 4-7 on the season.
•Taty Forbes currently leads the Chanticleers at the plate with a .525 average. The freshman has 21 hits in 40 at bats.
•Kelsey Dominik leads the Chanticleers in appearances (8) and ERA (3.08). The senior owns a 3-5 record on the season.
•Saturday will mark the first meeting between Iowa and Coastal Carolina.
FRITSCH SHINES IN HOME STATE
Sophomore Claire Fritsch led the Hawkeyes at the plate at the Texas A&M-Corpus Christi Tournament on Feb. 12-14. The Round Rock, Texas, native registered five hits in 13 at bats in her home state. She successfully advanced runners in 7-of-9 chances, and hit a .500 (3-for-6) with runners in scoring position.
TEAM FIRST
The Hawkeyes registered four sacrifice hits at the Texas A&M-Corpus Christi Tournament after recording five in all of 2015. Juniors Claire Fritsch and Kaitlyn Mullarkey and sophomores Sarah Kurtz and Daniella Ibarra each registered a sacrifice hit.
.300+ ON OPENING WEEKEND
Three Hawkeyes hit .300 or better at the Texas A&M-Corpus Christi Tournament from Feb. 12-14. Junior Claire Fritsch led the Hawkeyes at the plate with a .385 average. Sophomore Katy Taylor followed close behind, hitting .353, while redshirt senior Holly Hoffman hit .333.
A PAIR OF SHUTOUTS
•Freshmen Mallory Kilian and junior Elizabeth Wiegand each threw a complete-game shutout in the circle on opening weekend.
•Wiegand allowed just three hits in Iowa's 1-0 win against Louisville on Feb. 12. The junior transfer walked one and struck out five in seven innings.
•Kilian held Sam Houston State to just two hits in Iowa's 8-0 run-rule victory over Sam Houston State on Feb. 13. The freshman allowed just two hits and a walk in six scoreless innings. She struck out four.
HAWKEYE DEBUTS
Four student-athletes made their Hawkeye debuts at the Texas A&M-Corpus Christi Tournament from Feb. 12-14. Sophomore Katy Taylor started all five games (four at SS, 1 at DP). Junior Elizabeth Wiegand and freshmen Mallory Kilian and Erin Riding all made their debuts in the circle on opening weekend.
STARTERS RETURNING
The Hawkeyes return 16 letterwinners, eight starters, and three pitchers from a team that finished 19-40 overall, and 8-15 in the Big Ten last season. Sophomores Allie Wood, Cheyenne Pratt, and Sarah Kurtz, juniors Kaitlyn Mullarkey and Claire Fritsch, redshirt junior Sammi Gyerman, and seniors Holly Hoffman and Erin Erickson each spent time in the starting lineup last season. Redshirt junior Shayla Starkenburg started 38 games in the circle and led the Hawkeyes in every pitching category last season.
THE DUGOUT
The Hawkeyes re-launched their blog, The Dugout, for the 2016 season. The blog will reach out to fans and provide them with the opportunity to connect with the student-athletes, coaches, and staff who work hard every day to make the Hawkeye softball program a success. The Dugout aims to deliver unique insight into the lives of the Iowa softball team. Each Thursday, The Dugout will feature a different softball student-athlete. To see the latest post, visit hawkeyesports.com.
NEWCOMERS
•Junior transfer Elizabeth Wiegand joins the team after spending two seasons with UT Martin. Wiegand appeared in 26 games with 21 starts for the Skyhawks in 2015. She led UT Martin in ERA (2.94), wins (12), appearances (26), starts (21), complete games (16), shutouts (3), innings pitched (135.2), and strikeouts (63) as a sophomore.
•Sophomore transfer Katy Taylor joins the Hawkeyes after spending a season at Labette Community College. Taylor helped the Cardinals to a 38-16 overall record and a Region VI Championship. She led the nation in stolen bases (89) and paced the Cardinals in hits (76), doubles (10), triples (3), walks (21), batting average (.435), and on base percentage (.485).
•Freshmen Erin Riding (pitcher), Mallory Kilian (pitcher/utility), and Brooke Rozier (catcher/utility) will all make their Hawkeye debut in 2016.
STAFF UPDATES
•Jake Schumann joined the Iowa softball staff on Aug. 5, 2015. Schumann will handle the Hawkeye offense. He joins the staff after spending last season as the associate head coach at Ole Miss. He has also served as the head coach at Florida International (2011-14), Texas A&M-Corpus Christi (2007-11), Texas A&M-Kingsville (2003-07), and Carl Albert State College (2001-03).
•Former Hawkeye Rachel West is Iowa's new volunteer assistant coach. West appeared in 202 games for the Hawkeyes from 2005-09. The Burlington, Iowa, native still stands as one of the best base stealers in program history. West swiped 86 bags during her four-year career — a mark that ranks fourth in program history.
•Sharon Palma is in her first year as the director of operations for the Iowa softball program. The Grand Rapids, Michigan, native came to Iowa after spending the 2014 season as an assistant coach at Ole Miss. A former professional pitcher for the Carolina Diamonds in the National Pro Fastpitch League, Palma has also spent time as an assistant coach at Florida International (2014) and IUPUI (2013), and a volunteer assistant coach at Michigan State (2012).
ACADEMIC EXCELLENCE
•Haley Hansel, Whitney Repole and Kara Misel were named to the spring Academic All-Big Ten team following the 2015 season. All three carry a cumulative grade point average of 3.0 or better.
•Hansel was named a 2015 Big Ten Distinguished Scholar. Recipients must be letterwinners in at least their second academic year and have a minimum GPA of 3.7 or higher.
•Hansel, Sarah Kurtz, and Cheyenne Pratt were recognized as 2014-15 National Fastpitch Coaches Association All-American Scholar Athletes. In order to be eligible for the award, student-athletes must achieve a 3.5 GPA or higher on a 4.0 scale.
PRACTICE FACILITIES
The Hawkeyes benefited from two new facilities — the indoor Iowa Turf Facility, located at the Hawkeye Tennis and Recreation Complex, and the Jacobson Hitting Facility, located in football's former weight room. The HTRC Iowa Turf Facility has enabled the program to have consistency in team practices, while the Jacobson hitting cages have allowed student-athletes to take extra reps at any time.
HAWKEYE TRADITION
Iowa has made four Women's College World Series appearances (1995, 1996, 1997, 2001) and played in 16 NCAA Tournaments in school history. The 16 appearances are the second most in Big Ten history, and the four WCWS appearances equal the second most in conference history. The Hawkeyes have won four Big Ten Conference regular season championships (1989, 1997, 2000, 2003) and two Big Ten Tournament titles (2001, 2003). Iowa holds a 1273-800-5 (.614) record in 38 seasons.