Box Score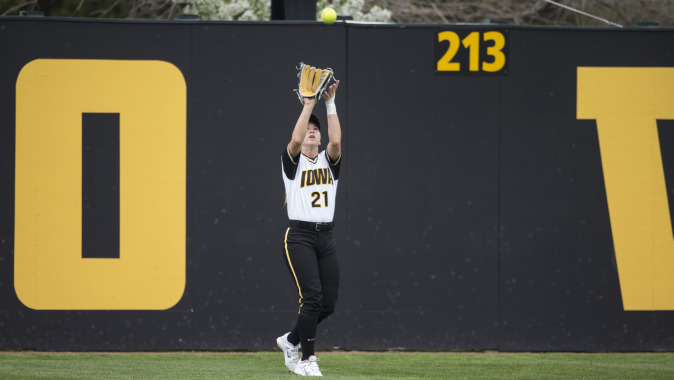 Feb. 27, 2015
IOWA14

CONWAY, S.C. — The University of Iowa softball team fell to Georgia Southern, 10-2, in five innings Saturday evening. The loss secured the 2-1 series win for the Eagles who improve to 7-7 on the season. Iowa falls to 4-10.
The Hawkeyes scored their only two runs of the game in the bottom of the first. Sophomore Claire Fritsch led off the inning with a walk, moved to second on a stolen base, and went to third on a wild pitch. Redshirt junior Sammi Gyerman followed, launching her first home run of the season and sixth of her career over the center field wall to give Iowa a 2-0 lead.
The Eagles stormed right back in the second, sending 11 batters to the plate in a six-run inning. Georgia Southern used six hits and two Hawkeye errors to take a 6-2 lead.
Georgia Southern stayed hot in the third. The Eagles scored four runs on four hits and two walks to extend their lead to eight and ultimately secure the 10-2 run-rule victory.
"We've gotten ahead by two runs in every game, and unfortunately we continue to give the runs right back to our opponent," said UI head coach Marla Looper. "We need to learn to keep pounding when we get that lead. It's going to be a lot more enjoyable when we learn that. We have the capability and the team to do it; we just have to get over that hump."
Gyerman led the Hawkeyes at the dish. The Cypress, California, native went 2-for-3 with a home run and a single.
Erin Riding (0-5) suffered the loss. The freshman allowed four earned runs on nine hits and a walk. Sophomore Ashley Yoways saw action in the circle for the first time this season. The Cedar Lake, Indiana, native allowed one hit and surrendered one walk in two and 2/3.
"Yoways came in and settled their bats down in relief," said Looper. "She did what we needed to do from the beginning. Riding needs to move the ball more and be a little more deceiving to those hitters. She'll find it.
"As a team, we just have to figure out how to get the job done when we get a lead."
The Hawkeyes wrap up Coastal Carolina Invitational action tomorrow with a 9 a.m. (CT) contest against the host Chanticleers.
Georgia Southern 10, Iowa 2
1
2
3
4
5
R
H
E
Georgia Southern (7-7)
0
6
4
0
0
10
10
0
Iowa (4-10)
2
0
0
0
0
2
6
3
Game Decision
W: Raley (GSU) 5-3
L: Riding (IOWA) 0-5