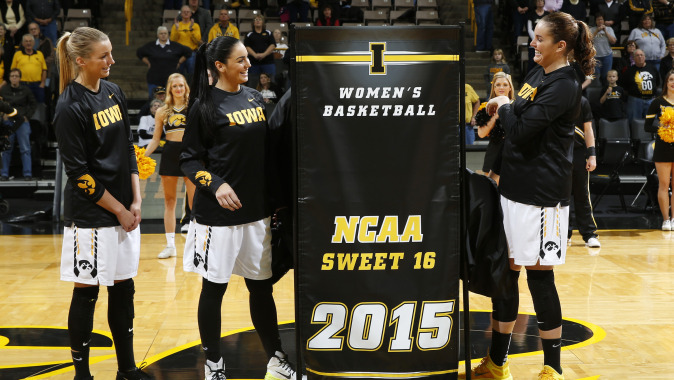 Feb. 27, 2016
Editor's Note: The following first appeared in the University of Iowa's Hawk Talk Daily, an e-newsletter that offers a daily look at the Iowa Hawkeyes, delivered free each morning to thousands of fans of the Hawkeyes worldwide. To receive daily news from the Iowa Hawkeyes, sign up HERE.
By DARREN MILLER
hawkeyesports.com
IOWA CITY, Iowa — Nicole Smith doesn't score 20 points or pull down 10 rebounds a game. So why do coaches and teammates view her as an honorable, inspirational hero?
Smith, a senior, will suit up for her final women's basketball game inside Carver-Hawkeye Arena on Saturday. If the University of Iowa's contest against Illinois is like most others during Smith's career, she will spend all 40 minutes on the bench, basking in the brilliance of her younger protégés, Chase Coley and Megan Gustafson.
The 6-foot-4 Smith was a three-time all-state selection from Hononegah High School in Rockton, Illinois, where as a sophomore, she tied a state record with 21 blocks in a game. After 26 games in her senior season, Smith sustained a second ACL injury to her left knee. She has had six knee procedures.
"After all those setbacks I took a different role (in college) of getting Megan and Chase ready for practice and games," Smith said. "I took a step back and put the team before myself."
While Smith never got on a roll physically at the UI, she turned her attention to making those around her better. This season her primary subjects are Coley, a sophomore, and Gustafson, a freshman. Through 29 games, Coley averages 11.2 points and 5.8 rebounds a game and Gustafson averages 9.7 points and a team-high 6.5 rebounds.
"That is one of the most selfless attitudes anyone could have," UI head coach Lisa Bluder said. "Real heroes are the ones that do all the work in practice and never get one bit of the glory. That has been Nicole's career."
Smith played in seven games as a freshman, five as a sophomore, three as a junior, and four as a senior. Although she has totaled just 34 minutes on the court in her career, Smith has had an up-close view to some pretty good basketball. The Hawkeyes, who are chasing their ninth consecutive NCAA Tournament berth, averaged 25 wins a season from 2012-15 and currently sit 17-12 on the season.
"The Sweet 16 (in 2015) was special since that was the first time this coaching staff has gone there and to know I was part of that team is special," Smith said.
Part of that success is because of Smith.
| | |
| --- | --- |
| | "That is one of the most selfless attitudes anyone could have. Real heroes are the ones that do all the work in practice and never get one bit of the glory. That has been Nicole's career." |
"Nicole gives up reps for me and that's honorable," Gustafson said. "She is there every day motivating and giving high fives. I admire her."
Coley agrees. After averaging 6.9 minutes, 2.9 points, and 1.6 rebounds in 29 games as a freshman, she has developed into one of the most effective post players in the league. One reason is because of daily practice battles against Smith.
"Nicole is always there to push us and make us better," Coley said. "She tells us that we are two of the best posts in the Big Ten and she is going to work her butt off every day in practice to make us the best we can be.
"She is such a great role model. She came to school to play and then to not get to play very much and still be as positive as she is and have so fun with it. She is an inspiration."
Smith's evolution into a supreme teammate didn't happen overnight. You don't go from high school star to perennial bench warmer without making a huge mental modification.
"It was something I had to adjust to coming in freshman year," Smith said. "You are the best of the best where you come from and not being that was something I had to adjust to. Even though I sit the bench, I keep reminding myself that the role I have on the team is important."
And no, she never entertained the thought of quitting.
"I love this sport and the girls on the team so much," Smith said. "I am so close to the coaches that it is something I wanted to stick with." It won't take much for Smith to enjoy her version of a fairy tale ending Saturday inside Carver-Hawkeye Arena. She said logging time on Mediacom Court would be nice, but…
"As long as we get a win, that's good enough for me," she said.
A Senior Night standing ovation seems appropriate for this honorable, inspirational Hawkeye hero.