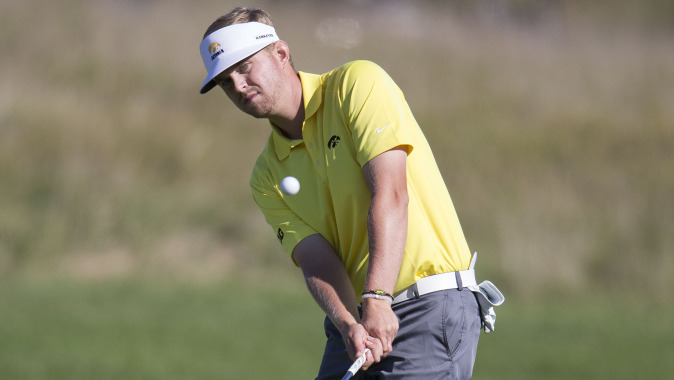 Feb. 29, 2016
1st Round Results

| 2nd Round Results

| 3rd Round Tee Times

LOS ANGELES —Through Monday's first and second rounds of the Southwestern Jones Invitational, the University of Iowa men's golf team sits in 12th place after carding a 600 (+24; 299, 301). The two-day tournament is being played at the North Ranch Country Club.
USC fired a 552 (-24; 280, 272) and currently leads the 15-team field, which includes five schools that are ranked in the top 50 of the GolfWeek/Sagarin rankings. Tournament host Pepperdine sits in second at 565 (-11; 285, 280).
Leading the way for the Hawkeyes on day one was senior Nate Yankovich who is tied for 20th on the individual leaderboard. The Blacklick, Ohio, native carded an even par 72 in the first round before following up with a two-over-par 74 in the second.
Closely behind Yankovich is junior Raymond Knoll who is tied for 29th at 148 (+4; 73, 75). Through 10 holes in the second round, Knoll sat seven strokes above par. He would finish three-over-par following a strong push on the final eight holes, which included four birdies.
Freshman Matthew Walker is tied for 60th following rounds of 79 (+7) and 76 (+4). Walker made par or better on 23-of-36 holes played today, including four second round birdies.
Junior Carson Schaake is tied for 66th after carding rounds of 76 (+4) and 80 (+8), while senior Voramate Aussarassakorn is tied for 72nd. Aussarassakorn posted a 36-hole 158 (+14; 75, 83)
The Hawkeyes conclude play at the Southwestern Jones Invitational with a final round of 18 holes on Tuesday. Tee times begin at 9:30 a.m. (CT) off holes one and 10. Live scoring is available at golfstat.com.