Feb. 29, 2016
2016 B1G Pre-Seeds

IOWA CITY, Iowa — Seven University of Iowa wrestlers are seeded third or better in the 2016 Big Ten Conference tournament that begins Saturday at Carver-Hawkeye Arena.
Thomas Gilman (125), Cory Clark (133), Brandon Sorensen (149), and Alex Meyer (174) are ranked second in their respective weight classes, and Sammy Brooks (184), Nathan Burak (197), and Sam Stoll (285) are all seeded third.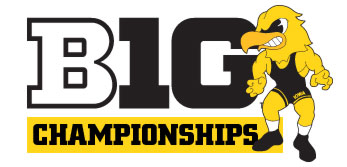 The conference office announced the pre-seeds Monday. The Hawkeyes are one of just two teams with seven wrestlers seeded third or better. Penn State is the other.
Iowa is without a top pre-seed despite having four wrestlers — Gilman, Sorensen, Meyer, Stoll — navigate the Big Ten schedule with perfect 9-0 records.
Gilman is 21-0 overall and seeded behind Ohio State's Nathan Tomasello, the defending Big Ten and NCAA champion.
Sorensen is 23-0 with seven wins against top 10 opponents. He lost in the conference finals last year to Northwestern's Jason Tsirtsis, now the No. 4 seed. The top seed at 149 is Penn State's Zain Retherford. Sorensen and Retherford have never met.
Meyer and Stoll are making their Big Ten Championships debuts. Meyer is 21-2 overall, 15-0 in his career in Carver-Hawkeye Arena, and seeded behind Penn State's Bo Nickal.
Stoll leads Iowa with nine falls and brings a 20-3 record into the conference tournament. He is seeded third behind Michigan's Adam Coon, the NCAA runner-up in 2015, and Ohio State's Kyle Snyder, a 2015 World Champion.
Clark is seeded No. 2 behind Illinois' Zane Richards, who handed Clark his only defeat of the season, 6-5, at Illinois on Jan. 8. Clark defeated Richards 8-2 at the Big Ten Championships in 2015.
Brooks is 20-3 overall with an 8-1 mark in the Big Ten. He is seeded behind defending Big Ten champion Domenic Abounader of Michigan, and Penn State's Matt McCutcheon. Brooks is 2-1 all-time against Abounader, and 1-1 against McCutcheon.
Burak is making his fourth Big Ten Championships appearance. He placed fourth in 2013 and 2015, and fifth in 2014. He enters his final conference tournament with a 20-1 record. His only loss of the season was a 6-5 decision to Minnesota's Brett Pfarr, the No. 2 seed. Defending Big Ten champion Morgan McIntosh is the top seed.
Iowa also earned pre-seeds at 157 and 165, where Edwin Cooper, Jr. and Patrick Rhoads are making their tournament debuts. Cooper is 14-7 overall and seeded fifth at 157. Rhoads is 10-9 overall and seeded eighth at 165.
For more information on the 2016 Big Ten Wrestling Championships visit hawkeyesports.com.