Feb. 23, 2016
Complete Notes in PDF Format

ON THE MAT
The University of Iowa wrestling team hosts the 2016 Big Ten Championships on Saturday and Sunday at Carver-Hawkeye Arena. The two-day event begins Saturday at 10 a.m. (CT). Session II starts Saturday at 6 p.m. Session III begins Sunday at 12 p.m., followed by the finals at 3 p.m. The finals will be televised by BTN.
BIG TEN CHAMPIONSHIPS RESULTS
Brackets and team standings will be available throughout the tournament at bigten.org and hawkeyesports.com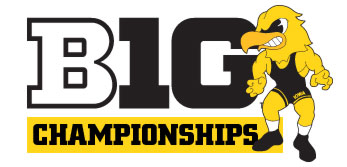 7 HAWKEYES IN TOP 3
Seven University of Iowa wrestlers are seeded third or better in the 2016 Big Ten Conference tournament that begins Saturday at Carver-Hawkeye Arena. Thomas Gilman (125), Cory Clark (133), Brandon Sorensen (149), and Alex Meyer (174) are ranked second in their respective weight classes, and Sammy Brooks (184), Nathan Burak (197), and Sam Stoll (285) are all seeded third. The Hawkeyes are one of just two teams with seven wrestlers seeded third or better. Penn State is the other. Iowa also earned pre-seeds at 157 and 165, where Edwin Cooper, Jr. and Patrick Rhoads are making their tournament debuts. Cooper is 14-7 overall and seeded fifth at 157. Rhoads is 10-9 overall and seeded eighth at 165.
BIG TEN TOURNAMENT CHAMPIONS
The Hawkeyes' 109 Big Ten champions have won a total of 195 conference titles. There have been seven four-time, 18 three-time, and 29 two-time winners. The Hawkeyes have won 35 team titles, twice as many as the next closest school (Illinois, 17). Iowa won 25 consecutive conference championships from 1974-1998.
CARVER-HAWKEYE ARENA
Home to the Hawkeyes since 1983, Carver-Hawkeye Arena has hosted three Big Ten Conference wrestling championships. Iowa won conference titles at Carver-Hawkeye Arena in 1983 and 1994, and placed fourth in 2005. Iowa crowned a Big Ten record nine champions in 1983, recording the largest margin of victory in Big Ten Championship history. The Hawkeyes scored 200 points, 118.5 more than second place Michigan State (81.5). Three Big Ten coaches, Barry Davis (Wisconsin), Duane Goldman (Indiana), and Jim Heffernan (Illinois) were among the nine Hawkeye champions.
AUTOMATIC QUALIFIERS
The Big Ten Championships is one of eight qualifying tournaments across the country. The NCAA has awarded the conference 71 of the 284 automatic qualifying bids for the national championship in New York City on March 17-19. The Big Ten was allotted more bids than any other conference. Nine Big Ten wrestlers receive automatic bids at 133 and 174 pounds; seven get bids at 125, 141, 157, 184, and 285; and the top six get bids at 149, 165, and 197.
WRESTLER OF THE CHAMPIONSHIP
Since 1989, the year the Big Ten record book first recognizes the award, eight different Hawkeyes have been named Wrestler of the Big Ten Championships. Head coach Tom Brands won the award in 1989 following his 126-pound conference title. Associate head coach Terry Brands won the honor following his 126-pound Big Ten title in 1992. Brent Metcalf was the last Hawkeye to earn the award. He is the only Big Ten athlete to win the award twice (2008, 2009).
IN THE COACHES' EYE
Six University of Iowa wrestlers are ranked in the top 10 of their respective weight class in the NCAA Division I Coaches' Rankings released Feb. 25 by the NCAA. Thomas Gilman is ranked second at 125, Cory Clark is third at 133, Brandon Sorensen is second at 149, Alex Meyer is ninth at 174, Nathan Burak is fourth at 197, and Sam Stoll is sixth at 285. The coaches' rankings are among the criteria used by the NCAA when selecting at-large participants for the 2016 NCAA Wrestling Championships. The coaches rank the top 33 wresters in each weight class, Edwin Cooper, Jr. and Sammy Brooks also made the list. Cooper is ranked 15th at 157. Brooks is 12th at 184.
ALL-AMERICAN DOMINANCE
Iowa's four returning All-Americans — Thomas Gilman (125), Cory Clark (133), Brandon Sorensen (149), and Nathan Burak (197) — are a combined 83-2 with 54 wins by bonus points. Gilman, Sorensen, and Burak each won their respective brackets at the 2015 Midlands. Clark was 3-0 before withdrawing prior to the semifinals. The group is 23-2 against top 20 wrestlers, with two technical falls and five major decisions.
TOURNAMENT EXPERIENCE
The Hawkeyes have four seniors in their lineup, but only Nathan Burak (197) has more than one career Big Ten tournament appearance. Burak is 9-6 in three previous conference tournaments, going 3-2 each year. Brody Grothus went 1-2 competing at 149 at the 2014 Big Ten Championships. Edwin Cooper, Jr. (157) and Patrick Rhoads are making their Big Ten Championship debuts. Junior Cory Clark (133) is the only other Hawkeye besides Burak to have competed in more than one Big Ten Championship. Clark is 6-3 in two tournament appearances. Thomas Gilman (125), Brandon Sorensen (149), and Sammy Brooks (184) are making their second tournament appearance. Alex Meyer (174) and Sam Stoll (285) are making their first appearances.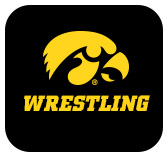 BATTLE TESTED AT 149
Sophomore Brandon Sorensen is 7-0 against ranked opponents, and 5-0 against top 10 foes, including two wins against No. 4 Jason Tsirtsis, and two wins against No. 5 Jake Sueflohn. Sorensen is 23-0 overall with six major decisions, three technical falls, and three pins at arguably the toughest weight class in the Big Ten. According to Intermat rankings, five of the top seven wrestlers in the country are in the Big Ten. Sorensen is ranked No. 2 by Intermat, one spot behind Penn State's Zain Retherford, and ahead of Sueflohn (4), Tsirtsis (6), and Michigan's Alex Pantaleo (7). Sorensen is 11-2 all-time against the Big Ten's top-rated wrestlers. He has never faced Retherford.
LAST OF THE UNBEATENS
Thomas Gilman (21-0) and Brandon Sorensen (23-0) enter the Big Ten Championships with unbeaten records. There are 14 Division I wrestlers without a loss (minimum 12 matches). Gilman is one of two unbeaten 125-pounders, Ohio State's Nathan Tomasello is 18-0. Sorensen is one of two unbeaten 149-pounders. Penn State's Zain Retherford is 26-0. The last time Iowa had two wrestlers enter the conference tournament with undefeated records was 2010 — Matt McDonough (29-0), Brent Metcalf (29-0), and Jay Borschel (28-0). In the history of Iowa wrestling, 15 wrestlers have finished the season with a perfect record (minimum 20 matches). Four of those wrestlers were able to perform the feat twice. They include Mark Ironside, Lincoln McIlravy, T.J. Williams and Jim Zalesky. Iowa coaches Tom Brands and Terry Brands are among the 15 wrestlers. Tom went 45-0 in 1990-91 and Terry went 35-0 in 1991-92.
A LITTLE EXTRA ON TOP
Junior Thomas Gilman has delivered bonus points in 18 of 21 matches. He opened 14 of Iowa's 17 duals, picking up seven pins, four technical falls, and two major decisions in those 13 outings. His 86 dual points led the team, his eight falls are a career best, and his five technical falls tie his career best set in 2014-15.
FALLS BIG AND SMALL
Junior 125-pounder Thomas Gilman and redshirt freshman 285-pounder Sam Stoll have combined for 17 falls this season. Seven of Gilman's eight falls have occurred in the first period, with his quickest coming in 56 seconds. The eight falls are a new career high; he had five pins in 2014-15. Four of Stoll's team-high nine falls have been against Big Ten opponents. Stoll finished his high school career with a national record 63 consecutive pins. He pinned every opponent he faced his senior season. As a true freshman in 2014-15, Stoll was 18-5 with 11 pins competing unattached.
BURAK FINISHING WITH TECHNICALITY
Senior Nathan Burak has a team-high four technical falls, one more than his career total entering the season. He is 20-1 overall with 11 wins by bonus points, including five major decisions, four technical falls, and two falls. The five major decisions are a career best, and the two falls match his single-season career high. Burak opened the season with a career-high 17 straight wins. His only loss was to Minnesota's fourth-ranked Brett Pfarr, 6-5, on Jan. 29.
A PERFECT (BIG) 10
Thomas Gilman, Brandon Sorensen, Alex Meyer and Sam Stoll finished the regular season 9-0 in conference duals. Since 2007, Tom Brands' first season as Iowa head coach, a wrestler has navigated a perfect Big Ten regular season 17 times. Gilman did it last year to become the first Hawkeye to go 9-0 in conference duals (last season was the first year the Big Ten schedule included nine regular season duals). Sorensen was 8-0 in the Big Ten last year, but did not wrestle against Michigan State. He is 17-0 all-time in Big Ten duals. Stoll is 9-0 all-time, and Meyer is 13-0 all-time in Big Ten duals.
CLARK WARMS UP
Junior Cory Clark is 19-1 overall, including a 5-1 mark against ranked opponents. He defeated No. 7 Earl Hall of Iowa State, 9-2, on Nov. 29, earned a decision against No. 15 Brance Simms of SDSU on Dec. 4, scored a major decision over Rutgers' No. 17 Anthony Giraldo on Dec. 10, won by 7-3 decision against Wisconsin's No. 7 Ryan Taylor, and shutout No. 14 Eric Montoya, 2-0. His only loss this season was to Illinois' No. 7 Zane Richards, 5-3, on Jan. 8. Clark is 27-10 all-time and has won nine of his last 11 matches against ranked opponents. He has a career record of 25-1 at Carver-Hawkeye Arena.
HAWKEYES HIT CAREER LONGS
Junior Thomas Gilman and sophomore Brandon Sorensen are riding career-best winning streaks. Sorensen has won 23 straight and Gilman has won 21 in a row to open the season.
TICKET INFORMATION
All-session tickets to the 2016 Big Ten Championships hosted by the University of Iowa are $50 for adults, $40 for youth. Single session tickets are also available. Visit hawkeyesports.com or call the UI Athletics Ticket Office at 1-800-IA-HAWKS for ticket information.