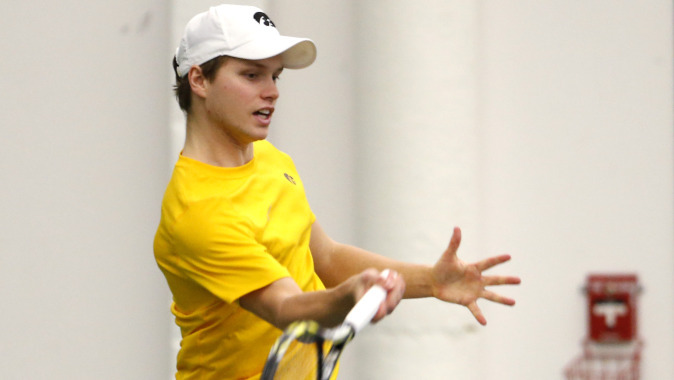 March 2, 2016
Full Release

THIS WEEK:
The 33rd-ranked University of Iowa men's tennis team travels to Des Moines Friday, for a match up against No. 36 Drake. The Hawkeyes are set to start the day at 6 p.m. (CST) at the Roger Knapp Tennis Center.
BATTING CLEAN UP:
Junior Robin Haden has played at No. 4 in all but one match this season and is currently 5-2 in the position. The native of Sweden came to Iowa's program after two years at Mississippi State where he played mostly in the No. 5 spot an accumulated 10 victories over two years.
"He's made a huge contribution to our team this year and not only in singles but in doubles playing with Nils," said head coach Ross Wilson.
"In singles, he's won a lot of matches for us, he stepped us huge for us against Denver on Friday night. He's definitely been a great asset for our program on and off the court."
Last Friday, Haden clinched the match for Iowa with a 7-6 (2), 4-6, 6-4, decision over Alex Gasson, keeping the Hawkeyes home record undefeated on the season and bringing the overall season record to 7-2.
"The only goals I've set for myself is to give 100 percent and to never have any regrets when I leave the court," said Haden.
Haden hasn't just stepped up on the court since his time as a Hawkeye. He entered the Iowa squad as one of only three upperclassmen along with fellow junior Nils Hallestrand and senior Dominic Patrick and says his new found role as a leader of the team has pushed him to become a better athlete.
"I realized that I have to work hard every day and it's really paying off in my matches right now," said Haden.
SCOUTING THE COMPETITION:
Drake enters Friday's match ranked 36th in the nation with an 8-5 record on the season and is 5-0 at home.
Last season, Iowa hosted then-No. 29 Drake and lost the match 5-2. The Hawkeyes haven't defeated the Bulldogs since 2011 when Drake travelled to Iowa City for a 5-2 loss.
HEAD COACH Ross Wilson :
"To get a win at Drake would be huge. They've been to the NCAA Tournament every year for the past five years and have been ranked inside the top 25 at various times throughout the past five seasons. They've built a great program there and so for us to go in and play well and give ourselves a chance to win on Friday night would be huge for the guys confidence, but you know we're looking at it the same as we do every single week. We try to get everything we can out of practice throughout the week and when go into the match we're just going to battle and give it everything we've got and hopefully find ourselves in a good position to win. "
FOLLOW THE HAWKEYES
Fans can follow the Hawkeyes all season long and receive live match updates on Facebook (facebook.com/IowaMensTennis) or on Twitter (@IowaMensTennis). Fans can also get a behind the scene look on Snapchat (uiowamenstennis). Don't forget to check out Twitter every Tuesday afternoon for the latest edition of #TennisTipTuesday where members of the Hawkeye squad give away expert tips and tricks to enhance your game.
LIVE STATS
Live stats will be available for Friday's matches on the Iowa men's tennis schedule page at hawkeyesports.com. Check out our Twitter and Facebook the day of the match for a direct link.