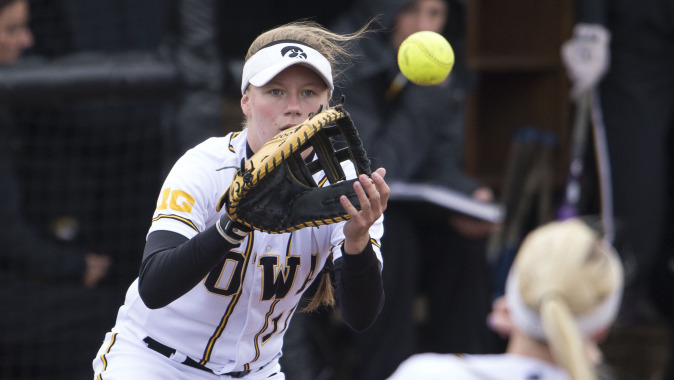 March 4, 2016
Editor's Note: The following first appeared in the University of Iowa's Hawk Talk Daily, an e-newsletter that offers a daily look at the Iowa Hawkeyes, delivered free each morning to thousands of fans of the Hawkeyes worldwide. To receive daily news from the Iowa Hawkeyes, sign up HERE.
By BRANDEE BRITT
hawkeyesports.com
IOWA CITY, Iowa — The sport of boxing coined the term one-two punch, but University of Iowa softball juniors Claire Fritsch and Kaitlyn Mullarkey are demonstrating that at the top of the Hawkeye batting order.
Fritsch and Mullarkey have found a home at the top of the Iowa lineup, batting first and second, respectively, in each of Iowa's last six games. During that span, the duo is hitting a combined .378 (14-for-37) with a .511 on-base percentage.
"It's important to have a leadoff and a No. 2 hitter that can kick-start you," said UI head coach Marla Looper. "It sets the tone for the rest of the game. That's exactly what those two did for us last weekend, and that's why they stayed in those spots throughout the tournament."
In five games at last weekend's Coastal Carolina Invitational (Feb. 26-28) in Conway, South Carolina, the Hawkeyes plated 12 of their 30 runs in the first inning. Fritsch and Mullarkey accounted for seven of the 12.
"The importance of getting the first two runners on really showed last weekend," said Fritsch. "We scored at least two runs in every first inning. The majority of the time, it was Chip (Mullarkey) and I getting on in the one-two spot."
Fritsch, a native of Round Rock, Texas, is a triple threat at the plate. Her ability to bunt, slap, and swing away creates difficulties for opposing pitchers. Her speed on the base paths has also benefited the Hawkeyes. The junior leads the team with six stolen bases.
"As the leadoff hitter, I try to see as many pitches as I can," Fritsch said. "Ultimately, I'm trying to get on base any way that I can to benefit my team. I think my speed helps us, too. I can move around more quickly and find ways to score."
Mullarkey has a combination of speed and power. The Park Ridge, Illinois, native has swiped three bases this season in addition to leading the Hawkeyes in doubles (four), triples (one), home runs (three), slugging percentage (.659), and walks (eight). Eight of her 14 hits this season have been for extra bases.
"Claire is getting on base for me a lot, so my mentality is to move her over and try to get on base," said Mullarkey. "I just go to the plate thinking about doing something for my team. I like the QUAB (quality at-bat) mentality that (assistant) coach (Jake) Schumann has brought. You are at the plate for your teammates, not just for yourself."
With the top two hitters locked in at the plate, Looper hopes their mentality will be contagious.
"They have thoroughly embraced the quality at-bat approach," said Looper. "If everyone can start thinking about what they can do to help the team win, then we are going to be in a better situation. Chip (Mullarkey) and Claire have bought into it and they have executed it. That's why we have been able to get up on opponents."
The Hawkeyes return to action tomorrow at the Tulsa Tournament in Tulsa, Oklahoma. Iowa will play two games against Lamar and the host Golden Hurricanes.