March 6, 2016
Photo Gallery 1

| Photo Gallery 2

| Final Brackets

By DARREN MILLER
hawkeyesports.com
IOWA CITY, Iowa — From the perspective of University of Iowa junior Cory Clark, the head-to-head series between he and Illinois junior Zane Richards was on-again, off-again.
On Sunday, Clark was on again.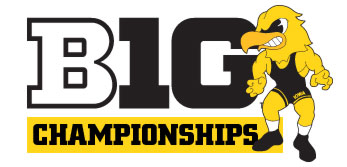 When Richards defeated Clark in sudden victory, 5-3, on Jan. 8 in Champaign, Illinois, it evened the series between the two at two matches apiece. It gave Richards the top seed at this weekend's Big Ten Conference Wrestling Championships, but it gave Clark bulletin board material.
"It was knowing I'm better than the guy," Richards said of Clark in early January. "If I stick to my stuff and my technique, I'm going to beat him. He's not in the same league as me. The score was closer than it needed to be in my opinion."
Clark took a more diplomatic approach after defeating Richards, 2-1, in the first tiebreaker at 133 pounds to win Iowa's first Big Ten individual championship since Tony Ramos in 2014.
"It's good to avenge a loss, but at the same time it doesn't matter who steps on the mat, I have the same approach," Clark said.
| | |
| --- | --- |
| | "This isn't how I want to define my season, the NCAA (Tournament) is. This is moving in the right direction. It's easier to move forward with a Big Ten championship than a second, third, fourth or whatever. I have to move forward right away, tomorrow is a day to work toward Madison Square Garden." |
Clark was one of two Hawkeye champions. Junior Sammy Brooks defeated Nebraska's T.J. Dudley, 6-4, at 184 pounds. Like Clark, Brooks avenged a loss from earlier in the season.
"There was a (championship) drought, then you get two champs," UI head coach Tom Brands said. "That is a badge of honor, that's a tribute to those two guys for sure. One of the bedrock (Dan) Gable principles is it's easier to go forward with success."
It is the first time the Hawkeyes have had multiple Big Ten champions in the same season since Matt McDonough (125 pounds) and Derek St. John (157) won in 2012.
Thanks in large part to Clark and Brooks, the Hawkeyes finished runner-up in the final team race with 127 points, seven more than they scored while sharing the team title in 2015. Penn State scored 150.5 and Ohio State, the defending national champion, was third with 126.
Clark is 22-1 this season after winning all three of his matches in a loaded 133-pound bracket Saturday and Sunday at the Big Ten Championships. He opened with a 7-3 win over Ohio State's Johnni DiJulius and then defeated Wisconsin's Ryan Taylor, 10-7, in the semifinals. Clark is now 3-1 against both DiJulius and Taylor as a collegian.
"It's a unique feeling, you start to feel the work I have been putting in all year pay off," Clark said. "I feel a sense of relief a little bit, but the season's not over. I still have improvement to make and my focus has to be at a premium."
Admitting he is a hard person to satisfy, Clark said he won't enjoy this championship long because there is another waiting to be won March 19 in New York City. A two-time All-American, Clark was an NCAA finalist last season in St. Louis, losing to Oklahoma's Cody Brewer, 11-8.
"This isn't how I want to define my season, the NCAA (Tournament) is," Clark said. "This is moving in the right direction. It's easier to move forward with a Big Ten championship than a second, third, fourth or whatever. I have to move forward right away, tomorrow is a day to work toward Madison Square Garden."