March 15, 2016
Editor's Note: The following first appeared in the University of Iowa's Hawk Talk Daily, an e-newsletter that offers a daily look at the Iowa Hawkeyes, delivered free each morning to thousands of fans of the Hawkeyes worldwide. To receive daily news from the Iowa Hawkeyes, sign up HERE.
By DARREN MILLER
hawkeyesports.com
IOWA CITY, Iowa — Patrick Rhoads is an elder statesman on the University of Iowa wrestling team, arriving on campus in 2011. When the fifth-year senior takes on Jim Wilson of Stanford on Thursday, it will be his first match at an NCAA championships.
Nathan Burak is one of two Hawkeyes in the lineup with a pair of All-America awards (junior Cory Clark is the other). When Burak, a fourth-year senior, takes on Trent Noon of Northern Colorado, it will be his 18th NCAA tournament bout.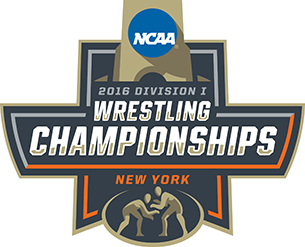 Two Hawkeye seniors with different histories, but the same goal.
"I don't think the end prize changes at all," UI head coach Tom Brands said. "How you go about it is the same as well, it's just a matter of tuning in one match at a time. Make the experience as rich as you can make it."
Rhoads, a native of Kansas City, Missouri, defeated Penn State's Geno Morelli for seventh place at the Big Ten Tournament on March 6. That 4-2 decision in sudden victory helped him secure an at-large berth into the NCAA 165-pound bracket, allowing him to realize the first step of an annual objective for all UI competitors.
His record is a modest 13-11 this season and 2-12 all-time against the rest of the field. He is on the same side of the bracket as Oklahoma State senior Alex Dieringer, a two-time national champion, but Rhoads isn't intent on making a token appearance where he collects a point here or there in Madison Square Garden.
"We fully plan on having nine national champs and that's what everyone is working for," Rhoads said. "That's the difference between this program and a lot of programs in the country. Everyone is going for the national title, myself included."
| | |
| --- | --- |
| | "I don't think the end prize changes at all. How you go about it is the same as well, it's just a matter of tuning in one match at a time. Make the experience as rich as you can make it." |
There are three current Hawkeyes who became All-Americans on their initial trip to the NCAA Championships. Clark was fifth as a freshman at 125 pounds in 2014 and runner-up as a sophomore at 133; Thomas Gilman was fourth last season at 125; and Brandon Sorensen was fourth last season at 149. Postseason experience is beneficial, but it isn't required for success.
"If you're carefree, loose, ready to go, and carrying those good emotions in you, you will be fine," Brands said. "You can overcome a lot with your outlook and demeanor and (Rhoads) is doing a good job of that."
Burak, a native of Colorado Springs, Colorado, has 17 NCAA matches — and 10 victories — under his belt at 197 pounds. He was 3-2 as a freshman in 2013 and did not place. As a sophomore in 2014, Burak went 3-3 and finished eighth. He was seventh last season with a 4-2 record.
"It has been my goal to win the last three years and it hasn't happened," said Burak, who is 23-2 this season and seeded fourth. "I want to accomplish my goal and this is my last chance. Like Big Tens, I lost in the finals (in 2016) and there is a realization that was my last time and I don't get another chance. I need to go out there, stay relaxed and get it done."
UI senior Edwin Cooper, Jr., of Joliet, Illinois, is making his first appearance at the NCAA Division I Wrestling Championships, but he is a seasoned postseason veteran. Cooper won the 2012 National Junior College Athletic Association 149-pound championship for Iowa Central Community College and was runner-up at 149 at the NCAA Division II National Championships for Upper Iowa. He is 17-9 this season.
"I'm a laid-back guy so I'm staying calm and focused," Cooper said. "I have to be able to take guys down in the middle of the mat and keep pressure on them."
Three UI seniors have three unique national championship experiences. Receiving a gold medal Saturday evening in New York City would be final confirmation that it was all worth it, regardless of the path they took to get there.
"Burak has been a mainstay and the other two it is their first shot, so you have two different landscapes," Brands said. "All three are after a national championship."