Photo Gallery

March 17, 2016
Session I Brackets

NEW YORK CITY — The University of Iowa wrestling team advanced six wrestlers through the opening round of competition Thursday at the 2016 NCAA Championships in Madison Square Garden.
Thomas Gilman (125), Cory Clark (133), Brandon Sorensen (149), Edwin Cooper, Jr. (157), Sammy Brooks (184), and Nathan Burak (197) won their respective first round matches and compete on the top side of the bracket when competition resumes Thursday night.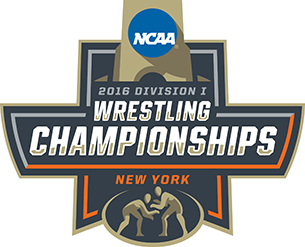 Gilman and Brooks both won by technical fall, and Clark and Sorensen each won by major decision. Gilman's 24-8 technical fall was his team-high sixth of the season. The 2015 All-American is seeded fourth following a third-place finish at the Big Ten Championships.
"Nothing really changes from Big Tens," Gilman said. "There may be some technical things, sharpening up my mental game. Nothing really changes though. I was doing good things going into Big Tens and I am doing good things now. My mind and body are sharp. First match went pretty well."
Cooper and Burak both advanced to the second round with a pair of decisions. Burak scored a takedown in the second sudden victory period to advance with a 4-2 win, and Cooper used a pair of first-period takedowns to earn an 8-3 decision.
"(Cooper) has made a lot of progress throughout the year and that's what you want to see," said UI head coach Tom Brands. "He's wrestling more confident on the mat lately. As long as that keeps carrying over, he has a chance."
"I'm moving and getting to my attacks," said Cooper. "I'm creating opportunities for myself, thinking takedown, takedown, takedown. That's what I did today and I have to keep it moving."
Three Hawkeyes were bounced to the backside of the bracket. Patrick Rhoads lost 12-7 at 165 and Alex Meyer dropped a 10-9 decision at 174. Sam Stoll medically forfeited his bout at 285.
Iowa is in fourth place in the team standing with 11 points. Ohio State (16.5), Penn State (16), Nebraska (13), and Michigan (10) round out the top five.
The championships continue Thursday at 6 p.m. (CT). The six Hawkeyes on the top side of the bracket will compete prior to the wrestle-backs. ESPNU and ESPN3 are providing television and online coverage of Session II.
SESSION I RESULTS
125 — #4 Thomas Gilman (IA) tech fall. Brent Fleetwood (CMU), 24-8
133 – #2 Cory Clark (IA) major dec. Jade Rauser (UVU), 8-0
149 – #2 Brandon Sorensen (IA) major dec. Nick Barber (EMU), 9-1
157 – #13 Edwin Cooper, Jr. (IA) dec. Tyler Berger (NEB), 8-3
165 — #13 Jim Wilson (STAN) dec. Patrick Rhoads (IA), 12-7
174 – Gordon Wolf (LEH) dec. #13 Alex Meyer (IA), 10-9
184 – #2 Sammy Brooks (IA) tech fall. John Lampe (CHAT), 23-8
197 – #4 Nathan Burak (IA) dec. Trent Noon (UNCO), 4-2 (TB)
285 – Boyce Cornwell (GW) led #11 Sam Stoll (IA), 6-1 (Injury)
SESSION II MATCHUPS
125 — #4 Thomas Gilman (IA) vs. #13 Tim Lambert (NEB)
133 – #2 Cory Clark (IA) vs. #15 Josh Alber (UNI)
149 – #2 Brandon Sorensen (IA) vs. Victor Lopez (BUCK)
157 – #13 Edwin Cooper, Jr. (IA) vs. #4 Ian Miller (KENT)
165 — Patrick Rhoads (IA) vs. Casey Fuller (EDIN)
174 – #13 Alex Meyer (IA) vs. #4 Ethan Ramos (UNC)
184 – #2 Sammy Brooks (IA) vs. Jordan Ellingwood (CMU)
197 – #4 Nathan Burak (IA) vs. #13 Jacob Smith (WVU)
285 – #11 Sam Stoll (IA) vs. #6 Denzel Dejournette (APP)
Attendance: 17,762