Box Score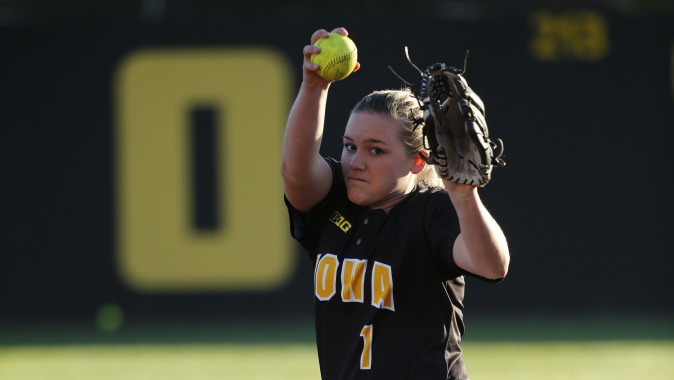 March 17, 2016
IOWA20

| IOWA21

| Final Stats
HONOLULU — The University of Iowa softball team split a pair of games with Texas (16-5) and Hawaii (15-13) on Wednesday in Rainbow Wahine Classic action. The Hawkeyes (7-14) defeated the Longhorns, 1-0, in game one before falling to the host Rainbow Wahine, 4-3, in game two.
The Hawkeyes handed the Longhorns their fifth loss of the season. Texas received 24 votes in the latest ESPN.com/USA Softball Collegiate Top 25 Poll released on March 16.
"I liked the grit and determination," said UI head coach Marla Looper. "Liz (Wiegand) did a good job in the circle to keep their hitters from doing too much. Our defense was solid, and Liz didn't give away any free passes. That makes it a lot easier to play defense."
After five scoreless innings, freshman Mallory Kilian registered the game-winning hit for the Hawkeyes in the top of the sixth. Junior Kaitlyn Mullarkey was awarded first after a hit by pitch to lead off the inning. After two quick outs, sophomore Angela Schmiederer drew a walk to put two on for Kilian. The Fort Dodge, Iowa, native came through, sending an RBI single up the middle to give Iowa a 1-0 lead.
"We did struggle offensively, but (Tiarra) Davis is a very good pitcher," said Looer. "She's going to make you struggle. Mallory came up at a critical time and put the ball in play so we could put Chip (Mullarkey) across. Sometimes all you need is one. I was proud of how they hung in there. They looked big, they played big, and it was nice to see that."
Texas threatened in the sixth, putting two runners on, but the Iowa defense held on to secure the one-run victory.
Elizabeth Wiegand threw a gem in the circle. The junior allowed six hits and did not surrender a walk in seven shutout innings. She struck out five.
Iowa 1, Texas 0
1
2
3
4
5
6
7
R
H
E
Iowa (7-13)
0
0
0
0
0
1
0
1
2
0
Texas (16-5)
0
0
0
0
0
0
0
0
6
1
Game Decision
W: Wiegand (IOWA) 4-3
L: Davis (TEXAS) 10-4
Hawaii got on the board early in game two, plating a run in the bottom of the first on a bases loaded walk. The Rainbow Wahine added three more runs in the second on four singles and an Iowa error to take a 4-0 lead.
The Hawkeyes fought back in the sixth, plating three runs on a walk, single, and three Hawaii errors. Sophomore Katy Taylor reached second on a throwing error by the Wahine shortstop. A groundout to second off the bat of junior Claire Fritsch moved her to second, before Mullarkey sent an RBI single to right to put the Hawkeyes on the board. Mullarkey moved herself into scoring position with a stolen base, and Kilian followed with a walk. Back-to-back errors by the Hawaii third baseman plated two more runs to pull the Hawkeyes within one, 4-3.
Iowa put a runner on second in the seventh inning, but could not score the tying run as Hawaii held on to secure the 4-3 win.
"We showed a lot of grit at determination at the end, and I think we've really started to see that these last few weeks," said Looper. "They have the belief that they can get it done. It's unfortunate that we gave them runs early, but we made an adjustment offensively, put the ball in play, and capitalized on their mistakes later. I'm looking forward to having two more games against Hawaii. They are a good ball club and so are we."
Shayla Starkenburg (2-3) took the loss in the circle. The redshirt junior allowed two earned runs on seven hits and three walks in three innings. Sophomore Ashley Yoways threw three innings in relief. The Cedar Lake, Indiana, native did not allow a run on one hit and a walk.
Taylor led the Hawkeyes at the plate, going 2-for-3 with a pair of singles and a run scored.
The Hawkeyes return to action tomorrow with an 8:30 p.m. (CT) contest against Texas.
"We have to come out and play solid defense again tomorrow," said Looper. "We know their hitters are going to swing the bat. They are aggressive hitters. We have to continue to do what we did in that first game today and we need to make adjusts in the box sooner."
Hawaii 4, Iowa 3
1
2
3
4
5
6
7
R
H
E
Iowa (7-14)
0
0
0
0
0
3
0
3
5
2
Hawaii (15-13)
1
3
0
0
0
0
X
4
8
3
Game Decision
W: Hitchcock (UH) 5-7
L: Starkenburg (IOWA) 2-3