March 17, 2016
Session II Photo Gallery

| Session I Photo Gallery

| Updated Brackets After Session II

By DARREN MILLER
hawkeyesports.com
NEW YORK — Waiting is the hardest part for University of Iowa junior Thomas Gilman at the NCAA Wrestling Championships, but the Hawkeye 125-pounder handled his spare time as well as he handled 12 ½ minutes on the mat Thursday in Madison Square Garden.
After overwhelming Central Michigan's Brent Fleetwood by 24-8 technical fall in the opening round, Gilman posted a second consecutive major decision over Nebraska's Tim Lambert, 12-4, to reach the quarterfinals that will be contested Friday at 10 a.m. (CT).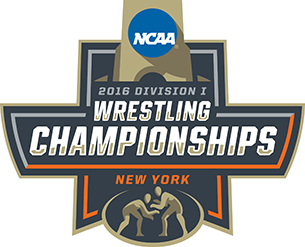 The seven hour layoff from Round 1 to Round 2 is what bothers Gilman most about his second appearance in the NCAA Championships. He cited distractions, the fact a mind can wander, and possibly overthinking the upcoming match.
On Thursday Gilman controlled any postseason diversions like the All-American he is. He placed fourth last season (at 125) and is seeded fourth this year. Duplicating Thursday's 2-0 performance Friday would place him in the final. But standing in his way are fifth-seeded Ryan Milhof of Oklahoma (24-6) and either top-seeded and defending national champion Nathan Tomasello of Ohio State (25-0) or Northern Iowa's ninth-seeded Dylan Peters (17-2).
"It's going to take toughness and as the tournament goes on, you have to get a little bit tougher," Gilman said. "I have two different styles of wrestling in front of me: I have the real savvy guy from Oklahoma — not that Tomasello isn't savvy — he's savvy in a different way. He's like me — we're fighters — we go out there and bang heads. I have to be ready to bang heads and it will be a show."
| | |
| --- | --- |
| | "It's going to take toughness and as the tournament goes on, you have to get a little bit tougher." |
Gilman said he "likes to go against the grain" of common thought. For example, one saying hints that it's difficult to defeat the same opponent three times in a season. Gilman is now 5-0 against Lambert with wins in 2016 in the dual, Big Ten Championships, and now the NCAA Championships.
"It is hard to beat someone three times in a row when it's a strategy, that's when it gets hard," Gilman said. "It's easy when you go out and fight and let things fly. There wasn't a lot of strategy in my match. My strategy is to score a lot of points and I did that."
He went out fast against Lambert, grabbing a takedown just seconds into the match. Being aggressive is nothing new to Gilman, who this season has 23 bonus-point victories: nine by fall, six by technical fall, and eight by major decision.
"There hasn't been a match this year where I haven't been aggressive," Gilman said. "The one match I lost (to Penn State's Nico Megaludis, 4-3, in sudden victory in a semifinal at the Big Ten Championships), I was by far the aggressor. I was the only one that took a legitimate shot — so even in the match I lost, the game plan is always being aggressive and keeping my pace high."
Gilman is joined in the quarterfinals by teammates Cory Clark (133), Brandon Sorensen (149), Sammy Brooks (184), and Nathan Burak (197). The Hawkeyes have scored 17 ½ points and are tied for fifth after Session II with Missouri and Virginia Tech. Penn State leads the team race with 27 ½.