Box Score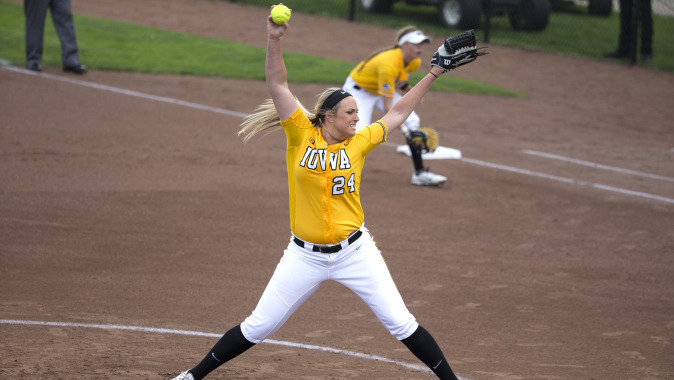 March 19, 2016
HONOLULU — Freshman Erin Riding and redshirt junior Shayla Starkenburg combined for a two-hit shutout as the University of Iowa softball team defeated Hawaii, 4-0, on Saturday afternoon. The Hawkeyes improve to 8-16 overall with the win.
"Two hits in a combined pitching effort and only one walk is very good," said UI head coach Marla Looper. "Hawaii is a quality ball club. They have good hitters and they make adjustments. I was glad to see both of them buckle down and give us a chance to play. We've talked about finishing the past few days and we did that today."
The Hawkeyes got the bats going early, scoring two runs in the top of the first. Junior Kaitlyn Mullarkey led off the rally with a triple to left, before redshirt junior Sammi Gyerman plated her with an RBI single to left. Redshirt senior Holly Hoffman kept the rally going with a single to second, and freshman Mallory Kilian capitalized on the RBI opportunity with a chopper to second base to give Iowa a 2-0 lead.
Iowa extended its lead in the top of the second. Sophomore Katy Taylor led off the inning with a bunt single. Mullarkey followed with a double to right — her second hit of the day — to stretch the Iowa lead to 3-0.
After four scoreless innings, Iowa added an insurance run in the top of the seventh. Mullarkey and Gyerman led off the inning with back-to-back walks. A single off the bat of Kilian loaded the bases, before Allie Wood gave Iowa a 4-0 lead with an RBI single to left.
Riding and Starkenburg combined for the two-hit shutout. Riding gave up one hit and a walk and struck out four in three innings. Starkenburg was credited with the win. The Ankeny, Iowa, native allowed just one hit and did not surrender a walk. She struck out three in four innings.
Mullarkey led the Hawkeyes at the plate with a 2-for-3 effort. The Park Ridge, Illinois, native reached base three times on a triple, double, and a walk. She has reached base successfully in 22 straight games. Hoffman also had a two-hit day. The Osceola, Indiana, native hit a pair of singles and recorded a walk.
The Hawkeyes open Big Ten play March 25-27 with a three-game series at Indiana.
"We've been preparing for conference play all preseason," said Looper. "We were able to come in with a single-game mindset and make adjustments these last couple of days. It's been a good week of softball. We saw a lot of growth. We know that we are a very good ball club who is going to challenge for this Big Ten Championship."
Iowa 4, Hawaii 0
1
2
3
4
5
6
7
R
H
E
Iowa (8-16)
2
1
0
0
0
0
1
4
9
2
Hawaii (17-15)
0
0
0
0
0
0
0
0
2
1
Game Decision
W: Starkenburg (IOWA) 3-4
L: Hitchcock (HU) 6-8