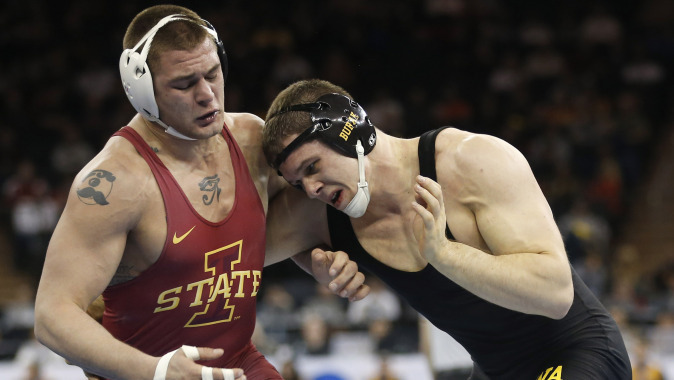 March 21, 2016
Editor's Note: The following first appeared in the University of Iowa's Hawk Talk Daily, an e-newsletter that offers a daily look at the Iowa Hawkeyes, delivered free each morning to thousands of fans of the Hawkeyes worldwide. To receive daily news from the Iowa Hawkeyes, sign up HERE.
By DARREN MILLER
hawkeyesports.com
NEW YORK — The first time Nathan Burak entered the University of Iowa wrestling lineup in Carver-Hawkeye Arena, he dropped a 9-8 decision to Alex Coolidge of Division III Cornell College. After his final collegiate match Saturday, he walked away as a three-time Division I All-American.
No matter how you dissect his career that includes 90 victories — 14 in NCAA tournaments — it screams improvement. Burak was three matches above .500 as a freshman (20-17), 11 above as a sophomore (19-8), 17 above as a junior (24-7), and 23 above as a senior (27-4).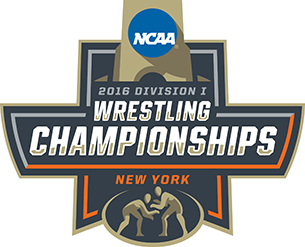 "My first match in Carver-Hawkeye Arena was a loss, and not only did I lose, I lost to a Division III kid," Burak said. "That was a rough day for me. Then I came back and lost to Iowa State and again to Lehigh."
In his 13th varsity bout, Burak was pinned for the first (and only) time in college, leaving him with a run-of-the-mill record of 8-5.
"I felt like a loser," he said. "Fans and teammates probably thought I was a loser. It was hard, so I had a good talk with (associate head coach) Terry (Brands). He encouraged me a lot. My faith helped me realize that fans don't define who I am, so I moved forward with positive self-talk."
He posted winning records in both the Big Ten and NCAA tournaments as a true freshman and in four seasons, Burak evolved into one of the top 197-pounders in the nation.
That's a respectable career for someone who favored gymnastics over wrestling as a youngster in Colorado Springs, Colorado. In fact, Burak hated wrestling, despite the fact his father worked for Athletes in Action Wrestling and his two brothers exceled in the sport.
But because of a late start, Burak didn't burn out and he continued to embrace everything wrestling offered.
"I started liking it more and more when I got older," Burak said.
He credits his improvement to a work ethic instilled by his parents. There were days when Burak didn't want to attend wrestling practice, but his father took him anyway. He rode bicycle, did pushups, jumped rope…and became better. Even though he didn't place at the state tournament as a high school freshman, Burak was vocal about his desire to one day become a Hawkeye. The response from friends was, "You're not good enough."
| | |
| --- | --- |
| | "I have grown a lot as a man and person, in every area of my life: wrestling-wise, physically, academic-wise, spiritually. My coaches have pushed me in every area they expect me to be the best. That has been a huge thing for me." |
Burak stayed motivated and focused. His family became familiar with Terry Brands, who spent time at the Olympic Training Center in Colorado Springs.
"It's a lot easier to send your son to college when you're sending him to a coach you trust," Burak said. "You know what you're getting."
The Hawkeyes knew what they were getting in Burak: a work in progress. A three-time high school state qualifier, Burak won a state championship as a senior after missing his junior season with a broken elbow. As a freshman at Iowa, he entered his first Big Ten Tournament on a three-match losing streak and with a record of 14-13; as a Hawkeye senior, he entered the conference tourney at 20-1 and at one point had 18 consecutive victories.
Three-time All-Americans don't fall from trees. Burak was eighth as a sophomore, seventh as a junior, and fourth as a senior. All 284 wrestlers at the 2016 NCAA Championships had visions of being a national champion, but only 10 achieved that coveted goal.
When asked how he wanted to be remembered, Burak laughed and said:
"As a national champion, but that didn't happen. I hope (Hawkeye fans) remember me as a tough wrestler, who worked hard and fought; someone of good character and someone who loves Jesus."
Burak is pursuing degrees in exercise science and pre-chiropractic and will graduate in December, 2016. He said his options are to keep wrestling and make a run at the Olympics, coach, go to chiropractic school, or work for Athletes in Action.
Whatever road he travels, his stay at the University of Iowa has been fruitful.
"I have grown a lot as a man and person, in every area of my life: wrestling-wise, physically, academic-wise, spiritually," Burak said. "My coaches have pushed me in every area they expect me to be the best. That has been a huge thing for me."
A devout Christian, Burak is certainly familiar with this passage from Job 8:7 in the Holy Bible:
"Your beginnings will seem humble, so prosperous will your future be."