Box Score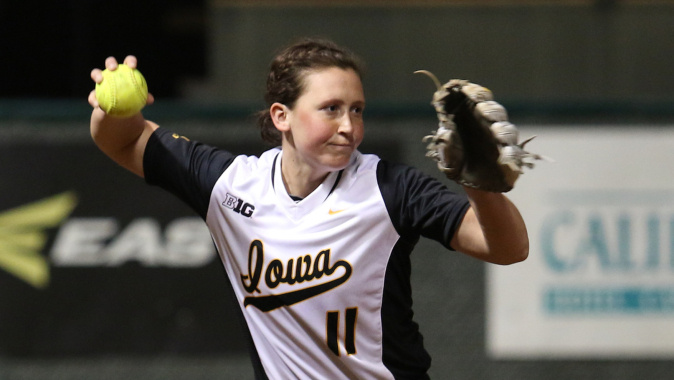 March 23, 2016
BLOOMINGTON, Ind. — The University of Iowa softball team fell to Indiana, 5-3, in its Big Ten Conference opener Friday night at Andy Mohr Field. The Hawkeyes fall to 8-17 on the season and 0-1 in conference action with the loss.
"We didn't make the adjustments soon enough today," said UI head coach Marla Looper. "That's the name of the game. That's where we have to be better tomorrow."
The Hawkeyes struck first, plating a run in the top of the first inning. Junior Kaitlyn Mullarkey led off the inning with a walk, extending her reached base streak to 23. After two quick outs, redshirt senior Holly Hofffman took advantage of the RBI opportunity with a double to right to give Iowa a 1-0 lead.
Indiana came storming back in the bottom of the inning. The Hoosiers plated four runs on three hits and four walks to take a 4-1 lead.
Iowa fought back in the top of the third. Junior Claire Fritsch led off the inning with a single through the right side, moved to second on a stolen base, and went to third on a wild pitch. With two outs, freshman Mallory Kilian sent a two-run home run to left — her third of the year — to pull the Hawkeyes within one run, 4-3.
"Mallory has been seeing and squaring the ball well," said Looper. "That home run did not surprise me. I was happy for her, and it was nice to have a runner on."
After two scoreless innings, Indiana plated another run in the bottom of the sixth. Two singles and a pair of walks secured the 5-3 win for the Hoosiers.
Elizabeth Wiegand suffered the loss in the circle. The junior allowed five earned runs on eight hits and 10 walks. She struck out four in six innings.
Fritsch, Hoffman, Kilian, and Schmiederer each registered hits in the contest. Kilian led the team with two RBIs.
The Hawkeyes and Hoosiers return to action tomorrow. First pitch is schedule for 12 p.m. (CT). The game will be streamed live on BTN Plus.
Indiana 5, Iowa 3
1
2
3
4
5
6
7
R
H
E
Iowa (8-17; 0-1)
1
0
2
0
0
0
0
3
4
0
Indiana (18-10; 1-0)
4
0
0
0
0
1
0
5
8
1
Game Decision
W: Trainer (IND) 9-6
L: Wiegand (IOWA) 4-4