Box Score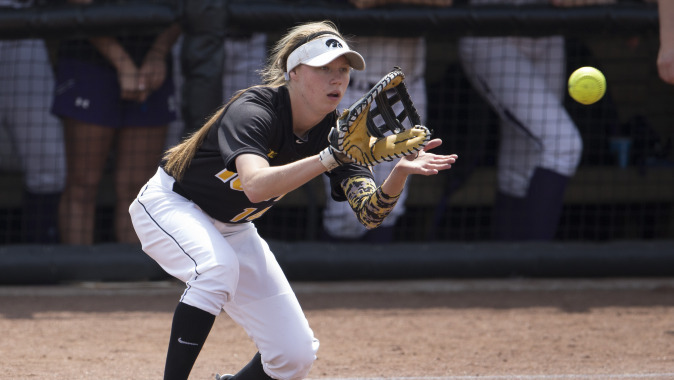 March 27, 2016
IOWA27

BLOOMINGTON, Ind. — The University of Iowa softball team dropped a 10-5 decision to Indiana on Sunday afternoon at Andy Mohr Field. The Hawkeyes fall to 8-19 on the season and 0-3 in conference action with the loss.
"We had some things that didn't go our way today, but I also believe you make your own luck," said UI head coach Marla Looper. "When things aren't going your way you need to find a way to change that. We didn't do a good job of that. That's the unfortunate part. We are a much better ball club then how we finished this weekend."
After a scoreless first, the Iowa bats got hot in the top of the second. Senior Whitney Repole led off the inning with a double to left. Sophomore Allie Wood followed with a single, and both runners advanced on an error by the Indiana left fielder. One batter later, junior Kaitlyn Mullarkey sent her fifth home run of the season to left center field to give the Hawkeyes a 3-0 lead.
"We moved Chip (Mullarkey) up to that leadoff spot because she's been that spark for us," said Looper. "She took advantage of opportunities, finally got a pitch she could hit, and came up big for us. You tip your hat to her on that."
Indiana got one back in the bottom of the third. The Hoosiers used a double, an illegal pitch, and an RBI groundout to get on the board, 3-1. The Indiana bats stayed hot in the fourth, plating three runs on two hits, two hit batters, and two walks to take a 4-3 lead.
Freshman Mallory Kilian tied it up on a solo home run in in the top of the fifth. It marked Kilian's fourth home run of the season and second of the weekend.
The Hoosiers regained the lead in the bottom of the fifth (8-4). Indiana scored four runs on three hits, two walks, and a hit batter.
Iowa plated its final run of the game in the sixth. Repole was awarded first after a hit by pitch and moved around to third on a pair of illegal pitches. Wood followed with an RBI single to pull within three runs, 8-5.
Indiana tacked on two more runs in the sixth. The Hoosiers used a double, single, and a walk to secure the 10-5 win and the 3-0 series sweep.
Elizabeth Wiegand suffered the loss in the circle. The junior allowed four earned runs on four hits and two walks in an inning and 1/3. Riding started the ballgame. She gave up for earned runs on three hits and a pair of walks. Redshirt junior Shayla Starkenburg also saw time in the circle. She allowed two earned runs on three hits and a walk in an inning and 1/3.
Mullarkey reached base three times, going 1-for-2 with a three-run home run and two walks. She has now reached base in 25 straight games. Wood had a multiple-hit day for the Hawkeyes. The Cypress, California, native went 2-for-3 with two singles, an RBI, and a run scored.
The Hawkeyes open their home slate on Wednesday, March 30, against Drake. First pitch is scheduled for 5:30 p.m. (CT) from Bob Pearl Field.
"We love our fans and we love how much they care about us," said Looper. "We are very fortunate to have great supporters and we are excited to finally play in front of them."
Indiana 10, Iowa 5
1
2
3
4
5
6
7
R
H
E
Iowa (8-19; 0-3)
0
3
0
0
1
1
0
5
5
0
Indiana (20-10; 3-0)
0
0
1
3
4
2
X
10
10
1
Game Decision
W: Trainer (IND) 10-6
L: Wiegand (IOWA) 4-5