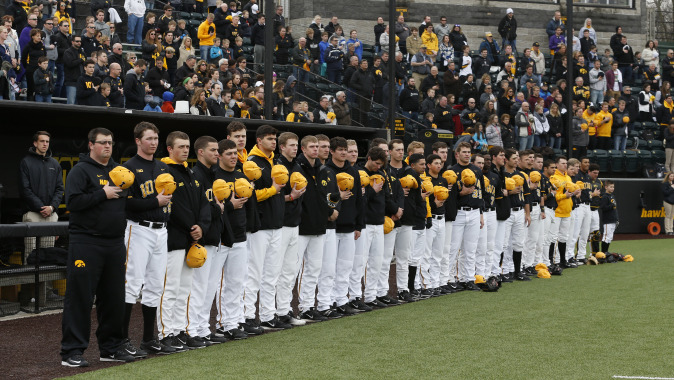 March 28, 2016
Northern Illinois (6-17) at Iowa (9-12)
Dates
March 29, 2016
Location
Iowa City, Iowa | Duane Banks Field
Statistics
Northern llinois | IOWA
Game 1
Date | Time
Tuesday, March 29 | 4:05 p.m. (CT)
Pitching Matchup
IOWA: Fr., RHP Cole McDonald (2-1, 4.26 ERA)vs.
NIU: RS Sr., RHP Joey Ceja (0-2, 15.19 ERA) TBA
IOWA CITY, Iowa — The University of Iowa baseball team's Wednesday game against Northern Illinois has been moved to Tuesday because of the threat of inclement weather. The Hawkeyes and Huskies will meet at 4:05 p.m. (CT) at Duane Banks Field.
Iowa has won three of its last four games to improve its record to 9-12. The Hawkeyes took 2-of-3 games against Maryland last weekend in their Big Ten series opener. Northern Illinois is 6-17 overall, but the Huskies took 2-of-3 games at Ohio last weekend in their Mid-American Conference opener. NIU is 4-2 in its last six games.
The Hawkeyes will send freshman right-handed pitcher Cole McDonald (2-1, 4.26) to the mound for his fourth start. The New Hampton, Iowa, native has allowed three runs on five hits over 6 1/3 innings, striking out six to two walks. McDonald allowed two runs on four hits over 1 1/3 innings in his last start against Bradley.
The Huskies will counter with redshirt senior Joey Ceja. The right-handed pitcher is 0-2 with a 15.19 ERA in seven appearances (two starts) this season. Ceja has allowed 18 runs on 17 hits over 10 2/3 innings. He has nine strikeouts to 11 walks.
Overall, NIU's pitching staff has a 7.61 ERA, allowing 252 hits in 196 1/3 innings. The Huskies have given up 186 runs with 166 being earned, and have nearly as many walks as strikeouts (112-128).
Northern Illinois is hitting .247 as a team and is averaging 4.8 runs per game. Infielder Justin Fletcher is leading the team with a .351 average with 14 runs and 16 RBIs. He has 33 hits, including 11 extra base hits — nine doubles, one triple, and one home run.
The Hawkeyes' offense has produced 5.3 runs per game over the last 10 games and is hitting .283 during the stretch. Freshman Robert Neustrom, the Big Ten Freshman of the Week, is leading the way with a .467 average (14-of-30), and four players are hitting above .350 during the 10-game span.
Tuesday's game can be heard on 800-AM KXIC with Brent Balbinot on the call. The game will also be video streamed live on Hawkeye All-Access on hawkeyesports.com.
Following Tuesday's game, the Hawkeyes will resume Big Ten action with a three-game series at Minnesota.