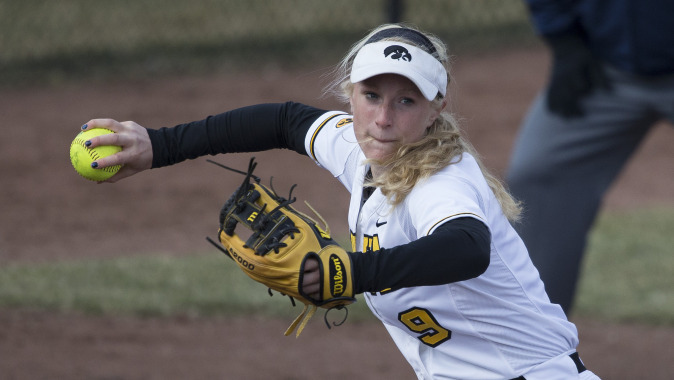 March 29, 2016
Editor's Note: The following first appeared in the University of Iowa's Hawk Talk Daily, an e-newsletter that offers a daily look at the Iowa Hawkeyes, delivered free each morning to thousands of fans of the Hawkeyes worldwide. To receive daily news from the Iowa Hawkeyes, sign up HERE.
By SAM STYCH
hawkeyesports.com
IOWA CITY, Iowa — Each year the University of Iowa softball team challenges its student-athletes to find an organization in the Iowa City community they are passionate about. On April 23, the Hawkeyes will honor those organizations at their annual Awareness Day when they host Penn State at Bob Pearl Field.
Among the seven organizations that UI softball is actively involved with is UI REACH, a two-year program for students with multiple intellectual, cognitive, and learning disabilities. UI REACH provides students with resources for the college transition, career development, and enriches both academics and social experiences.
Sophomore third baseman Sarah Kurtz is one of five Hawkeyes — senior Erin Erickson, sophomores Daniela Chambers and Allie Wood, and freshman Erin Riding — actively involved with UI REACH. Kurtz opened up about what it means to be connected with the UI REACH program.
Can you talk a little about UI REACH and the purpose it serves?
"I've been involved with this program for two years now, but I know members of our team have been involved with the organization even longer. The REACH Program is a two-year program that helps students with different mental and intellectual disabilities have a true college experience. It's awesome to see interaction between the softball players and the REACH students. They get so excited."
What does it mean for UI softball to get involved and give back to the Iowa City community?
"It's a big part of our program and it's something that I take a lot of pride in. All of us come in knowing that a big part of Iowa softball is giving back. It's awesome that we all focus on different organizations because we are able to get more involved."
What purpose does Awareness Day serve? "Awareness day is something that we do each year in order to bring attention to the various organizations that we volunteer with. As a team, we break off and each select one organization to focus our community service on. During this game we highlight our involvement with each organization. They can set up tents where they can give out information focusing on what their purpose is, while also letting people know how they can get involved."
What's it like to volunteer alongside your teammates?
"It's a nice way for us to bond outside of softball. Doing something collective like this that helps better the community is great to see."
What do you find most valuable or rewarding about being involved with REACH?
"For me, it's seeing the reaction of the REACH students. It puts things into perspective. For example, this past fall we had a kickball game on Pearl Field and seeing the excitement they expressed when stepping onto the field put into perspective how much of an impact we have as student-athletes."
What did your most recent experience with UI REACH include?
"Last Wednesday night we had one of our weekly dinners. We usually get together with a few students at Burge Dining Hall for about an hour and they talk to us about whatever they want."
What is it like to see members of the REACH Program cheering you and your teammates on when playing at Pearl Field?
"It's always awesome to see recognizable faces at our games, especially with the REACH Program. I know it's a little bit of a haul for them to get to our field. They'll usually come in large groups by bus or van. It's great to see them support us."
How important is it for you to use your platform to give back to the community?
"It's huge for not only Iowa softball, but for student-athletes in general. We wouldn't be able to do what we do without the support of our community and I think it's important for us to give back to the people who allow us to do what we do."