April 5, 2016
By DARREN MILLER
hawkeyesports.com
IOWA CITY, Iowa — Listening to Daniel Dennis, he would be just as excited spending the weekend surrounded by family in a small gymnasium near his hometown of Ingleside, Illinois, rather than caged in by the lights, cameras, and action of the U.S. Olympic Wrestling Team Trials in Carver-Hawkeye Arena.
The 29-year-old Dennis is ranked third in freestyle at 57 kg (125.5 pounds) behind top-seeded Tony Ramos — a teammate at the University of Iowa — and Tyler Graff, who wrestled collegiately at Wisconsin and lost to Ramos in the 2014 NCAA final.
Men's freestyle 57 kg will be contested Sunday, April 10, beginning at 9 a.m. (CT). The best two-of-three Championship Series begins at 6 p.m., and the winner will represent the United States at the 2016 Olympic Games in Rio de Janeiro.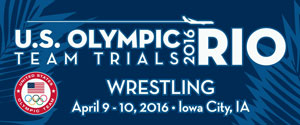 "It's important, but I don't like hyping it up," Dennis said of the Trials. "Over-hyping it isn't going to do me any good. I try to keep it simple. To me, it's four matches, it's not the Olympic Trials and it's not the chance to go to Rio."
Dennis was a two-time All-American for the Hawkeyes at 133 pounds. He finished seventh in 2009 with a 31-6 record and was NCAA runner-up in 2010 with a record of 23-4. It's impossible to forget Dennis' final match as a collegian, although it isn't one of his highlights as a Hawkeye. In the NCAA final, he led Jayson Ness of Minnesota 4-2 with seven seconds remaining before Ness executed a four-point move to win a stunner, 6-4.
"It is always something that will stick with me," Dennis said. "It is hard to look at, analyze, deal with, but you learn how. I can analyze it now and not be so emotionally destroyed by it. It always hurts and it is always going to, but it helped, too."
In 2010, Dennis left his singlet and headgear in Iowa City and took off for California and a nearly three-year hiatus. If being retired means a necessary mental and physical respite, then Dennis was retired. He thought he would stay that way too, bouncing from lending a hand at a mixed martial arts gymnasium to assisting at a high school.
Then UI assistant coach Ryan Morningstar and two-time Hawkeye national champion Royce Alger called. Tom and Terry Brands also supported Dennis' return to the mat.
Now he is back and better than ever.
Dennis returned to the mat at 61 kg (134 pounds), and has since positioned himself as a threat at 57 kg, dominating the U.S. Senior Nationals in Las Vegas in December. But he wasn't the only wrestler at 57 kg when he returned to the Dan Gable Wrestling Complex. The younger and flashier Ramos — a two-time U.S. World Team member — trains on a mat nearby.
The two were 133-pound teammates in 2009-10 when Dennis advanced to the NCAA final and Ramos was 12-0 competing unattached. Nowadays they are like ships passing in the night — both members of the Hawkeye Wrestling Club, but never training partners.
"I don't think it benefits either of us," Dennis said. "I don't feel a need for it; I don't steer away from it by any means, but we're on our own track toward the same goal."
Dennis is mellow, Ramos is zestful. Both wrestle hard with plenty of action.
"It's important, but I don't like hyping it up. Over-hyping it isn't going to do me any good. I try to keep it simple. To me, it's four matches, it's not the Olympic Trials and it's not the chance to go to Rio."

Daniel Dennis
2016 U.S. Open champion
"I'm not smart enough to strategize as much as most of these people," Dennis said. "It helps me by letting it all hang out and laying it all on the line."
Dennis has seldom been a wrestling headliner. He was a two-time Illinois state runner-up while competing for Grant High School in Fox Lake and he wasn't the most sought-after lightweight in the state. Ironically, his final high school loss and first collegiate loss came to Kenny Jordan of Mount Carmel (Illinois) and then the University of Nebraska.
In his first season as a Hawkeye, Dennis finished 20-18 (15-18 against NCAA competition). He looked on in 2006-07 as Mario Galanakis held down the spot at 133, and then again in 2007-08 with Joe Slaton as the starter. In his final two seasons at Iowa, Dennis went 54-10.
"I'm not surprised by my abilities," Dennis said. "My track record hasn't shown the consistency, but I'm not surprised at beating anybody. It's nice that it is becoming more consistent, but I feel confident I can beat anyone I wrestle as long as I'm wrestling well. If I wrestle well I can beat anyone in the world."
Terry Brands, a two-time world champion and Olympic bronze medalist, is advisor with the Hawkeye Wrestling Club, established in 1973. Dennis and Ramos are joined in the room by Matt McDonough (57 kg), Brent Metcalf (65 kg), and Bobby Telford (125 kg).
Brands says Dennis has learned to put matches away that he should win and win matches that on paper he shouldn't.
"He comes in here and gives everything he has in the practice room; he evaluates his wrestling," Brands said. "If he has questions about things he needs to correct or wants to get better at he talks to us about it and moves forward with maturity. That's how I have always known him and nothing has changed. It's not like he's a different guy."
Dennis had no intention of wrestling again following the loss in the 2010 NCAA final. He isn't motivated by money or sponsorship, but he is driven by family and friends.
"I had no intentions of coming this far," he said. "What motivates me is my mom and brother coming to watch this and my sister back home. Those are the motivating things to me — my close, close relationships."
To access the U.S. Olympic Team Trials web page, click HERE. The 2016 Olympic Games will be held Aug 14-21.