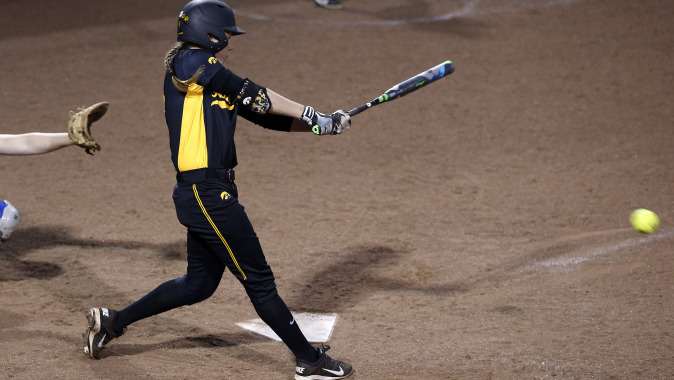 April 14, 2016
Photo Gallery Versus Drake

By DARREN MILLER
hawkeyesports.com
IOWA CITY, Iowa — When University of Iowa junior Kaitlyn Mullarkey is introduced before a plate appearance in softball, she goes by the nickname, Chip.
After Wednesday's performance against Drake at Bob Pearl Field, she might consider the title, Clutch.
Mullarkey hit a two-out, two-run home run in the bottom of the seventh inning to tie the Bulldogs, 4-4, and send the nonconference softball game to extra innings. One at-bat prior to Mullarkey's eighth home run of the season, junior teammate Claire Fritsch smacked a ground ball that went through the Drake second baseman's legs.
When that happened, Mullarkey aimed for the fence.
"I was (looking to hit a home run)," Mullarkey said. "I'm not going to lie. When it went through her legs I thought, `I'm going to hit a home run right now.'"
Sure enough, Mullarkey deposited a 1-1 pitch from Drake's Nicole Newman over the left-centerfield fence, forcing bonus ball.
"She has been doing that throughout the year and her composure at the plate was, `I have the opportunity,'" UI head coach Marla Looper said. "She was seeing the pitcher well and had some good at-bats. It is not surprising. She was calm with a great demeanor when she got in the box and she battled."
It looked bleak again for the Hawkeyes after Drake plated three runs in the top of the eighth. Iowa's half of the inning opened with clean-up hitter Holly Hoffman getting hit by pitch. Angela Schmiederer singled to right, sending pinch-runner Haley Hansel to third. Whitney Repole drew a four-pitch walk. Sarah Kurtz reached on a fielder's choice after grounding to third and forcing Hansel at home.
Iowa crept within 7-5 when Schmiderer scored on a wild pitch. Erin Erickson reached on an error by Drake's Taryn Pena, scoring Repole. Pinch-hitter Kara Misel and Fritsch drew back-to-back walks, knotting the score, 7-7. With one out, "Clutch" Mullarkey confidently strode to the plate.
"We had bases loaded and we were tied, so I just needed to hit the ball hard and get it on the ground," Mullarkey said.
She sent a bullet off her bat on the ground to the right side of the infield. Although Mullarkey was forced out at first, Erickson had ample time to score the game-winning run.
"It was a great team win," Mullarkey said. "We had a good team win (Tuesday against Northern Iowa), so we had good energy coming into the game. I wanted to do it for my team and do whatever I could to get a run in."
"It was a great team win. We had a good team win (Tuesday against Northern Iowa), so we had good energy coming into the game. I wanted to do it for my team and do whatever I could to get a run in."

Kaitlyn 'Chip' Mullarkey
UI junior first base
The Hawkeyes (11-26 overall) defeated Northern Iowa, 6-3, on Tuesday and followed that with the 8-7 win over Drake, giving them back-to-back victories for the second time this season.
Late-game run production is nothing new for Iowa. In their last nine Big Ten Conference games, the Hawkeyes have scored 14 runs in the seventh inning and six runs in the sixth, but they won just one of those games.
"We have seen that the last couple weeks, but unfortunately, we have not been the home team to come back and win the game," Looper said. "When we got down another three (runs to Drake in the eighth), we had to take a deep breath, but at that point our team didn't tuck their tails or lay down, they knew they had an opportunity.
"The bottom of our lineup was calm, did its job, and didn't try to do too much. They all did their job and that's team softball. That's what we have been doing of late, we just haven't been able to get the knockout punch that we got (Wednesday)."
Mullarkey has collected big hits before. In the first round of the 2015 Big Ten Tournament against Rutgers, she belted a two-run home run in the top of the sixth inning to tie the game, 3-3. Sammi Gyerman put the Hawkeyes ahead for good an inning later with a decisive two-run home run of her own.
"I'm always confident going into games — win or lose," Mullarkey said. "I keep that same confidence level, you have to keep consistent with that."
In 37 games this season, Mullarkey is batting .289 and leading the Hawkeyes in runs (33), doubles (nine), triples (three), home runs (eight), RBIs (29), and stolen bases (11). She is batting .333 with runners on base.
Iowa returns to conference play April 15-17 with three games against Wisconsin (21-16-1, 6-4-1) at Bob Pearl Field.
"We finally got that knockout punch," Looper said. "We've been in some big heavyweight bouts and this weekend will be no different."