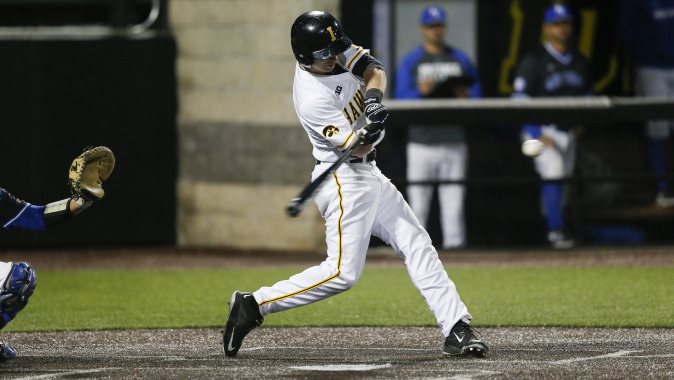 April 14, 2016





Editor's Note: The following first appeared in the University of Iowa's Hawk Talk Daily, an e-newsletter that offers a daily look at the Iowa Hawkeyes, delivered free each morning to thousands of fans of the Hawkeyes worldwide. To receive daily news from the Iowa Hawkeyes, sign up HERE.
By JAMES ALLAN
hawkeyesports.com
IOWA CITY, Iowa — University of Iowa head coach Rick Heller knew Mason McCoy's time was coming. It wasn't a matter of if, but when the junior infielder would breakout.
That time came Wednesday night when McCoy became the first Hawkeye in nearly nine years — 3,276 days to be exact — to hit for the cycle in a 22-2 rout of Air Force. He tied a school record with five hits in the victory.
"We've all been waiting for Mason to get hot," said Heller following Iowa's 16th victory of the season. "He swung the bat well tonight and that's the guy that we knew was going to come around at some point in time.
"It couldn't happen at a better time because if he can stay hot like that he can help and carry us through times when other guys are slumping."
Heller knew McCoy's potential. He was a two-time junior college All-American at Illinois Central College and the Northwoods League MVP in 2015. He was a hitting machine in the NWL, setting single-season records in hits (112), runs (80), and total bases (168).
McCoy has been a mainstay in Iowa's lineup in his first season in Iowa City. Entering the Air Force series, he was steady, hitting .257 with seven multi-hit games, five extra base hits, 12 runs, and 13 RBIs, but Heller knew there was more to tap into.
During Iowa's 9-7 come-from-behind victory over Air Force in the series opener, McCoy showed signs of a breakout. He finished 1-for-4 with a double in the game, but he was squaring balls up. His outs were loud outs.
"Yesterday, I finally started barreling balls up, they were just going right at someone," said McCoy. "I had to trust that they were going to start to fall. The baseball was looking big tonight and it felt like everything I swung at I was getting barreled.
"Today I started off well and continued to get better."
McCoy joined in on Iowa's hit party in his first at-bat, laying down a bunt single as the Hawkeyes batted around during a four-run first inning. He stepped to the plate for his second at-bat in the bottom of the second, ripping an RBI triple into the right centerfield gap to extend Iowa's lead to 5-0.
His hot bat continued in the fourth when he roped an RBI double down the left field line for his third hit of the game.
"I knew I was in the position (to hit for the cycle)," said McCoy. "I was trying to hit a home run."
McCoy struck out in his fifth inning plate appearance in his first attempt to accomplish the feat, and he got another chance an inning later and didn't disappoint. He hit the first pitch he saw against Air Force right-handed pitcher Sam Rexroad for a no-doubt home run down the left field line to cap off a seven-run inning and give Iowa a 15-0 advantage.
"This is a big deal for me," said McCoy. "I've had nights where I've felt like everything you swing is barreled up, but definitely not like this and in a Division I game. (The last time) was in high school.
"I am glad we got a win; that makes it better. I wish I would have gotten the last hit to break the record, but it happens I guess."
After collecting his fifth hit in the seventh — on a two-run double (for his fifth and sixth RBIs of the game) — McCoy stepped to the plate in the bottom of the eighth with an opportunity to break Iowa's single-game hits record.
He connected on a home run against Air Force reliever Gabe Martinez — a catcher, who was pitching in relief for a depleted Falcons' bullpen — but it sailed foul. He ended up striking out on a 1-2 count.
"(My teammates) knew I needed a hit for the record, and I hit the home run foul," said McCoy. "They were like 'Here it comes.' I got too excited and swung at one 3 1/2 feet over my head. I knew he was a catcher, and that made it worse.
"(The night) was surreal. I haven't had a night like that in a really long time. I've come close (to a cycle) a lot, but nothing like this."