Box Score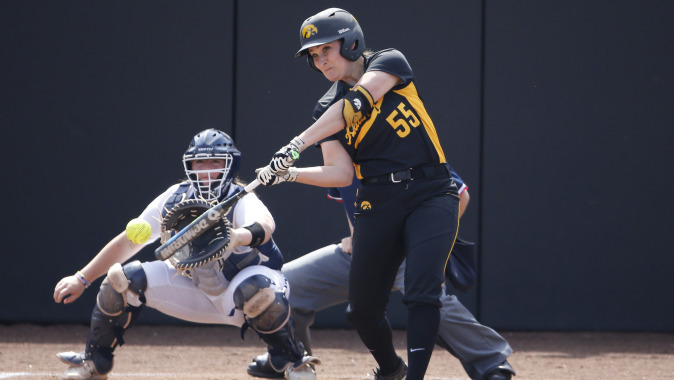 May 1, 2016
CHAMPAIGN, Ill. — The University of Iowa softball team dropped an 8-0 decision to Illinois in five innings on Sunday afternoon. The loss secured the three-game series sweep for the Illini (31-19; 10-10).
Illinois jumped on the board early, plating six runs in the bottom of the first. The Fighting Illini led off the inning with a solo home run to right, and used the momentum to send 11 more batters to the plate in the inning. Three walks, three errors, a sacrifice fly, and three singles gave the Illini a 6-0 lead.
The Fighting Illini threatened in the third, loading the bases on an error, single, and a walk. Freshman Erin Riding fought back; however, striking out three straight batters to escape the bases loaded jam.
Illinois plated their final two runs of the game in the fifth. A pair of Iowa errors and back-to-back singles secured the 8-0 run-rule win. Defensive miscues haunted the Hawkeyes throughout as Iowa registered eight errors in the contest.
Shayla Starkenburg (4-14) took the loss in the circle. The redshirt junior allowed six runs — four earned — on three hits and three walks in 2/3 of an inning. Sophomore Ashley Yoways threw a scoreless inning and 2/3 in relief, while Riding tossed the final two and 1/3. Riding did not allow an earned run on three hits and a walk.
Illinois junior Jade Vecvanags (11-10) registered the complete-game win for the Illini. Vecvanags held the Hawkeyes to two hits over five innings. Junior Kaitlyn Mullarkey and senior Holly Hoffman each notched a hit for the Hawkeyes.
The Hawkeyes (13-35; 3-17) return to action Tuesday, traveling to Ames, Iowa, for the Iowa Corn Cy-Hawk Series match-up with the Cyclones. First pitch is set for 4 p.m. (CT) from the Cyclone Sports Complex.
Illinois 8, Iowa 0
1
2
3
4
5
R
H
E
Iowa (13-35; 3-17)
0
0
0
0
0
0
2
8
Illinois (31-19; 10-10)
6
0
0
0
2
8
8
0
Game Decision
W: Vecvanags (ILL) 11-10
L: Starkenburg (IOWA) 4-14