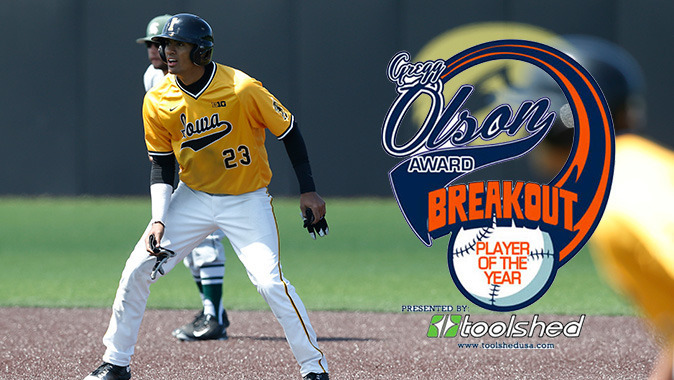 May 20, 2016
OMAHA, Neb. — University of Iowa senior Joel Booker has been named a semifinalist for the Gregg Olson Breakout Player of the Year Award, presented by Toolshed Sports. The honor is presented to a top amateur baseball player who elevates his game to an elite level throughout the season.
Booker, an outfielder from Columbus, North Carolina, is one of 43 players named to the list, including one of four players from the Big Ten Conference.
The Olson Award has been developed to honor college baseball's success stories and showcase players, like Olson, who have raised the level of their game through hard work, strength of mind, and determination.
Eligible players will be those who are omitted from major publication's preseason All-American prognostications; however by the end of the season their on the field performance will demonstrate that they are among the top amateur baseball players in the nation.
Booker has had a breakout senior season, leading the Hawkeyes in virtually every major statistical category and ranking in the top 12 in the Big Ten in seven categories. He is hitting a team-best .343 with 42 runs, 72 hits, 17 doubles, two triples, five home runs, and 32 RBIs. Booker is also 21-of-23 on the base paths.
The junior college transfer has 22 multi-hit and nine multi-RBI games — the second-most on the team.
Booker's emergence came on the heels of an up-and-down junior season where he hit .235 with 28 runs and 25 RBIs in 59 games.
Finalists will be announced during NCAA Super Regional action. The winner of the 2016 Gregg Olson Award will be named in Omaha, Nebraska, during the College World Series at TD Ameritrade Park.