24 Hawkeyes to Watch 2016-17 | 2016 Iowa Soccer Media Guide | Box Score (PDF) | Boxscore
OMAHA, Neb. — The University of Iowa women's soccer team fell to Creighton, 5-3, Friday night in its regular-season opener at Morrison Stadium.
"Today was a tough lesson to learn for our young team," said UI head coach Dave DiIanni. "Playing in a tough environment on the road against a much improved Creighton team, we allowed momentum to swing too quickly in both halves and it resulted in four goals in short duration. We need to learn to grasp momentum back by communicating and organizing as a team, rather than individuals."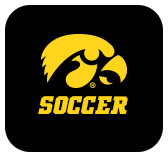 With rain falling, the Hawkeyes trailed 2-0 after the first 45 minute of action. Creighton's Darby Hugunin scored the game's first goal in the 26th minute before Callie Hawkins followed four minutes later with a second goal, giving the Blue Jays a 2-0 advantage at the break. 
The Hawkeyes bounced back early in the second period. In the 49th minute, redshirt junior Rachele Armand scored Iowa's first goal of the season to cut the lead in half.  Junior Karly Stuenkel then tied the game a little more than a minute later, scoring on a give-and-go from 25 yards out to even the game at two. Redshirt sophomore Rose Ripslinger and freshman Isabella Blackman were credited with assists.
The Bluejays grabbed the lead in the 57th minute on a Hawkins unassisted strike and they pushed their advantage to 4-2 in the 64th minute on a goal by Jaylin Bosak.   
Redshirt freshman Kaleigh Haus cut the lead in half at the 71:43 mark on an unassisted strike from 30-yards out, but Creighton added a goal in the 80th minute by Hannah Miller to extend its lead to 5-3.  
"I am proud of our effort in the first 20 minutes of each half, especially the second half when we were able to tie the game up in the first 10 minutes," said DiIanni. "This team will get better from this experience and watching it on film. We have another chance to grow on Sunday."
Iowa (0-1-0) returns to action Sunday at Missouri.  Game time is set for 1 p.m. (CT) at Audrey J. Walton Stadium in Columbia, Missouri.