By JAMES ALLAN
hawkeyesports.com
IOWA CITY, Iowa — Matt Dermody received a call to the Buffalo manager's office Wednesday following the team's Triple A game against Scranton/Wilkes-Barre. Gary Allenson had good news.
 
It was during that meeting that Dermody, a 2013 University of Iowa graduate and four-year Hawkeye letterwinner, learned of his Sept. 1 call-up to Major League Baseball's Toronto Blue Jays.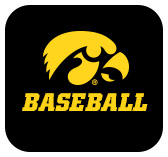 "I am not a big jump-for-joy kind of guy," said Dermody. "But I was like, 'Cool, awesome, thank-you.'"
 
It was the culmination of a season-long journey where Dermody made three stops in Toronto's minor league system.  He started the year in Dunedin playing at Advanced Class A level, was promoted to Double A New Hampshire before joining the Bisons in July.
 
Dermody went 3-1 with a 1.82 ERA over the three stops. In 47 games, he tossed 54 1/3 innings, where he had 47 strikeouts.
 
"It has been quite the road," said Dermody, a lefty relief pitching specialist. "I am grateful for everything that has happened."
 
Dermody pitched for the Hawkeyes from 2010-13, winning 15 games and finishing his career in the top 10 in innings pitched, strikeouts, and appearances. He was drafted four times — once out of high school and three times while at the UI — with the Blue Jays selecting him in the 29th round in 2013.
 
When Dermody learned of the call-up, his first phone call was back to his parents in Norwalk, Iowa.
 
"That was a good call," he said. "They put me on speaker (phone) and I could hear my mom in the background screaming and yelling. That was exciting."
 
Dermody calls the feeling unreal. He is getting a chance to live out a childhood dream.
 
"This has been a dream since I was a kid playing Little League," he said. "Being here now and it being reality, is surreal.  It will sink in tomorrow once I hit the field."
 
Dermody joined the Blue Jays in Tampa, Florida, on Thursday.  Toronto faces the Rays for a three-game weekend series before heading to Yankee Stadium for three games Sept. 5-7. 
 
He is entering the thick of a pennant chase; Toronto is leading the American League East Division by two games over the Boston Red Sox.
 
"My mindset once I step on the mound will be pitch-to-pitch," he said. "You have to execute your pitch every time, especially at this level.  It is about simplifying things and not moving too far ahead."
 
Dermody will be the first Hawkeye to pitch in Major League Baseball since Wes Obermueller in 2007.