Hawkeye Fan Shop — A Black & Gold Store | 24 Hawkeyes to Watch 2016-17 | 2016 Iowa Soccer Media Guide
Editor's Note: The following first appeared in the University of Iowa's Hawk Talk Daily, an e-newsletter that offers a daily look at the Iowa Hawkeyes, delivered free each morning to thousands of fans of the Hawkeyes worldwide. To receive daily news from the Iowa Hawkeyes, sign up HERE.
By JAMES ALLAN
hawkeyesports.com
IOWA CITY, Iowa — There are nonconference games and then there are Big Ten Conference battles.  The University of Iowa soccer team is ready for the latter.
 
The Hawkeyes open league play this weekend, hosting Michigan at 7 p.m. (CT) Friday at the Iowa Soccer Complex before welcoming Michigan State on Sunday for a 1 p.m. start.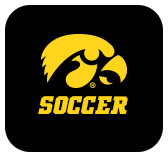 "You have intense games during the nonconference, but when you hit the Big Ten every game is intense and all out," said senior Amanda Lulek. "The competition gets more difficult and the games mean a little more.
 
"We want to make it to the Big Ten Tournament and winning these games is what is going to get us there."
 
Iowa won one game during the 2015 Big Ten slate and missed the postseason tournament for the first time since 2010, something the team hasn't forgotten. It's motivation to turn the tables this season.
 
"That has been our No. 1 drive," said redshirt junior Rachele Armand. "We never want to feel the way we felt last year. This team is capable of great things; we have so many young players and have such great chemistry.  It's going to be a great year."
 
UI head coach Dave DiIanni tested his Hawkeyes from the get-go with early-season road games against Big East (Creighton), SEC (Missouri), Big 12 (Iowa State) and Pac 12 (Colorado) conference opponents.  The team went 2-2 during the stretch and is 6-2-0 with 11 Big Ten tests on the horizon.
 
"Our schedule prepared us more mentally than it has in the past," said DiIanni. "(Once league play begins) the goals don't happen so easily, teams are more prepared, and your execution has to be better in all areas.  It's more physical.  Playing those teams prepared us for the rigors of the Big Ten."
 
"We've seen what it takes to beat those good teams and the energy that needs to be put in," said Lulek. "We've had a taste of it, but now it's going to be sustaining it through conference into every game."
 
The Hawkeyes have been winning with their offensive production, having scored at least two goals in six of the eight nonconference games. Iowa ranks 13th nationally with 21 goals in eight contests; the team scored 20 goals throughout the 2015 season.
 
DiIanni knows goals will be harder to come and games will be tighter during the Big Ten slate. 
 
"Last year 80 percent of the games were ties or a one goal difference either way," he said. "The margin for error is smaller, that's why we need to be more solid defensively than we have in a few games.  The teams that can defend and capitalize on set pieces and their opponent's mistakes are successful."
 
Lulek is eager to see how the Hawkeyes stack up in the Big Ten. 
"We're ready and are all excited to start Big Ten play," said Lulek.  "We're the underdogs, but we're going to take it with a grain of salt to prove everyone wrong.  I am excited to see what this team can do."
 
Friday's game will be streamed live on BTN Plus and Sunday's game will be televised on BTN.