Hawkeye Fan Shop — A Black & Gold Store | 24 Hawkeyes to Watch 2016-17 | Hawk Talk Monthly — September | Purchase Single-Game Tickets | Box Score (PDF) | Boxscore
COLUMBUS, Ohio — A second half hat trick from Ohio State's Lindsay Agnew propelled the Buckeyes to a 3-0 victory over the University of Iowa soccer team Sunday afternoon at Jesse Owens Memorial Stadium.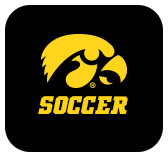 After a scoreless first half, Agnew scored three goals within the first 10 minutes of the second half.  The forward's first strike came in the 48th minute from the left side off an assist from Nikki Walts.
 
Agnew didn't stop there, scoring her second goal in the 50th minute off an assist from Nichelle Prince, and again two minutes later sending a header past Iowa goalkeeper Claire Graves to give the Buckeyes the 3-0 lead heading into the final third.
 
Graves made four saves in the first half. Emma Rigby played the final 30 minutes of action in the second half.
 
Ohio State outshot Iowa 8-3 in the first half, the Hawkeyes countered, outshooting the Buckeyes, 7-5, over the final 45 minutes.
 
The Hawkeyes (6-6-0, 0-4-0) return to home to host Purdue on Friday at the Iowa Soccer Complex at 7 p.m. (CT).