Hawkeye Fan Shop — A Black & Gold Store | 24 Hawkeyes to Watch 2016-17 | Hawk Talk Monthly — September 2016
IOWA CITY, Iowa — University of Iowa head coach Rick Heller announced the details of the Hawkeyes' 2017 schedule Monday. Iowa will host 24 contests at Duane Banks Field and will play at least eight games against 2016 NCAA Regional qualifiers this season.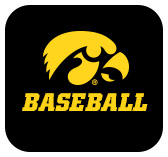 The Hawkeyes open the year by traveling south for the first five weekends.  Iowa opens the season with a three-game series at South Florida (Feb. 17-19) before traveling to Hoover, Alabama, for a neutral site three-game series against Morehead State (Feb. 24-26). 
 
Iowa's first tournament will come during the first weekend in March, when it travels to Minneapolis to complete in the DQ Classic from March 3-5.  The Hawkeyes will face Hawai'i and NCAA Regional qualifiers Oral Roberts and Minnesota (in a nonconference game) indoors at the Minnesota Vikings' U.S. Bank Stadium.
 
The Hawkeyes will round out the early-season portion of the schedule with four games at the Snowbird Baseball Classic (March 10-12) in Port Charlotte, Florida, and a three-game road series at Big 12 Conference foe Kansas State (March 17-19).
 
Sandwiched before and in between are two midweek home games against Northern Illinois (March 7) and Iowa Wesleyan (March 15).
 
Iowa's Big Ten Conference schedule begins March 24-26, hosting Purdue at Duane Banks Field.  The Hawkeyes also have home Big Ten series against Rutgers (April 21-23), Penn State (April 28-30), and Ohio State (May 12-14).
 
The Hawkeyes' Big Ten road slate includes series at Northwestern (April 7-9), Nebraska (April 14-16), Michigan State (May 5-7), and Illinois (May 18-20). 
 
Ohio State and Nebraska were NCAA Regional teams in 2016.
 
Iowa's midweek schedule includes home games against Bradley (March 22), Grandview (March 29), South Dakota State (April 4-5), Western Illinois (April 11), Milwaukee (April 25), and Omaha (May 16).
 
The Hawkeyes will also host UNLV for a three-game weekend series from March 31-April 2.
 
Iowa will travel for midweek road games at Bradley (April 19) and Western Illinois (May 2).
 
The 2017 Big Ten Tournament will be held, May 24-28, at a location to be announced. NCAA Regionals will take place, June 2-4, at campus sites across the country.
 
Iowa baseball season tickets will go on sale in late January.