Hawkeye Fan Shop — A Black & Gold Store | 24 Hawkeyes to Watch 2016-17 | Hawk Talk Monthly — Nov. 2016 | Photo Gallery
IOWA CITY, Iowa — An eight-run fourth inning propelled the Gold team to a 12-2 victory over the Black team on Thursday afternoon at Duane Banks Field. The win gives the Gold team a series sweep and the Black & Gold World Series crown.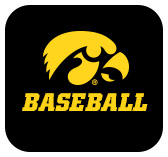 The Gold team trailed 2-1 through two innings before junior Jake Adams hit a two-run home run to left field to put the Gold squad on top 3-2.  The Gold team followed with an eight-run explosion in the fourth.
 
Adams, junior Austin Guzzo, freshman Justin Jenkins, and freshman Kace Massner had RBIs in the inning.  Massner capped off the big frame with a two-run home run to right field.
 
The Black team jumped out to a 1-0 lead in its first at-bat on an RBI single from sophomore Luke Farley.  After a Kyle Crowl double plated Massner to tie the game in the second, the Gold team took a 2-1 advantage on a solo home run from freshman Ben Norman to give the Black squad its final lead.
 
The Gold team finished with nine hits and 12 RBIs in the six-inning game.  Adams finished 2-for-4 with three RBIs and two runs scored, Guzzo was 2-for-3 with two runs and two RBIs, and Massner was 2-for-3 with three runs and two RBIs.  Crowl also had two RBIs in the contest.
 
Four Gold team pitchers limited the Black squad to three hits and two runs.  Sophomore Derek Lieurance, redshirt freshman Kyle Shimp, and senior Sam Norman all toss hitless frames.
 
The Hawkeyes will return to action during Thanksgiving break when they travel to the Dominican Republic from Nov. 18-25 for a foreign trip.