Hawkeye Fan Shop — A Black & Gold Store | 24 Hawkeyes to Watch 2016-17 | Hawk Talk Monthly — Nov. 2016
Editor's Note: The following first appeared in the University of Iowa's Hawk Talk Daily, an e-newsletter that offers a daily look at the Iowa Hawkeyes, delivered free each morning to thousands of fans of the Hawkeyes worldwide. To receive daily news from the Iowa Hawkeyes, sign up HERE.
By JAMES ALLAN
hawkeyesports.com
IOWA CITY, Iowa — The University of Iowa baseball team is training with intent under first-year hitting coach Pete Lauritson.
 
Lauritson is implementing a new hitting philosophy where the Hawkeyes train with a goal of generating the highest amount of horse power and bat speed with every swing.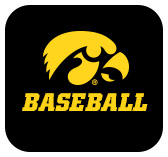 "When you're training with intent, as a player you're asked to move your body better, swing faster, and hit the ball as hard as possible," said Lauritson. "It's a mentality, mindset, and culture.
 
"The players figure out the way they need to move their body as opposed to (me) telling them they have to have their hands here or to put their foot down at a certain time."
 
The new ideology allows players to adjust and learn in real time. There isn't a right or wrong way. Rather, it's more about each individual doing what works to maximize their performance.
 
"Every guy isn't going to be doing the same thing," said Lauritson. "The players are allowed freedom as long as they are hitting the ball as hard as possible with a moving ball coming at them faster and faster.
 
"Some guys can pull off bigger movements, some guys cannot. The trick is when you're throwing at them at higher velocities, they have to figure it out."
 
"We're focusing on our power output and emphasizing getting our extra-base hit numbers up and getting the ball in the air with better launch angles," said sophomore Robert Neustrom. "We're keeping (hitting) simple and that's one of the best things you can do.
 
"Pete keeps it simple and keys in on moving our bodies in the right direction and in the best position to hit, while keeping your timing on point."
 
Lauritson uses visuals to make his points. Images of major league baseball greats — past and present — line the walls of the Jacobson Hitting Facility. 
 
"The best players in the world move a certain way," said Lauritson. "You can go down the list, even the old-time guys. They all move in a certain pattern; the pictures are there as a visual learning tool.  We do a lot of stuff in front of mirrors and a lot is done without even hitting the ball."
 
Lauritson began implementing the approach five years ago as hitting coach at North Iowa Area Community College. It helped transform the Trojans into one of the top offensive teams in the nation. 
 
Over his final two seasons, NIACC's offense produced 1,151 runs, hit 212 home runs, 265 doubles, 1,366 hits, walked 709 times, and posted a .448 on-base percentage.
 
The Hawkeyes have been training with intent since beginning individual practices in August.  From a team standpoint, Iowa's growth has been substantial.
 
"The average increase in exit velocity has improved nine miles per hour," said Lauritson. "In four weeks you have guys going from 94 to 103 — that's significant. In the measurable data, we saw results."
 
Lauritson has also seen the culture changing.  Players are chasing numbers (velocities) and putting in the work to achieve their goals.
 
"You want guys to fall in love with preparation, not just loving the game," said Lauritson. "We're seeing them in here more. When they see results, it fuels them to work harder.  They're competing against themselves to achieve a number, so they come in more and the more they work at it, the better they get.
 
"You're creating a culture to work to see the results."