Hawkeye Fan Shop — A Black & Gold Store | 24 Hawkeyes to Watch 2016-17 | Hawk Talk Monthly — Nov. 2016
Editor's Note: The following first appeared in the University of Iowa's Hawk Talk Daily, an e-newsletter that offers a daily look at the Iowa Hawkeyes, delivered free each morning to thousands of fans of the Hawkeyes worldwide. To receive daily news from the Iowa Hawkeyes, sign up HERE.
By JAMES ALLAN
hawkeyesports.com
IOWA CITY, Iowa — In 24 hours, it's wheels up to the Dominican Republic for the University of Iowa baseball team.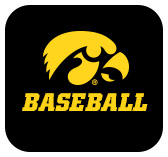 The Hawkeyes depart Saturday for Santo Domingo for its week-long foreign trip. Iowa is set to play four games in Latin America, while also putting on a kid's youth clinic, performing community service in Boca Chica, and having an opportunity to go on an island excursion.
 
"This is almost two years in the making and here we are getting ready to leave," said UI head coach Rick Heller. "The reality is starting to set in."
 
Iowa will play four games against what Heller calls "good competition."  The Hawkeyes will face the Dominican Army National Team on Nov. 20, academy teams from the Texas Rangers (Nov. 21) and Kansas City Royals (Nov. 24), and a Winter League team — Escogido — on Nov. 22.
 
"The two academy teams will be (MLB) rookie league players with Latin decent," said Heller. "Escogido is an actual Winter League team, so it will be a high-level professional player, and the Army team will have a mix of former pro guys."
 
"This will be a huge learning experience for us," said junior C.J. Eldred.
 
The timing of the trip is perfect for a team where the newcomers outnumber the returnees.  Iowa has lost 25 seniors to graduation or the MLB Draft the past two seasons.
 
"This trip will help with team chemistry and will allow us to get to know the young guys," said junior Nick Gallagher. "It is perfect for this year. The new guys getting experience before the season starts is valuable, and being put in game situations will help a lot when the spring comes around."
 
The Hawkeyes are looking forward to experiencing a Dominican culture where baseball is at the core of its roots.
 
"I am excited because the baseball culture is so big," said Gallagher. "So many guys come from there and play in Major League Baseball.
 
"I am looking forward to seeing how they learn the game, what their training is like, and experience the culture. We're fortunate here to have great things; it will be eye-opening to see how different it is and see how they overcome obstacles that we don't have to."
 
Senior Corbin Woods is excited for the growth potential for the Hawkeyes. 
 
"This trip is a great motivator," said Woods, one of four fall team captains. "We have never had this opportunity before. It will be a chance to come together and work on that team culture and chemistry before the start of the season.
 
"Playing internationally will be quite the opportunity.  It will be a great opportunity to learn how fortunate we are for the things we have at Iowa and the opportunities we have in the U.S."
 
Fans can follow the trip at www.hawkeyesports.com/Dominican and through the program's various social media outlets at Facebook.com/IowaBaseball, Twitter/UIBaseball, and Instagram/UIBaseball.