Hawkeye Fan Shop — A Black & Gold Store | 24 Hawkeyes to Watch 2016-17 | Hawk Talk Monthly — Jan. 2017 | 24 Hawkeyes to Watch: Sammy Brooks | Q & A with Sam Stoll | Match Notes in PDF Format
DUBUQUE, Iowa — University of Iowa wrestlers Carter Happel, Jeren Glosser, and Skyler St. John won titles at the Pat "Flash" Flanagan Open on Saturday on the campus of Loras College.
 
Happel went 3-0 with one fall to win the 141-pound bracket. It is the freshman's third tournament title this season. He previously placed first at the Grand View and Luther Open.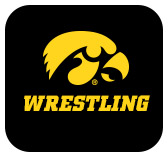 Glosser, a redshirt freshmen 149-pounder, went 4-0 with one fall and one technical fall to when his first career tournament.
 
St. John picked up a fall and major decision win the 165-pound bracket. The sophomore went 4-0 to win his first career tournament title.
 
The 141- and 165-pound championship matches featured a pair of Hawkeyes. Redshirt freshman Paul Glynn fell to Happel, 3-2, to place second at 141, and redshirt freshman Jeremiah Moody lost, 6-5, to St. John to place runner-up at 165. Freshman Cade Brownlee placed runner-up at 197, and freshmen Matt Malcom and Joel Northrup won the consolation brackets at 157 and 174, respectively.  
 
Pat `Flash` Flanagan Open Results for Iowa
Open 133 – Jack Wagner —  3rd place
Round 1 – Jack Wagner (Iowa) won by tech fall over Scott Worlund (Wisconsin Eau Claire) (TF 18-3)
Round 2 – Jack Wagner (Iowa) won by tech fall over Darrin Eades (Nothern Iowa) (TF 20-4)
Round 3 – Rudy Yates (Nothern Iowa) won by decision over Jack Wagner (Iowa) (Dec 9-4)
Round 4 – Jack Wagner (Iowa) won by tech fall over Cody Vogel (Wisconsin Eau Claire) (TF 21-5)
Round 5 – Justin Stickley (Unattached) won in sudden victory – 1 over Jack Wagner (Iowa) (SV-1 4-3)
Open 141 – Paul Glynn — 2nd place
Champ. Round 1 – Paul Glynn (Iowa) received a bye () (Bye)
Quarterfinal – Paul Glynn (Iowa) won by decision over Patrick Spray (Wisconsin) (Dec 4-3)
Semifinal – Paul Glynn (Iowa) won by fall over Joey Riordan (Loras College) (Fall 3:57)
1st Place Match – Carter Happel (Iowa) won by decision over Paul Glynn (Iowa) (Dec 3-2)
Open 141 – Brock Rathburn — 3rd place
Champ. Round 1 – Brock Rathburn (Iowa) received a bye () (Bye)
Quarterfinal – Brock Rathburn (Iowa) won by fall over Blake Kittleson (UW Platteville) (Fall 2:20)
Semifinal – Carter Happel (Iowa) won by decision over Brock Rathburn (Iowa) (Dec 9-4)
Cons. Semi – Brock Rathburn (Iowa) won by decision over Patrick Spray (Wisconsin) (Dec 7-3)
3rd Place Match – Brock Rathburn (Iowa) won by fall over Joey Riordan (Loras College) (Fall 1:18)
Open 141 – Carter Happel — 1st place
Champ. Round 1 – Carter Happel (Iowa) received a bye () (Bye)
Quarterfinal – Carter Happel (Iowa) won by fall over Eric Starke (Triton College) (Fall 1:41)
Semifinal – Carter Happel (Iowa) won by decision over Brock Rathburn (Iowa) (Dec 9-4)
1st Place Match – Carter Happel (Iowa) won by decision over Paul Glynn (Iowa) (Dec 3-2)
Open 149 – Jeren Glosser — 1st place
Champ. Round 1 – Jeren Glosser (Iowa) won by tech fall over Valentino Ortiz (Triton College) (TF 20-2)
Quarterfinal – Jeren Glosser (Iowa) won by fall over Hunter DeLeon (Wisconsin Eau Claire) (Fall 1:11)
Semifinal – Jaren Glosser (Iowa) won by decision over Danny Murphy (Iowa) (Dec 6-4)
1st Place Match – Jaren Glosser (Iowa) won by decision over Hunter Washburn (Nothern Iowa) (Dec 4-1)
Open 149 – Danny Murphy — 3rd place
Champ. Round 1 – Danny Murphy (Iowa) received a bye () (Bye)
Quarterfinal – Danny Murphy (Iowa) won by fall over Grant Sutton (Wisconsin Lacrosse) (Fall 6:02)
Semifinal – Jaren Glosser (Iowa) won by decision over Danny Murphy (Iowa) (Dec 6-4)
Cons. Semi – Danny Murphy (Iowa) won by decision over Keegan Shaw (Iowa) (Dec 2-1)
3rd Place Match – Danny Murphy (Iowa) won by forfeit over Grant Sutton (Wisconsin Lacrosse) (FF)
Open 149 – Keegan Shaw — 5th place
Champ. Round 1 – Keegan Shaw (Iowa) won by fall over Grady Todd (UW Platteville) (Fall 1:15)
Quarterfinal – Hunter Washburn (Nothern Iowa) won by decision over Keegan Shaw (Iowa) (Dec 9-6)
Cons. Round 2 – Keegan Shaw (Iowa) won by decision over Trevor Harsh (UW Platteville) (Dec 8-3)
Cons. Round 3 – Keegan Shaw (Iowa) won by fall over Valentino Ortiz (Triton College) (Fall 4:08)
Cons. Semi – Danny Murphy (Iowa) won by decision over Keegan Shaw (Iowa) (Dec 2-1)
5th Place Match – Keegan Shaw (Iowa) won by medical forfeit over Stephen Alvarez (Iowa) (MFF)
Open 149 – Stephen Alvarez — 6th place
Champ. Round 1 – Stephen Alvarez (Iowa) received a bye () (Bye)
Quarterfinal – Stephen Alvarez (Iowa) won by decision over Jeremy Peterson (UW Platteville) (Dec 9-3)
Semifinal – Hunter Washburn (Nothern Iowa) won by injury default over Stephen Alvarez (Iowa) (Inj. 0:00)
Cons. Semi – Grant Sutton (Wisconsin Lacrosse) won by medical forfeit over Stephen Alvarez (Iowa) (MFF)
5th Place Match – Keegan Shaw (Iowa) won by medical forfeit over Stephen Alvarez (Iowa) (MFF)
Open 157 – Matt Malcom — 3rd place
Champ. Round 1 – Matt Malcom (Iowa) received a bye () (Bye)
Quarterfinal – Nicholas Retzlaff (UW Platteville) won by fall over Matt Malcom (Iowa) (Fall 0:35)
Cons. Round 2 – Matt Malcom (Iowa) received a bye () (Bye)
Cons. Round 3 – Matt Malcom (Iowa) won by fall over Austin Neal (Drury) (Fall 5:18)
Cons. Semi – Matt Malcom (Iowa) won by fall over Anthony Metallo (UW Platteville) (Fall 2:38)
3rd Place Match – Matt Malcom (Iowa) won by major decision over Nicholas Retzlaff (UW Platteville) (Maj 16-5)
Open 165 – Tristan McDonald — DNP
Champ. Round 1 – Gabe Pleasants (Loras College) won by tech fall over Tristan McDonald (Iowa) (TF 15-0)
Cons. Round 1 – Tristan McDonald (Iowa) received a bye () (Bye)
Cons. Round 2 – Michael Belanger (UW Platteville) won by disqualification over Tristan McDonald (Iowa) (DQ)
Open 165 – Skyler St. John — 1st place
Champ. Round 1 – Skyler St. John (Iowa) won by major decision over Lucas Sedlacek (Loras College) (Maj 14-4)
Quarterfinal – Skyler St. John (Iowa) won by fall over Logan Breitenbach (Iowa State) (Fall 3:35)
Semifinal – Skyler St. John (Iowa) won by decision over Grant Taylor (Drury) (Dec 8-2)
1st Place Match – Skyler St. John (Iowa) won by decision over Jeremiah Moody (Iowa) (Dec 6-5)
Open 165 – Jeremiah Moody — 2nd place
Champ. Round 1 – Jeremiah Moody (Iowa) won by fall over Ean Eichert (Triton College) (Fall 7:00)
Quarterfinal – Jeremiah Moody (Iowa) won by fall over Robert Rocole (Wisconsin Eau Claire) (Fall 2:41)
Semifinal – Jeremiah Moody (Iowa) won by major decision over Brody Beck (Nothern Iowa) (Maj 17-6)
1st Place Match – Skyler St. John (Iowa) won by decision over Jeremiah Moody (Iowa) (Dec 6-5)
Open 174 – Joel Northrup — 3rd place
Champ. Round 1 – Joel Northrup (Iowa) won by decision over Sam Elston (Loras College) (Dec 7-3)
Quarterfinal – Joel Northrup (Iowa) won by fall over Mike Kelly (Unattached) (Fall 3:42)
Semifinal – Quinton Rosser (Northern Illinois) won by decision over Joel Northrup (Iowa) (Dec 5-4)
Cons. Semi – Joel Northrup (Iowa) won by tech fall over Landon Gotschall (Triton College) (TF 20-4)
3rd Place Match – Joel Northrup (Iowa) won by major decision over Tyler Vogt (Wisconsin Eau Claire) (Maj 11-3)
Open 197 – Cade Brownlee — 2nd place
Champ. Round 1 – Cade Brownlee (Iowa) received a bye () (Bye)
Quarterfinal – Cade Brownlee (Iowa) won by fall over Izaak Shedenhelm (Nothern Iowa) (Fall 2:41)
Semifinal – Cade Brownlee (Iowa) won by decision over Javier Soto (Loras College) (Dec 7-6)
1st Place Match – Tyler Hoffman (Nothern Iowa) won by tech fall over Cade Brownlee (Iowa) (TF 18-2)