Hawkeye Fan Shop — A Black & Gold Store | 24 Hawkeyes to Watch 2016-17 | Hawk Talk Monthly — Jan. 2017 | 24 Hawkeyes to Watch: Sammy Brooks | Q & A with Sam Stoll | Notebook in PDF Format
Editor's Note: The following first appeared in the University of Iowa's Hawk Talk Daily, an e-newsletter that offers a daily look at the Iowa Hawkeyes, delivered free each morning to thousands of fans of the Hawkeyes worldwide. To receive daily news from the Iowa Hawkeyes, sign up HERE.
By DARREN MILLER
hawkeyesports.com
IOWA CITY, Iowa — Baseball has Yankees-Red Sox, basketball has Celtics-Lakers, and for the 51st time this afternoon, college wrestling will have Iowa-Oklahoma State.
 
More precisely, undefeated No. 1 Oklahoma State (5-0 in duals) versus undefeated No. 3 Iowa (7-0) inside Gallagher-Iba Arena. It kicks off a three-week stretch where the Hawkeyes face three of the top four teams in the nation.
 
"All eyes will be on this team for the next couple weekends, so that's a good thing," Iowa head coach Tom Brands said. "We're getting closer to what we call March matness."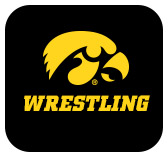 Along with an unblemished dual record, individual seedings and rankings are also on the line today. Brands calls it "high stakes," "real life," and "not just for entertainment purposes."
 
Four matchups feature top-five opponents. Eighteen of 20 wrestlers are ranked in the top 20 at their respective weight classes and 15 are in the top 10.
 
The Hawkeyes have won three straight in the series and 21 consecutive road duals.
 
"We like challenges on the road," said Brands. "There is no better challenge than going to Stillwater, Oklahoma."
 
The teams opened the 2015-16 season Nov. 14 in front of a national record 42,287 in Kinnick Stadium. The Hawkeyes upset then No. 1 Oklahoma State, 18-16. Six Iowa wrestlers and four Cowboys return after taking the mat in the Grapple on the Gridiron. One of two repeat matchups is at 174 pounds where Oklahoma State's Kyle Crutchmer defeated Iowa's Alex Meyer, 11-10.
 
Meyer has wrestled Crutchmer two other times in college, winning 4-3 and losing 3-1. They have also gone head-to-head in high school.
 
"We like challenges on the road. There is no better challenge than going to Stillwater, Oklahoma." — Tom Brands
 
"He wrestles hard, I wrestle hard," Meyer said. "I'm excited for it. It didn't work out the way I wanted last year, so I will wrestle smarter and harder at the beginning and have it go the other way this time.
 
"I enjoy winning and beating a quality guy like that. You feel greater satisfaction when that happens."
 
Iowa senior Sammy Brooks and Oklahoma State senior Nolan Boyd have split two matches in college. Brooks won the opener, 7-1, but Boyd used back points to edge Brooks, 9-6, during the 2015 dual in Stillwater (won by Iowa, 30-7).
 
"I watched that match and I'm not going to dwell on it or beat myself up by what happened," Brooks said. "I watched it, learned from it, and I will take what I learned into this match."
 
Three of today's competitors are top-ranked in their weight class: Iowa seniors Thomas Gilman (125) and Cory Clark (133), and Oklahoma State junior Dean Heil (141). Gilman opened the Grapple on the Gridiron with a major decision over All-American Eddie Klimara and he wants to duplicate that bonus-point effort against Cowboy freshman Nick Piccininni.
 
"I always prefer to go first, it's my job to start things off," Gilman said. "I'm the trailblazer. I look forward to going down to their arena and whooping that guy at 125 and getting the dual started."
 
The Iowa-Oklahoma State dual begins at 2 p.m. (CT). It will be broadcast on AM 800 KXIC and audio-streamed online at Hawkeye All-Access. Live updates on Twitter can be found HERE.